Throw everything-in-pot kind of soup packed with tons of flavor! Perfect comfort meal!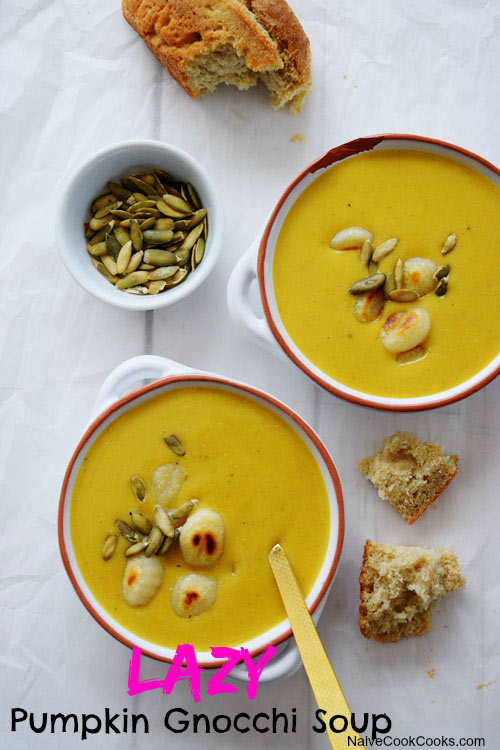 Hey there! Remember how I am always talking about my recent fascination with easy meals?!! Well I got you another winner and this one is like CRAZY-GOOD-&-NO-WORK soup! ? ?
So few weeks ago while going through one of my cookbooks , I was taken aback by a soup where author was inspired to create a recipe when he saw one of his friends baking a whole pumpkin loaded with heavy cream and serving it as a soup. He said the soup was super delicious but really rich and he scared away few of his relatives who were visiting during the holidays! So he lightened up the recipe a bit but to me it still sounded very rich.
See I love cooking and there are days I love it when I know we will be eating something which is good for the body, delicious yet that takes almost no work! So after 2 trials and lot of tweeking around I made this soup perfect for people like us who like to eat but our also watching our waist lines and hey since there are so many desserts to eat too during holidays so you do want to save on some calories here!?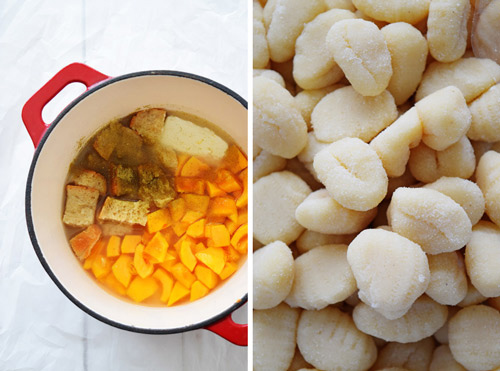 This pumpkin soup is perfect example of easy-no-fuss meals thrown together in minutes and then you relax while dinner gets ready in the oven! So basically all you do here is add Pumpkin, light cream cheese, torn pieces of bread, water, salt & thyme in a heavy dutch oven or any oven safe pot and cover and forget about it for about an hour while oven does it's work. Let me warn you though!
Once you open the lid, it smells absolutely DIVINE! Creamy cream cheese goodness along with silky smooth pumpkin. Then you simply blend everything together and tada you got yourself a delicious meal ready! You can stop right here and enjoy this soup. But there are days I want something more hearty so while soup is getting done, I boil some soft gnocchi and crisp it up with little oil and there crispy gnocchi swimming in creamy pumpkin soup! It's the best soup I have ever made with pumpkin!!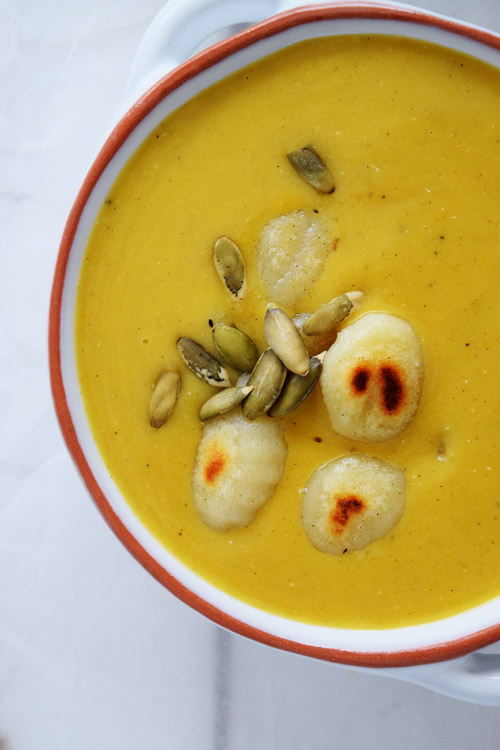 It makes quite a lot and it's quite thick too so I like to thin it out with some water and adjust salt, pepper & thyme before serving. Don't be scared of cream cheese though. Each serving has only an ounce or even less of cream cheese, so be assured you can enjoy this without much guilt!
Follow along for a lot more delicious treats and life happenings on INSTAGRAM || FACEBOOK ||PINTEREST ||TWITTER ||GOOGLE+
Lazy Pumpkin Gnocchi Soup
Ingredients
2.5 cups chopped pumpkin
1.5 cups torn bread pieces (you can any kind of fresh or stale bread)
3 cups water plus more to thin it out as per your taste
⅓ Block of Cream Cheese (2.5 oz) (You can use light or full fat)
Salt & black pepper to taste
1 tsp thyme powder or to taste
2 - 3 cups of Gnocchi (Cook as per package instructions)
Few tsps of oil for cooking crispy gnocchi
Pumpkin seeds (optional)
Instructions
***This soup tastes really good even if you want to skip Gnocchi! But I would strongly suggest you to try it with Crispy Gnocchi! Game Changer!!
In a heavy dutch oven pot or any oven safe pot, add pumpkin pieces, cream cheese, torn bread pieces, water, salt, pepper, thyme. Cover and cook for upto an hour or so until pumpkin soft and cooked through. Add little more water if it's too dry and using a hand blender, blend until creamy smooth. Taste and adjust spices.
Now boil some gnocchi as per package directions. Heat a tsp or two of oil and once hot, add cooked gnocchi and cook until crispy! Add in the indivisual bowls, ladle hot soup, some pumpkin seeds and there you have a gorgeous delicious meal!
Notes
Soup recipe adapted from Spendid Soups by James Peterson
More Soup Recipes:
https://www.naivecookcooks.com/thai-squash-soup/