Easy Balsamic roasted crispy brussels sprouts tossed with pasta & cheese to make a healthy light dinner recipe that gets ready in no time!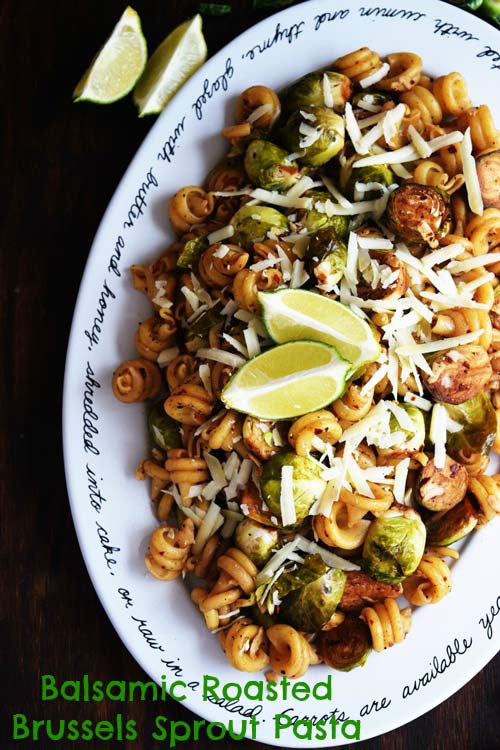 Popping in again today since I had to share this with you! I made this for dinner tonight and it turned out so good that all I could think was that how much will you all enjoy making and eating this pasta! So since I would probably loose sleep over it, I decided not to wait until morning but to post it tonight.??
My favorite FALL PASTA recipe of all times and so so easy & flavors!! You will go crazy for all the flavors in here : simple balsamic vinegar roasted crispy brussels sprouts, soft perfectly cooked pasta, little asiago cheese or cheese of your choice & lime juice makes it a combination to die for!
I have always enjoyed eating brussels sprouts. They are sort of like broccoli and I like to roast them with some salt, parmesan & lime juice. It makes for the best lunch ever! So this time I decided to try something different and roast them with some tangy balsamic vinegar. If you don't have balsamic vinegar, you can use simple vinegar mixed with small pinch of sugar though I will strongly suggest you to go buy a bottle of balsamic vinegar! I love this stuff.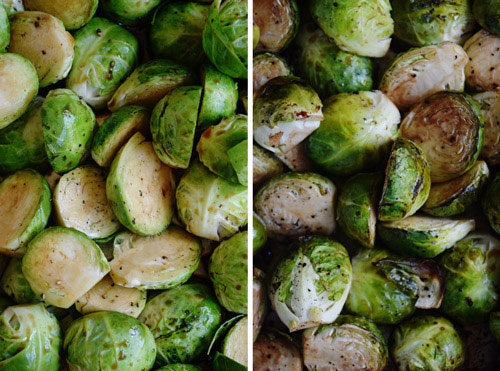 I was able to make this from start to finish in under an hour. I tossed brussels sprouts with seasonings and while they are baking, I get my pasta ready. Then simply toss everything together and there you have a perfect fall meal ready in no time and it's healthy, delicious and leftovers are great for lunch too! Double yay!!
What is your favorite way to eat brussels sprouts?!! Would love to know and what are some brussels sprout recipes you crave all the time??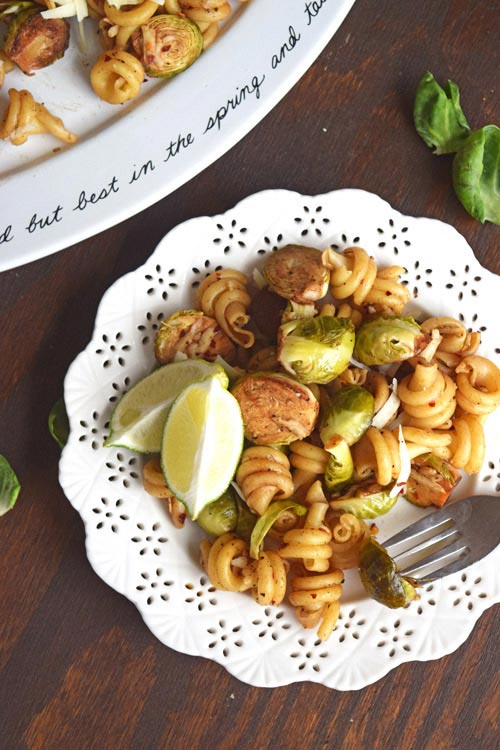 Follow along for a lot more delicious treats and life happenings on INSTAGRAM || FACEBOOK ||PINTEREST ||TWITTER ||GOOGLE+
Balsamic Brussel Sprouts Pasta
Ingredients
1 lb brussels sprouts (16 oz )
2 tbsp balsamic vinegar
½ tsp salt
½ tsp black pepper
1 tsp oil
2 cups dry pasta (you can use any shape of your choice), boiled as per package directions
Salt & pepper to taste
1 tsp balsamic vinegar
Juice of ½ a lime
¼ cup shredded asiago cheese
1 tsp red chili flakes (optional)
Instructions
Preheat oven to 375F.
Clean brussel sprouts under running water. Peel few top leaves and cut them in half. Toss brussels sprouts with salt, pepper, oil & balsamic vinegar and cook in preheated oven for 15-20 mins.
Meanwhile cook pasta as per package directions. Drain pasta and transfer it to a bowl. To it add roasted brussels sprouts. Adjust salt, pepper, add lime juice, asiago cheese & balsamic vinegar. Taste and adjust seasonings if needed. You can also add some red chili flakes for some heat! Enjoy.
Here are some 30 Minute Meals: