Balsamic Brussel Sprouts Pasta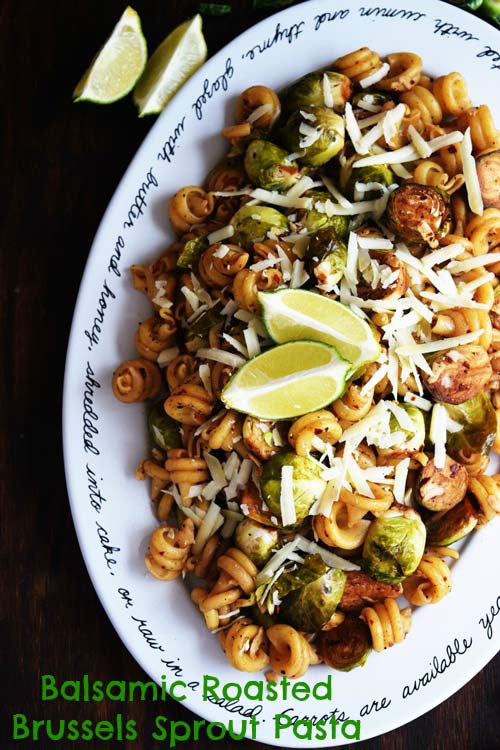 1 lb brussels sprouts (16 oz )
2 tbsp balsamic vinegar
½ tsp salt
½ tsp black pepper
1 tsp oil
2 cups dry pasta (you can use any shape of your choice), boiled as per package directions
Salt & pepper to taste
1 tsp balsamic vinegar
Juice of ½ a lime
¼ cup shredded asiago cheese
1 tsp red chili flakes (optional)
Preheat oven to 375F.
Clean brussel sprouts under running water. Peel few top leaves and cut them in half. Toss brussels sprouts with salt, pepper, oil & balsamic vinegar and cook in preheated oven for 15-20 mins.
Meanwhile cook pasta as per package directions. Drain pasta and transfer it to a bowl. To it add roasted brussels sprouts. Adjust salt, pepper, add lime juice, asiago cheese & balsamic vinegar. Taste and adjust seasonings if needed. You can also add some red chili flakes for some heat! Enjoy.
Recipe by
Naive Cook Cooks
at https://www.naivecookcooks.com/balsamic-brussel-sprouts-pasta/