4-Ingredient Yogurt Apple Pie needs only 15 mins of your hands on time and then enjoy it as it is or freeze it for an easy healthy back to school treat!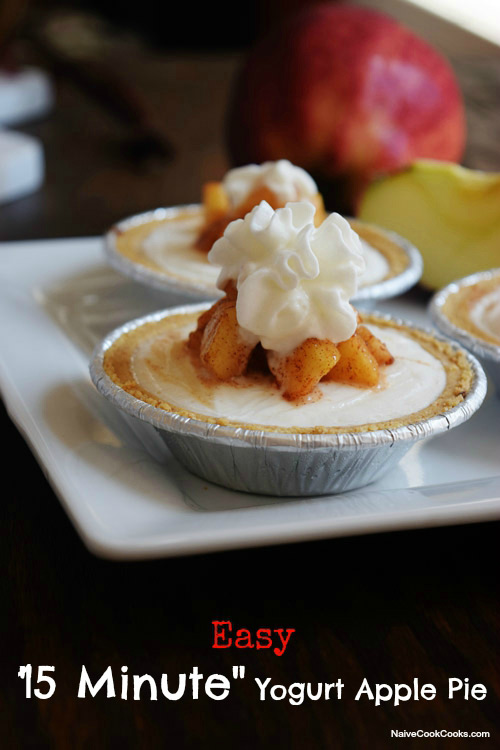 It's finally PIE season but with days still being in 90's, I don't really feel like making traditional oven baked pies YET! So unless you go out and buy yourself a pie, how else do you eat an APPLE PIE at home without doing much!
That's when these magic 4-Ingredients, 15-Mins hands on time pies come to action. I know since I love cooking and especially baking, sooner or later I will get sucked into baking my own pies bandwagon since all the apples!! But until then (and mark my words it won't take me more than few days at max before you see me fill up this space with lots of baked goods because well, HELLO it's the season!! ??), let's eat frozen pie! Yes you heard me.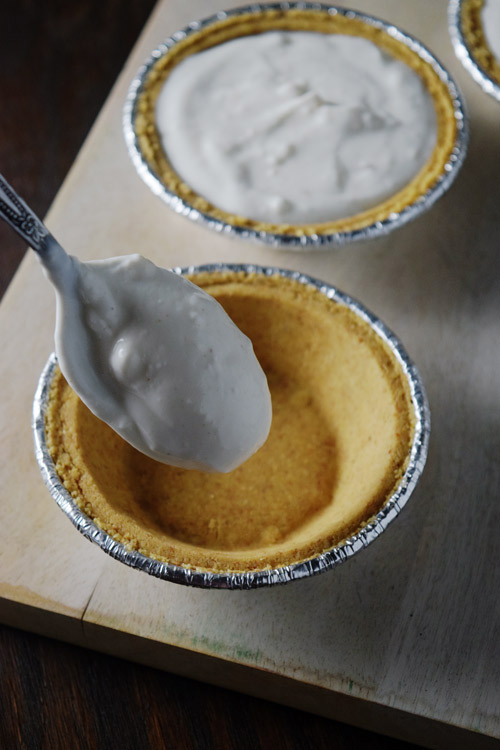 When I was given a chance to create a simple easy dessert that is perfect for #backtoschool days, I started thinking. I don't have kids yet and neither do I go to school but I do love a good snack at around 4 pm and most days it ends up being cookies + milk (I know how grown up am I?!) but seriously I have been working on changing this habit and moving to healthier snacks and so this seemed like the perfect opportunity to me!So I went to WALMART  to pick up these ingredients and can I just tell you how much I end up spending everytime I go to walmart. I mean I have this bad habit of checking out every aisle just so , you know to make sure I am not missing out on anything new they have to offer and that ends up me loading up our cart with stuff I don't necessarily need. #foodbloggerproblems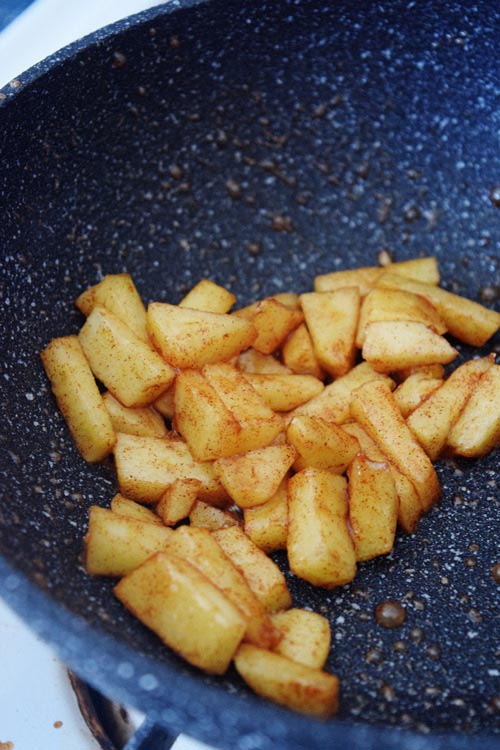 But the good thing with these pies is that they need only 4 ingredients to make an easy yet delicious YOGURT APPLE PIE with all things I love to eat, so if you have better self control you will be in and out with these 4 ingredients in max 10 mins! I love eating greek yogurts and I love love whipped cream ( strawberries + whipped cream or my favorite DESSERT) & ready made GRAHAM CRACKER PIE CRUSTS are always a life saver! My first ever cheesecake was made in these and one of the best pies I ate at my friends place was made in these!
As I was saying, you take your MINI GRAHAM CRACKER pie shells and fill them up with this delicious fall flavored Dannon® Light & Fit® Caramel Apple Pie Yogurt and chill it in freezer. Then you top it with warm cinnamon soft buttery apples and then my favorite part – LOTS of Reddi-wip® whipped cream! See told you. It's way healthier than regular pies, a nice change as weather being still warm you might not really want to make traditional pies and perfect for kids & adults as you can have it ready and enjoy when you are starving without feeling no guilt!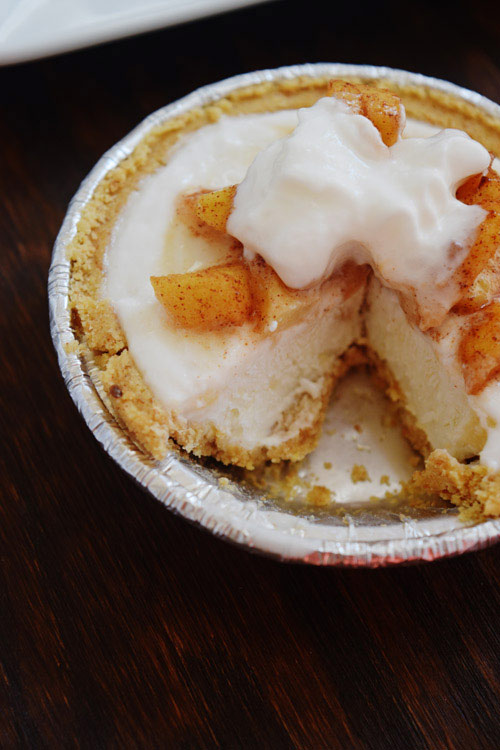 Follow along for a lot more delicious treats and life happenings on INSTAGRAM || FACEBOOK ||PINTEREST ||TWITTER ||GOOGLE+
Be sure to check out more delicious recipes HERE and I would love to know what kind of easy desserts/snacks are you making this season?

Easy 15 Minute Yogurt Apple Pie
(5 Mins, 4 Ingredients) YOGURT APPLE PIES for an easy treat any time of the day!
Author:
Amishi Gadodia || NaiveCookCooks.com
Ingredients
Keebler® Ready Crust® Mini Graham Cracker Pie Crust (Pack of 6)
Dannon® Light & Fit® Carmel Apple Pie Yogurt (4 count)
1 fresh apple, peeled & chopped
1 tsp cinnamon powder
1 tbsp butter
1 tsp lime juice
1-2 tbsp sugar
Reddi-wip® original 13oz can
Instructions
Take your mini graham cracker pies.
Open caramel apple pie greek yogurt and stir with a spoon. Add few tbsps of yogurt in each pie shell to fill it up to the top. Smooth it out using back of a spoon and cover.
Freeze for 1-2 hours.
Take it out after it's fully frozen and let it that for 30 mins.
Meanwhile melt butter in a pot. To it add chopped apples, cinnamon, lime juice and sugar and cook on medium-low flame for good 8-10 mins.
Turn off the heat and let them come to room temperature.
Add few pieces of these buttery soft apples on top of each pie and just before serving add a good amount of whipped cream!
Notes
I like to consider it as a 4 ingredient pie as "cinnamon + butter + apples + lime juice + sugar" are common in almost everybody's pantry! Don't be mad!!

More Apple Dessert Recipes: