This cheesy Cream Cheese Pasta with bacon & spinach comes together in flat 30 mins. Perfect for quick weeknight meals, lazy weekends or for those unexpected guests!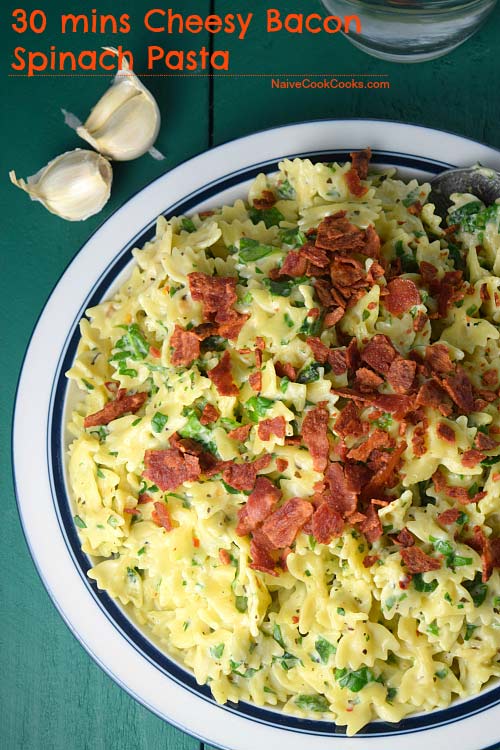 I have a love & hate relationship with bacon.
I know you might think I am crazy. I mean who doesn't like bacon?! Truth be told, we are not much of  red meat eaters and at times when we get cravings, we opt for turkey bacon. Have you heard turkey bacon is the new bacon in town! Haha who am I kidding! You guys are probably doing it already.
But seriously the first time I tried turkey bacon it was Starbucks's lunch sandwiches and I loved it. Then there were times when we found ourselves drooling those giant potatoes and egg skillets at brunch places with bacon in it and now since almost everybody carries turkey bacon, we could always swap bacon with turkey bacon and still enjoy all the flavors!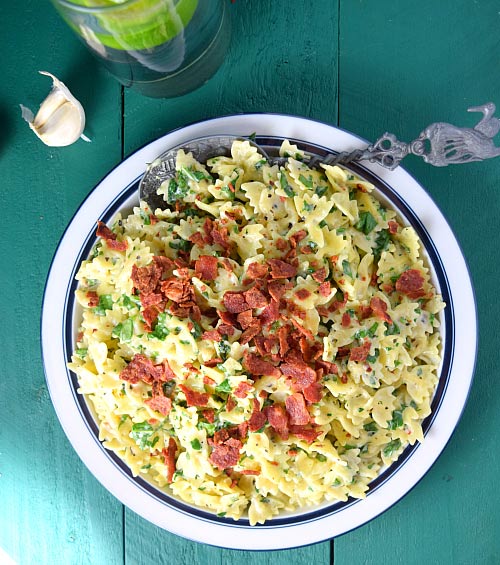 This pasta! Well this pasta turned out seriously delicious but after a giant disaster. I had a giant cauliflower head which I was wanting to incorporate in some way in pasta recipe. I started by turning it into cauliflower rice as I decided to turn it into cauliflower pesto for my pasta but midways (as usual!) I changed my mind and decided to turn it into something mediterranean. I know, as I started adding tomatoes, olives I could sense disaster. When Jerry saw what I was cooking, we exchanged looks and I knew it just won't work! Off it went to disposer!
But I still had that cooked pasta which needed to be used up and so I went with a simple fool proof sauce made with flour, milk and little bit cream cheese. The best part: The sauce feels so indulgent but it's ALMOST totally healthy!!
Then I added seasonings, chopped spinach and pasta and LOTS of crumbled turkey bacon on top. It was mind blowing!!
Note for meat & cheese lovers : you can totally leave out spinach if you are going for a simple cheese & bacon pasta.
Make it this weekend.
Help in spreading the word!
Follow along for lot more delicious treats and life happenings on INSTAGRAM || FACEBOOK || PINTEREST 

30 mins Cheesy Bacon Spinach Pasta
Ingredients
½ lb pasta (I used small farfalle shape)
1 tsp oil
1 tbsp olive oil
4 garlic cloves, chopped
1 tsp red chili flakes
2 tbsp all purpose flour
1 cup milk (any fat content, I used 2% fat content)
1 tsp basil powder
½ tsp black pepper
¼ tsp rosemary
½ tsp garlic powder
3 tbsp cream cheese (I had it out of the wrapper so I scooped it out using a tbsp)
Salt to taste
¼ cup hot water or pasta water
2 handfuls spinach leaves, chopped
2-3 bacon strips, cooked and crumbled (I used turkey bacon but you can use either)
Instructions
Cook pasta as per package directions. Drain and reserve ½ cup pasta water. Add 1 tsp oil to the drained pasta so it doesn't stick. Keep aside.
In a skillet, add 1 tbsp oil and heat it. To it add garlic and red chili peppers and cook for a minute or two until fragrant. Add flour and stir it around until it starts to turn golden. Add milk and keep stirring it using a stirrer. Add all the seasonings and kep stirring it. Once it starts to thicken, add cream cheese and hot water and stir until it's all smooth and you have a nice thick cream sauce. Taste the seasonings. Add chopped spinach and pasta and toss it around so that sauce coats the pasta evenly and spinach wilts a bit.
Meanwhile cook turkey bacon by placing it on a hot skillet and flipping it every few minutes until it's nicely cooked and crispy. Let it cool on a paper towel and crumble.
Taste the pasta and adjust seasonings if needed. Add the crumbled bacon and serve.
More Pasta recipes??
https://www.naivecookcooks.com/chicken-fettucine-in-whiskey-gouda-sauce/
https://www.naivecookcooks.com/homemade-spinach-fettucine/