Cheese Stuffed Turkey Burgers with Cajun seasoning are seriously perfect for this warm summer weather and great for grilling or cooking on stove top!!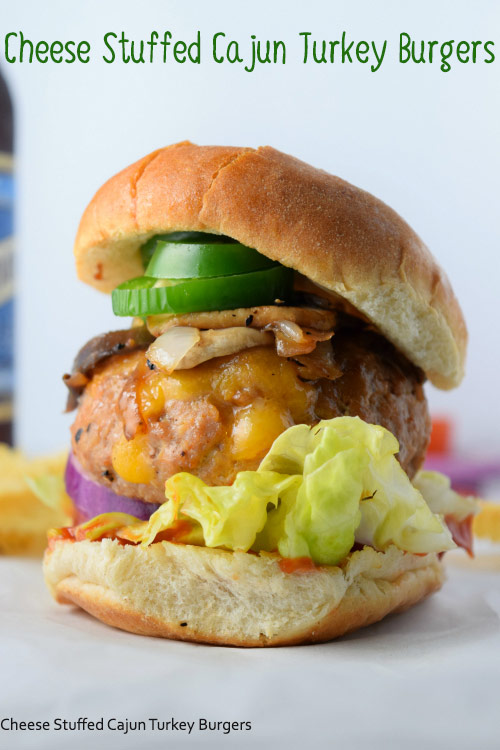 Finally it's Friday you guys and these burgers!
Long weekend calls for tons & tons of good food and these burgers MUST be a part of your menu. You won't regret!
These burgers are actually Jerry's creation. Jerry made these for me in the initial years when we started living together and these were just AMAZING. At that time I wasn't much into meaty burgers but these burgers changed it all for once and all.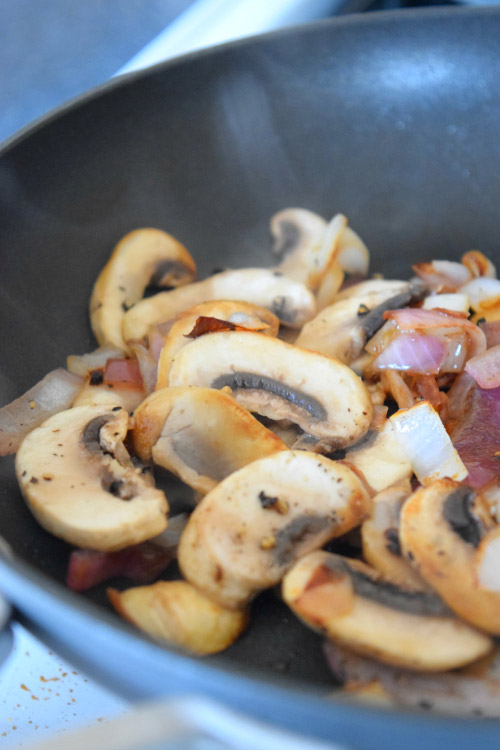 The turkey patty is seasoned with cajun spices to make them really flavorful. Remember we are talking about a seriously delicious, perfectly seasoned burger here. Even if you decide to eat these by themselves, you won't regret. No sauces, no buns and even then these turkey patties ROCK. After the meat is nicely seasoned, we make individual patties and each is then stuffed with lots of cheese. Yes that's where magic happens! But it doesn't stop there. You can totally make my spiced burger buns or these everything brioche buns or if short of time use good quality store bought buns. Some ketchup, mayo, crisp lettuce, that perfectly cooked cheesy turkey patty, onions, tomatoes, spicy jalapenos and caramelized mushrooms makes this one of a kind burger!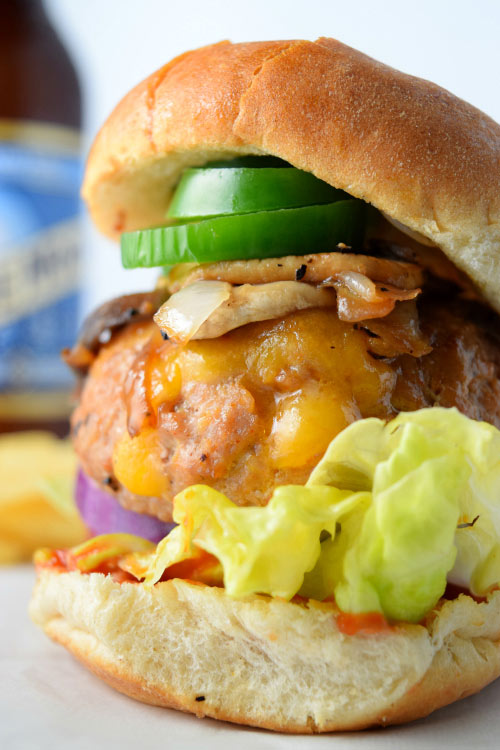 You can easily cook them either on grill or stove top as the patties are really sturdy and while cooking you can see all the cheese that is melting inside and oozing out. Best ever!
It's a long weekend and I know most of you must be busy either making plans or travelling or cooking but these BURGERS are a must to do this summer! I mean how can you not? Burgers + chilled beer makes for the best summer food ever!
Help in spreading the word!
Follow along for lot more delicious treats and life happenings on INSTAGRAM || FACEBOOK || PINTEREST 

Cheese Stuffed Cajun Turkey Burgers
Ingredients
20 oz ground turkey
1 tsp salt
1 tsp black pepper
¾ tsp red chili powder or less if you prefer less kick
½ tsp paprika
1 tbsp cajun seasoning (these were a little on the spicier side so you can always use half of the cajun seasoning if you want mild taste)
1 cup shredded colby jack cheese
Oil for cooking
4 garlic cloves, chopped
8-10 white button mushrooms
salt & pepper to taste
1 tsp olive oil
Instructions
In a bowl add ground turkey and salt, black pepper, red chili powder, paprika,cajun seasoning and mix using hands. But don't over work the meat or you won't get juicy burgers!
Now divide them into 4 patties. Roll one patty at a time and flatten it a little onto your hand and place good amount of cheese in the center. Now bring all the sides on top of the cheese and roll it in between your hands so all the cheese gets stuffed inside the meat. Flatten them out a bit and repeat with the rest.
Now in a pan, add 1 tsp oil. Once hot, add mushrooms with salt and pepper. Cook on medium slow until they are nicely cooked and sort of caramelised. Take them out and keep aside.
Now in the same pan, add some more oil and add garlic. Saute for fewm inutes until it becomes fragrant. We only need the garlic flavored oil to cook our patties. So discard the garlic while keeping the now garlic flavored oil in the pan only.
Now if you are cooking them on stove top, add the patties and cook evenly both sides until done.
If cooking on a grill, using a brush rub them with garlic flavored oil and cook as you would on your grill.
Just to be on the safe side, I like to insert my cooking thermometer and check if the center of the meat is around 170F.
Serve them warm with buns, ketchup, mayo, pickles, lettuce, onions, tomatoes, jalapenos (A must!!) and mushrooms and chilled beer!
More burger recipes??
https://www.naivecookcooks.com/black-bean-burgers-franks-hot-sauce-flavored/