Cheesy Jalapeno & Corn Garlic Bread makes for an easy yet impressive side to any dish or serve along with drinks for an evening snack!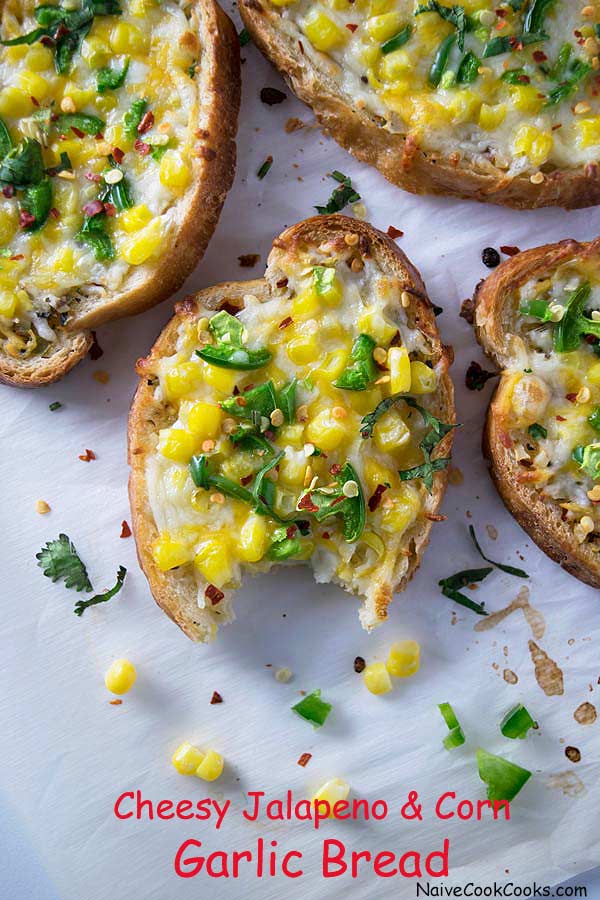 Let's talk about this Garlic Bread today. Don't mistake this for a regular simple garlic bread.
This one has tons of flavors, loads of cheese, corn and jalapenos for a nice spicy kick. I was introduced to this garlic bread when I was dating my husband and every time we would get off work, this used to be our favorite place to go. A small place in the heart of the city but their garlic bread was one of the best!
And I feel I can't think of what else to write since I posted this post few hours back and then my website crashed!! Lately we have been thinking of moving to another hosting server and this week Bluehost made sure that we do! Their service has been horrible, our site crashed multiple times and there were times we were up until 4 in the morning trying to get it up and running! So friends huge sorry if you were trying to access the site but were unable to! We are hoping to be able to solve the issue soon. So hang on tight!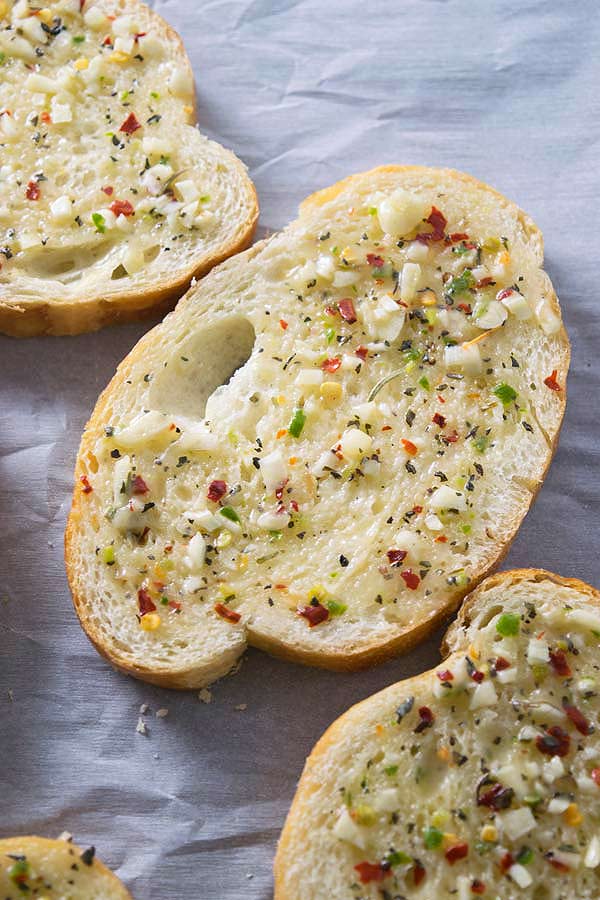 Ok so now back to this dreamy cheesy goodness that is this Cheesy Jalapeno & Corn Garlic Bread. Its a perfect side to any meal or makes for an even better appetizer when served with some drinks. We enjoyed this over the weekend and I froze a bunch for coming weekend again to serve with my 30 min Broccoli pasta.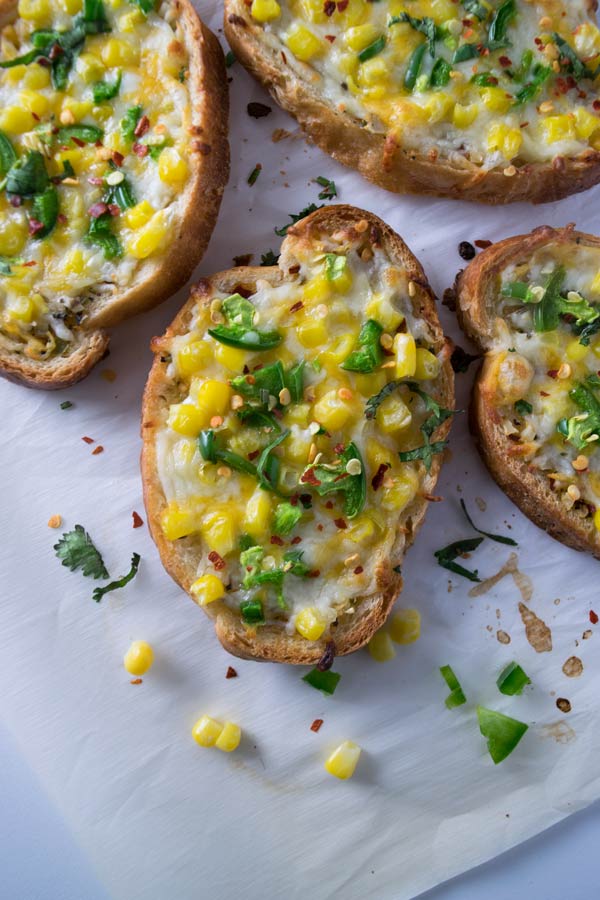 So grab the ingredients!
Follow along for a lot more delicious treats and life happenings on INSTAGRAM ||FACEBOOK||PINTEREST ||TWITTER ||GOOGLE+ || BLOGLOVIN
Cheesy Jalapeno & Corn Garlic Bread
Ingredients
2.5 Tbsp butter
4 Tbsp oil
3-4 fat garlic cloves, chopped fine
Salt t o taste
Pinch of black pepper
1 tsp red chili flakes
Pinch of rosemary
½ tsp basil
½ tsp green chili paste (optional but great if you like spicy)
8-10 French bread slices or your choice of bread
1 cup shredded mozzarella cheese
1 cup shredded cheddar cheese
1 cup frozen or fresh corn, boiled
1 jalapeno, chopped fine
Extra red chili flakes
Instructions
Pre heat oven to 400F.
In a bowl melt butter. To it add oil, chopped garlic, salt, black pepper, red chili flakes, rosemary, basil, green chili paste and mix. Taste and adjust seasoning if needed.
Now lay bread slices on a parchment paper or aluminium foil lined baking sheet. Spread this mix over each slice. Cover the baking tray with aluminium foil tightly and bake for 8-10 minutes.
Meanwhile chop jalapenos. Put corn in a bowl and add some water so it is covered with water. Boil in microwave for 2-4 minutes until soft. Drain and keep aside.
Once bread is done, take it out of oven and add both cheese, jalapenos and corn on each bread slice. Add some red chili flakes if you want. Bake again uncovered for good 5-7 minutes until cheese is melted.
Enjoy!
Notes
Ami says :
1. You can also freeze these. I cook them all the way and then keep them in freezer arranged in a single line on a plate or try for 30-60 minutes until they are cooled completely. Then I wrap them tightly in aluminium foil and plastic wrap and store in freezer! When you need the, just thaw them in fridge for sometime and then bake ion a baking sheet arranged in single layer & covered tightly at 350F until warmed through and cheese is melted. You can even add little bit more cheese before putting in oven!
And this will go perfectly with these Garlic Breads ->