Creamiest, Easiest Classic Chocolate Creme Brulee made with only 5 ingredients and can be made in under an hour!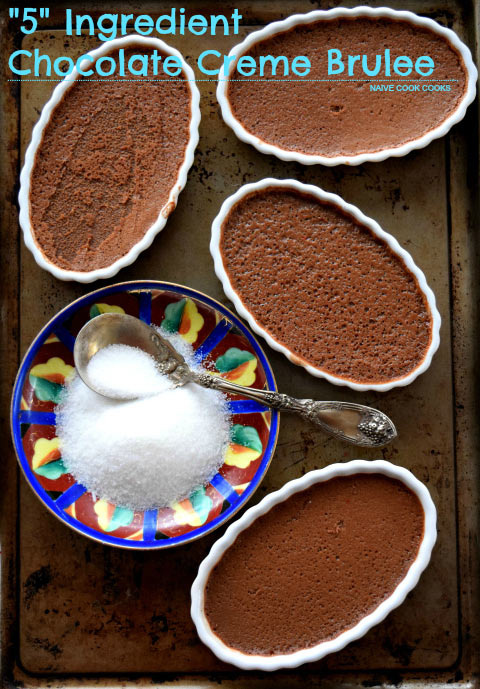 Half way through the week. Phew. How have you guys been?? I already feel burnt down and my to do list for this week is not even halfway done!
But first let's have some dessert and then we can worry all about deadlines.
This 5 Ingredient Chocolate Creme Brulee!!!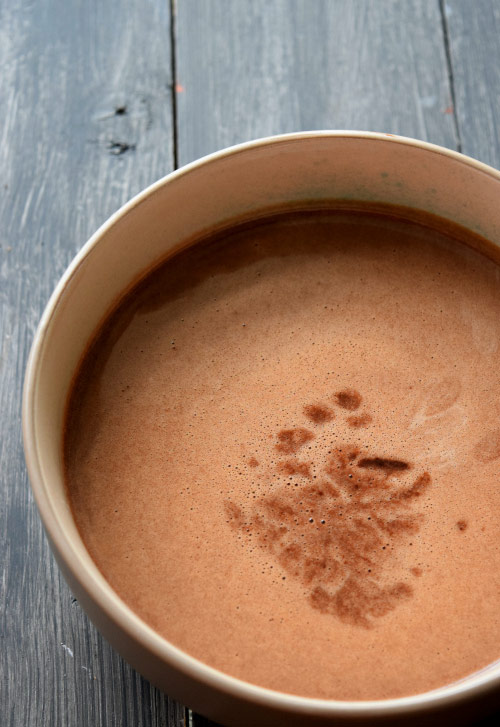 If you know me by know, you will know that I have a big sweet tooth. I need dessert after almost every meal and sometimes (or most of the times!) coffee with loads of sugar is a perfect satisfying dessert to me. But not since I made this!It's creme brulee I crave all the time. In a week I already made it twice in the name of perfecting this recipe and ended up eating way more than I was supposed to.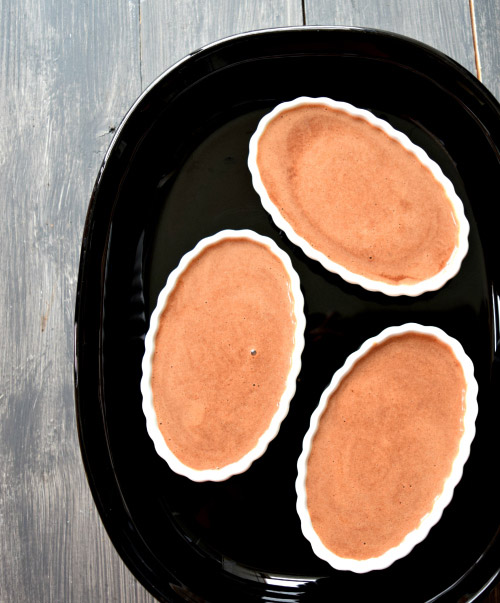 This 5 Ingredient Chocolate Creme Brulee is simple and you have a classic French dessert ready in under an hour!!! Can you even believe it?!I don't know about you but for me it was a wonderful surprise as I have always loved eating this and every time we used to go out for dinner, if this was on the menu, I knew what I was ordering for dessert! Custardy base and thick super hard crunchy caramely top is what I am talking about. I mean seriously how can you not love this?!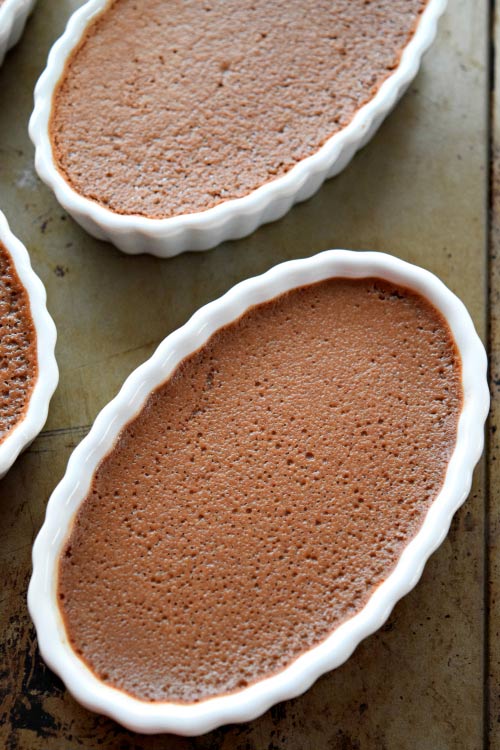 Ok so now the fun part. I feel this is one of the easiest desserts I have made in a while. Just warm up the creme and in another bowl stir eggs and sugar until pale. To the warm cream, add chocolate and add this chocolate creme mix to egg mix. Stir and add vanilla and you are DONE!! Bake for around 30 minutes and chill. Once ready to eat, sprinkle some sugar, caramelize it using a blow torch or broiler and there you got yourself one of the best classy fancy dessert.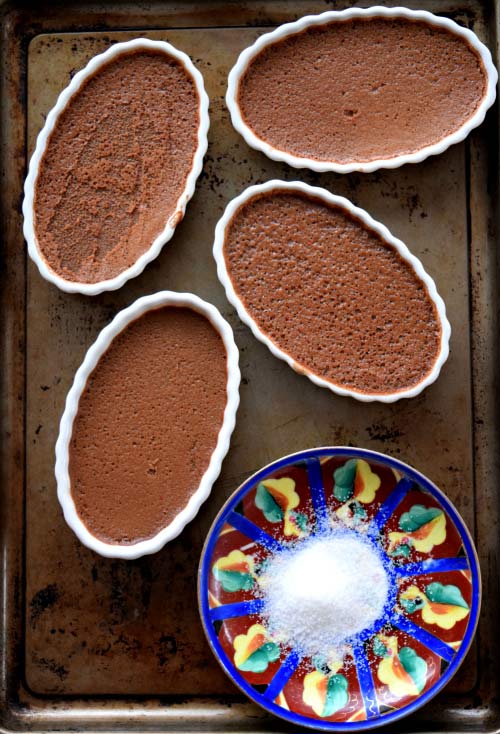 Planning on calling your friends over this weekend and looking for a quick make ahead kind of dessert? This is it. I am telling you , your friends will be amazed at your cooking skills ( no need to tell them how easy it was!).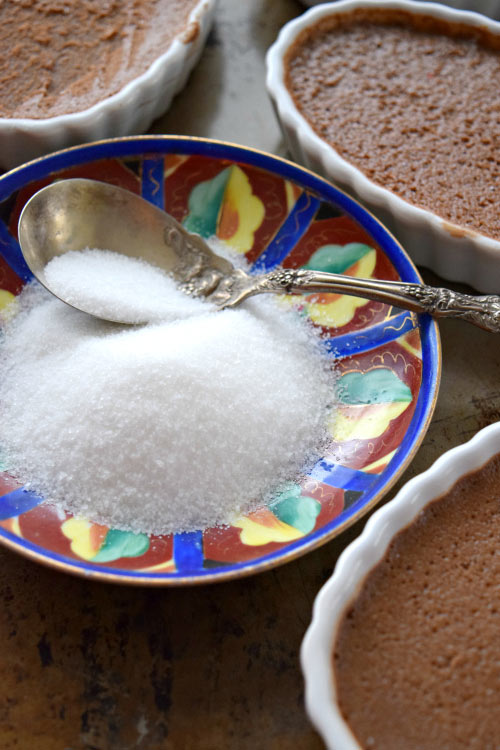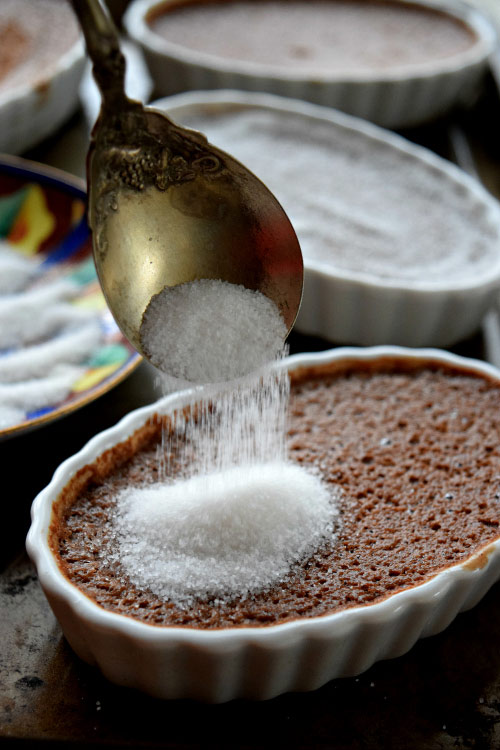 And if you don't own a blowtorch , don't freak out. Though it's not too expensive so if you are planning on making a lot of these, I would suggest you to buy one but otherwise broiler works great too.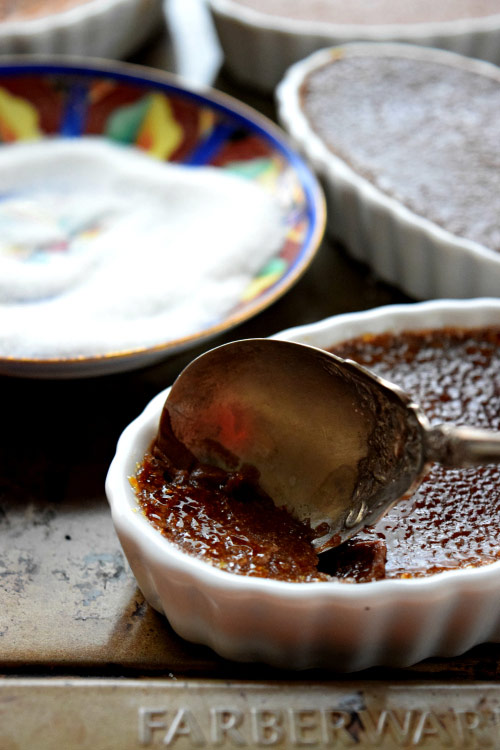 During my first attempt at these, when we were ready to eat, we realized that we had no gas in our blowtorch. So I just popped them in a super hot oven and broiled for 7-10 mins. Though you might not get a uniform crust but it does work. After that a quick popping them in your freezer for 10 mins and voila you have it!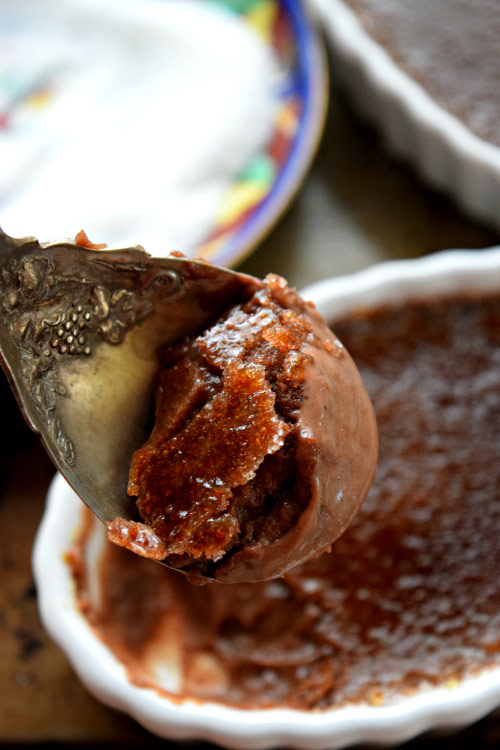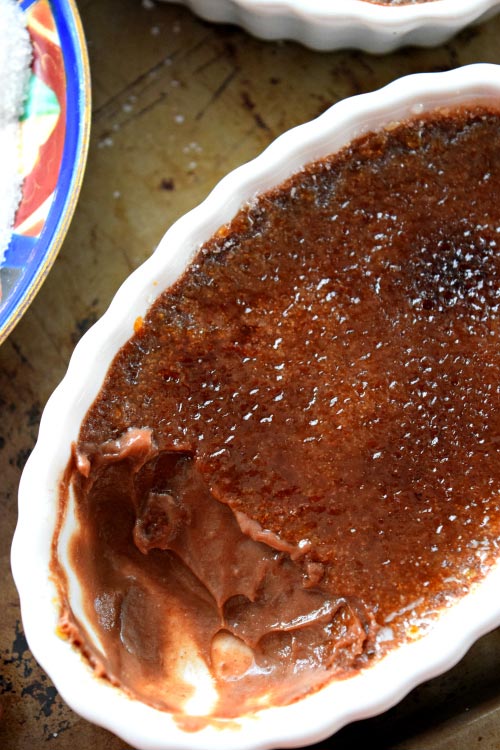 Valentines Day is almost here and this is a perfect dessert if you are planning on making a homemade dinner for your loved ones.

Chocolate Creme Brulee
Ingredients
1 cup heavy cream
½ cup semi sweet chocolate, chopped or chips
2 egg yolks
5-6 Tbs. sugar, divided
1 tsp. vanilla extract
Instructions
Preheat oven to 325ºF. Have a pot of boiling water ready.
In a saucepan over medium heat, warm the cream until small bubbles form around the edges of the pan, 2 to 3 minutes. Remove from the heat and stir in the chocolate until melted and blended. Let cool slightly.
In a bowl, whisk together the egg yolks and 1 Tbs. of the sugar until the mixture is pale yellow and thick ribbons fall from the whisk, about 5 minutes. Slowly stir in the warm chocolate cream, then stir in the vanilla.
Place four ramekins in a deep oven safe pan. Pour the chocolate mixture through a fine-mesh sieve set over a clean bowl. Divide the chocolate mixture among the ramekins. Add boiling water to fill the pan halfway up the sides of the ramekins and cover the pan loosely with aluminum foil.
Bake until the custards are just set around the edges, 27 to 30 minutes. Transfer the ramekins to a wire rack and let cool to room temperature. Cover and refrigerate for at least 4 hours or overnight.
Just before serving, sprinkle 1 Tbs. sugar evenly over the surface of each custard. Using a kitchen torch, move the flame continuously in small circles over the surface until the sugar bubbles and just begins to turn golden, 20 to 30 seconds per custard. Serve immediately.
If using broiler, heat oven to broiler settings. Place the chilled ramekins under the broiler. Broil for 7-10 minutes. Keep an eye as some parts will start getting burnt much quicker than the rest.
Once done, let them cool to room temperature. Transfer covered to freezer for 10 minutes and serve.
Notes
These can be made 2-3 days in advance. Just before serving sprinkle sugar and caramelise the sugar.
More Dessert Recipes: