White Beans and Cranberry Chutney Dip with Homemade Tortilla Chips is a bold festive dip for your thanksgiving or Christmas party! It will convert those cranberry haters too!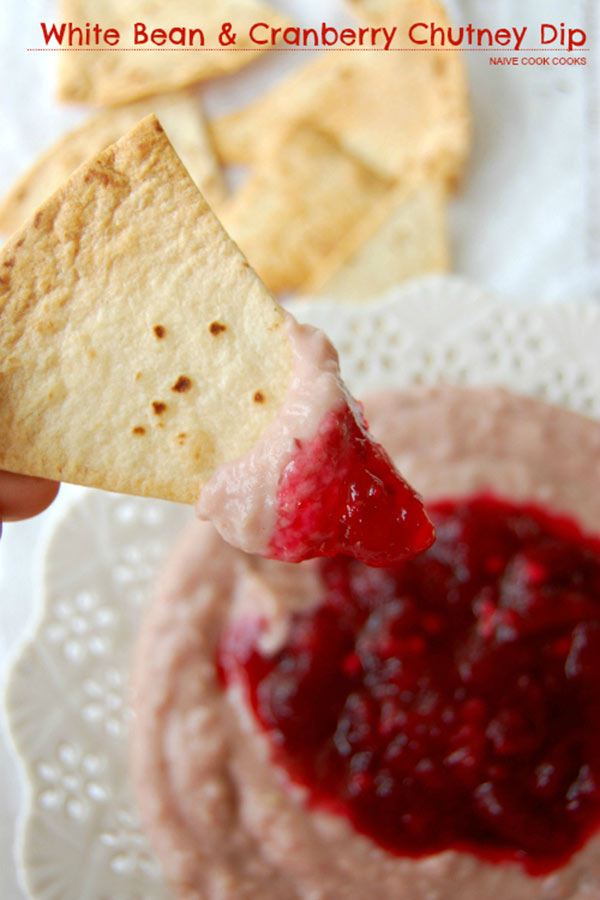 I am on a cranberry kick!
If you haven't noticed yet, then these pop tarts or pizza will prove it! I realised apart from stuffing my mouth with tangy cranberries (yes, I am those crazy souls who enjoy occasional pleasures of eating these tangy berries fresh!), I have been enjoying them in sweet stuff and this season I have not really experimented with them on the savory side.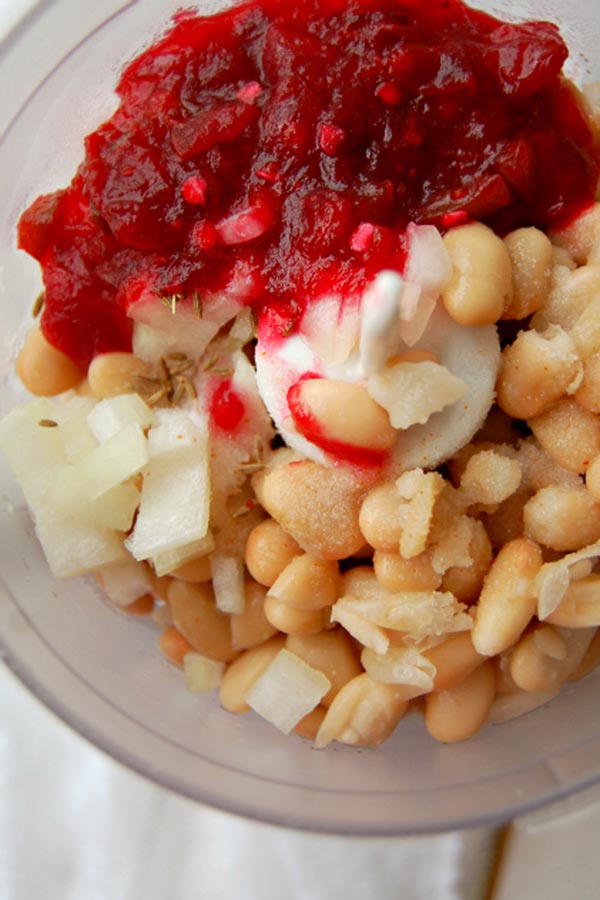 These berries to me are like precious gems which I can get hold of only for such a short season during the year that I seriously never get tired of coming up with new exciting ways to use them in cooking. So here I decided to combine my favorite dip with a sweet & spicy jalapeno-cranberry chutney and BOOM it's totally addicting.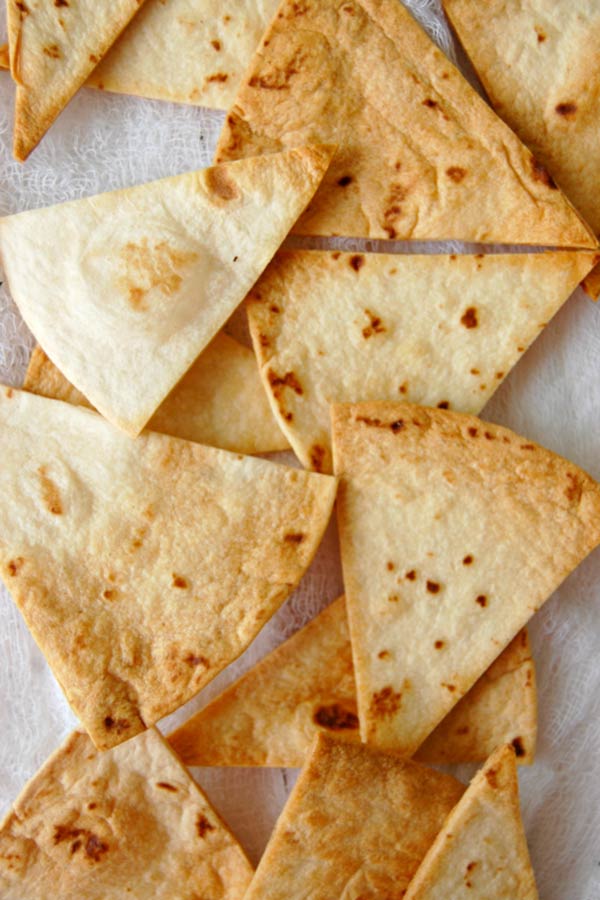 It's like a match made in heaven, the only difference being that it was created in a kitchen by a cranberry addicted mind! This stuff is seriously amazing. Served with homemade tortilla chips, I can easily make a meal out of it and that's exactly what I did when I was left with a  big bowl of this dip and homemade tortilla chips. Telling you, it's like the best kind of indulgence. Healthy and so lip smacking wonderful tasting.
 It takes start to finish 30-45 mins max to pull every thing together and a perfectly festive dip for your holiday parties. You can even make it way ahead and pour yourself a wine while your guests arrive. It's a fool-proof dip and oh so good!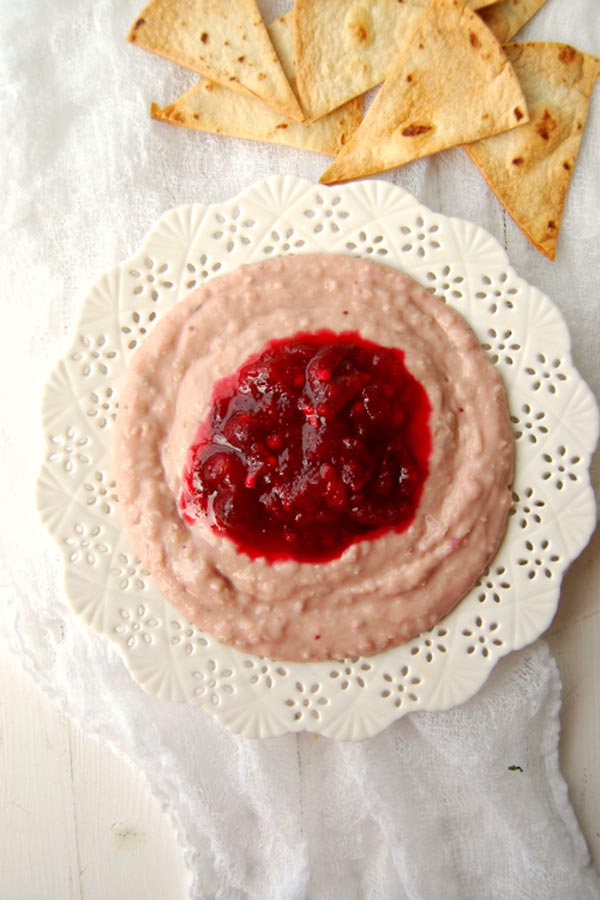 How far are you guys on your thanksgiving menu planning? We won't be enjoying thanksgiving dinner this year so I am planning on making one by one all items before thanksgiving so we can stuff our faces and pretend we had a great thanksgiving. Are you those late minute planners or you plan way ahead?? I have never really planned a huge dinner by myself but hopefully someday I will! I can only imagine myself stuffing my guests with all sorts of crazy food!
 Till then, pour yourself a glass of wine and enjoy these!
White Bean & Cranberry Chutney Dip with Homemade Tortilla Chips
Festive dip for your thanksgiving or Christmas party!
Ingredients
Cranberry Chutney
1 cup fresh cranberries
½ jalapeno with seeds, chopped
½ cup water
1 tbsp lime juice
2 tbsp sugar
Pinch of salt
White Bean Dip
1.5 cups boiled cannellini beans or great northern beans or 1 can (15oz)
2-3 garlic cloves
¼ cup chopped onion
Salt to taste
¼ tsp cumin
2 Tbsp olive oil
Lime juice to taste
Homemade tortilla chips
4 soft flour tortillas
1 tsp olive oil
Instructions
In a pot, throw all the ingredients of Cranberry chutney and bring it to a boil. Lower the heat and let it simmer for 12-15 minutes until mostly all the cranberries are broken down and it's a bit thick. Taste and adjust seasoning if needed.
Meanwhile, preheat the oven to 350F.
Cut the tortillas in 8 pieces and lay them on a baking sheet. Bruh them lightly with olive oil and bake for 8-10 minutes until crispy.
In a food processor, add all the ingredients for white bean dip and 2 tbsp cranberry sauce. Blend until smooth. You might need to add 3-4 tbsp water to get the right consistency. Start adding 1 tbsp water at a time and work your way up to reach your desired consistency.
Taste and adjust salt, cumin, lime juice or garlic if needed.
Serve dip with more cranberry chutney in the center and lots of fresh tortilla chips.
Notes
It's best to make tortilla chips as and when needed as storing for too long might make them somewhat soft.
Both dip and chutney can be made few days in advance and assembled at the time of serving.
More Appetizer Recipes: