Creamy baked goat cheese dip with maple syrup roasted grapes. The combination of sweet & salty makes it a crowd pleasing dip and it was declared the best dip I have made so far at my place!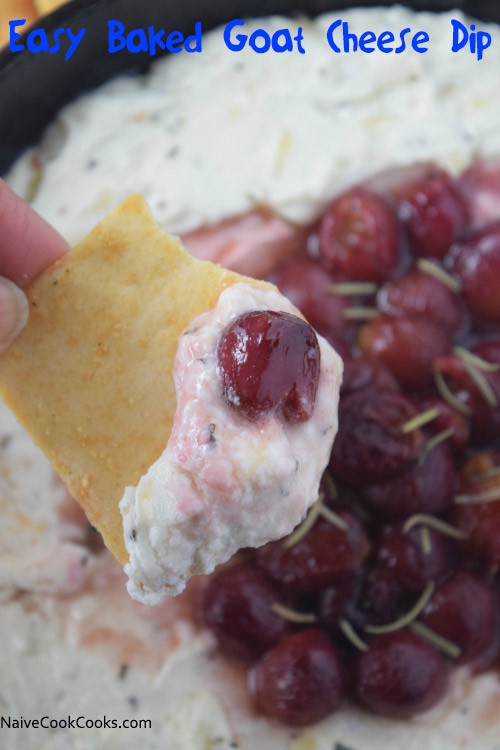 This dip.
As you might have noticed that overtime I have posted quite a lot of dip recipes such as here, here, here and here. I love making dips for gatherings as it's simple to make, usually they take few ingredients and comes together with very less efforts & most importantly good dips are the secret to great friendships. Ever remember making a friend over a bowl of dip and chips?
Well in my case when alone by myself, I have at times made them into my main meals. Don't judge! This dip is my new recent favorite and so is it my mother's, aunts and almost everyone's who tried it. Creamy tangy goat cheese mixed with cream cheese & parmesan along with some seasoning and topped with juicy maple syrup roasted grapes and then baked until gooey, this baked goat cheese dip with roasted grapes is perfection.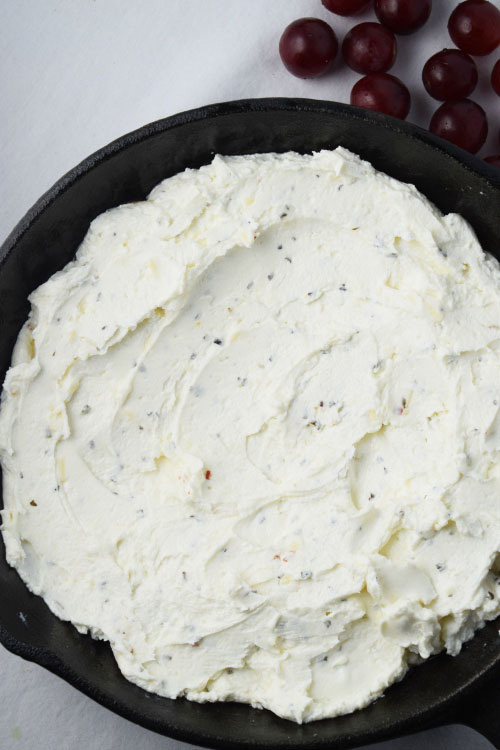 Did I mention that you MUST MUST but buy Stacy's parmesan garlic pita chips #notsponsored). Nothing better goes with this dip though I know it will taste equally delicious with all sorts of chips & crackers but this is my absolute favorite combination. I made this dip along with my latest favorite  sangria and I suppose your's too as this recipe is going crazy on the internet!
P.E.R.F.E.C.T.I.O.N
Help in spreading the word!
Follow along for a lot more delicious treats and life happenings on INSTAGRAM || FACEBOOK || PINTEREST || TWITTER

Baked Goat Cheese Dip With Roasted Grapes
Ingredients
10.5 oz fresh goat cheese, room temperature
4 oz low fat cream cheese, room temperature
¼ cup shredded parmesan
1 tsp basil leaves
½ tsp chili flakes
½ tsp salt or to taste
1 cup grapes
½ tsp salt
1 tsp olive oil
Good drizzle of maple syrup or honey
Instructions
In a food processor add goat cheese, cream cheese, parmesan,salt, basil leaves & chili flakes and mix until combined and smooth. Transfer it to a greased oven safe skillet and keep aside.
Now transfer grapes to a baking sheet and add salt & oil and bake them in a 450F preheated oven for good 10-11 mins until grapes are roasted and bursting. Transfer this grape mix to the center of the cheese mix and bake 375F for 10-15 mins until cheese starts to soften. Drizzle with maple syrup or honey and serve with lots of pita chips!
Similar Recipes:
White Beans and Cranberry Chutney Dip with Homemade Tortilla Chips