Crispy Papad Rolls made using papads (papadums) and stuffed with a spicy vegetable mixture! Makes for an easy quick appetizer!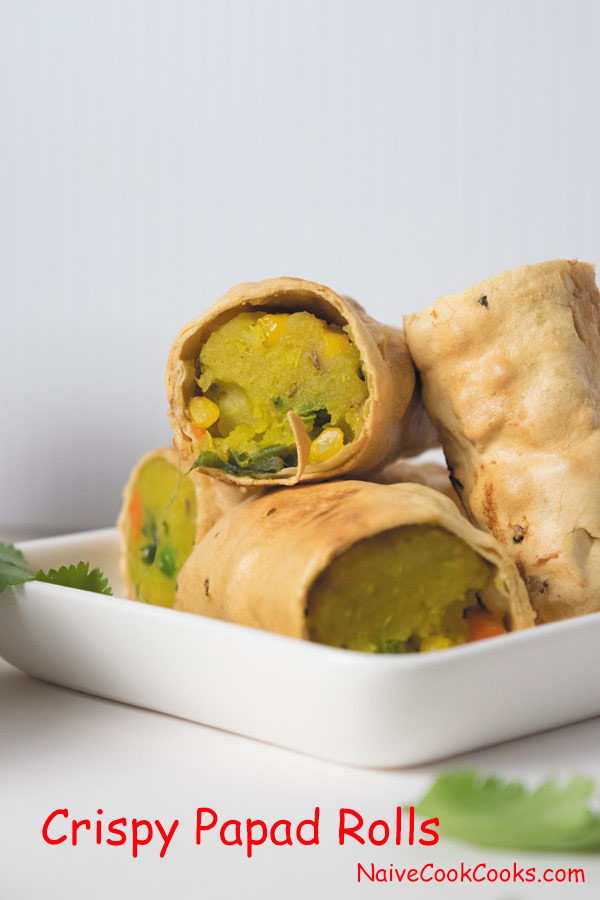 There is always a time & place for fried food and with weather again dipping in low 20's fried food with a hot cup of tea always brings back memories when growing up during cold weather, my mom would make fried vegetable fritters and serve with freshly made cilantro chutney. It used to be so much fun eating fried food and since weather suddenly changed, I decided to enjoy fried food in the form of these papad rolls without worrying about the calories.
These crispy papad rolls are seriously so simple yet so delicious. All you need to make these crunchy rolls is papads or papadams ( you can find them in any big grocery store. These are made with lentils and spices), some vegetables for filling and oil for frying.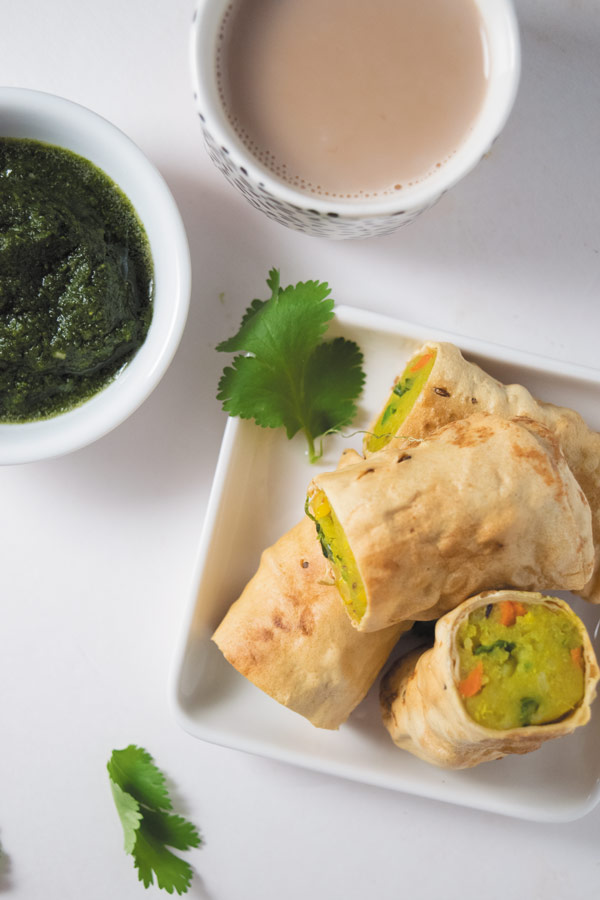 Holi is only few days away and these will be a great hit for gathering. I would suggest making them ahead of time but don't fry them yet. You can roll them with the filling and then wrap tightly in plastic wrap. Now you can freeze them and when ready just thaw them for 30 minutes or so and then fry when ready to eat. They must be fried when you are ready to eat as they have a tendency to loose their crispiness.
While typing this post, I realised that you can literally go crazy with the kind of filling you want. May be try with some seasoned paneer or may be some meat filling like lamb keema. I would love to know if anyone of you try out any new filling!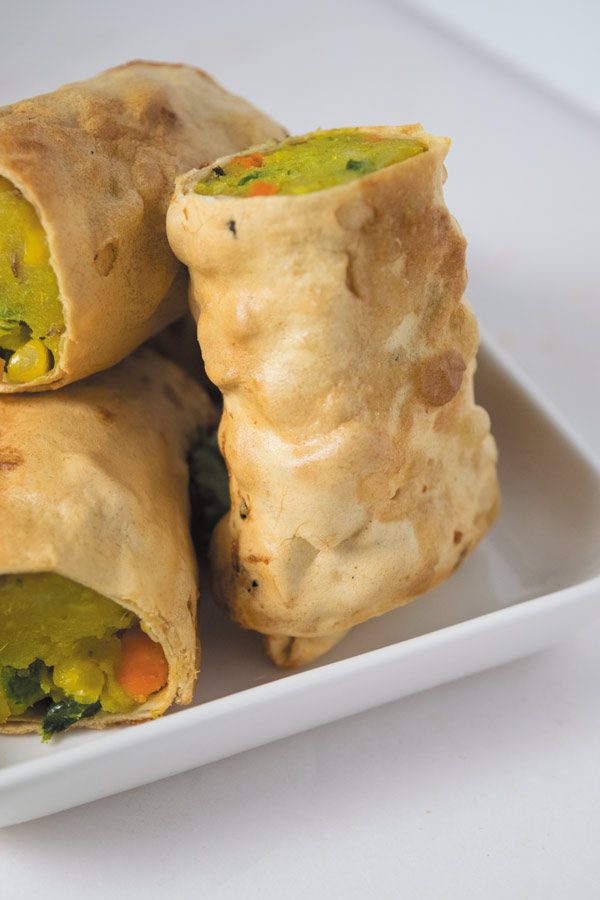 Back home, I used to love celebrating Holi. It used to be a week long affair and my mom would start preparing all sorts of delicacies and of them the one I miss the most is Gujiya (sort of like sweet empanadas but so so good!). While talking to my mom in India yesterday, she started telling me how she is starting her Holi preparations soon and all I could think of was how much I miss her handmade gujiyas!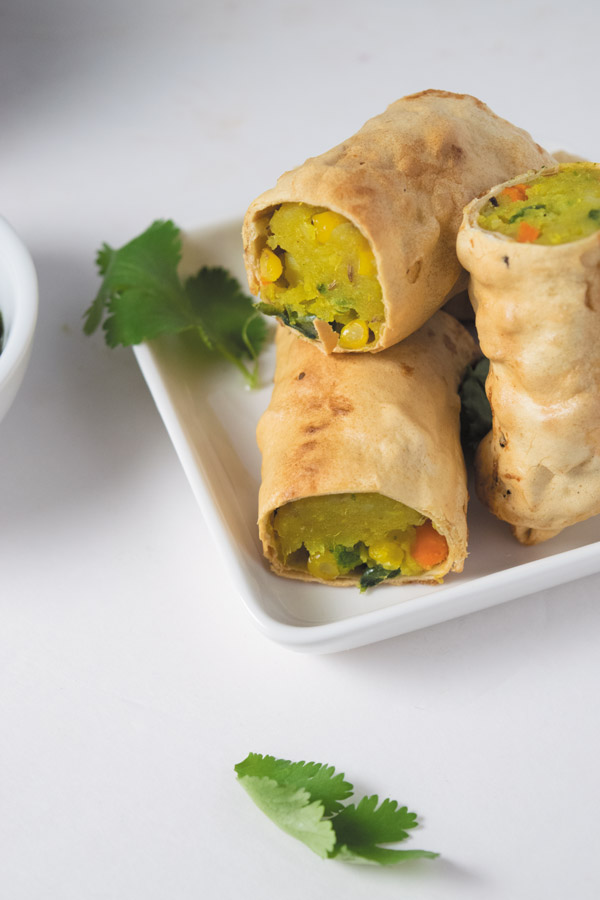 Holi or no Holi, these pockets of deliciousness are good anytime actually!
Remember to tag #naivecookcooks if you try these or any of my recipes 🙂
Follow along for a lot more delicious treats and life happenings on INSTAGRAM ||FACEBOOK||PINTEREST ||TWITTER ||GOOGLE+ || BLOGLOVIN || YouTube
Crispy Papad Rolls
Ingredients
4-6 papads or papadams (easily available in any Indian grocery store or big general grocery stores)
2 potatoes, boiled and grated
¾ cup mixed vegetables ( I used ¾ cup frozen mixed vegetables such as corn, carrots, peas and green beans)
1 tbsp oil
½ tsp cumin seeds
Salt to taste
1 tsp ginger paste
1 tsp green chili paste
Pinch of turmeric
¼ tsp cumin powder
Oil for frying
Green Cilantro chutney for serving
Instructions
If using frozen vegetable mix, transfer them to a bowl, cover them with water and microwave for 30 seconds. Drain water and keep aside.
In a pot, add oil. Once hot, add cumin seeds. Once they start to splutter, add vegetables and cook on slow-medium heat until cooked through. Add grated boiled potatoes and all the spices and mix. Cook until it is all mixed very well. Taste and adjust the seasoning.
Keep it aside to cool.
Now start heating a deep pot with oil for frying. Heat the oil on a low temperature so buy the time it is hot enough, you are ready with the rolls.
While oil is getting hot, start getting the rolls ready.
Take hot water in a deep dish and soak one papad at a time and keep it soaked until its pliable but not overly soft.
Lay it on a clean surface and take some filling and place it on the wet papad towards you leaving few inches from the edge. Now roll them tightly just like you would roll a spring roll making sure to tuck the corners inside.
Now make a paste just so it sticks and don't open while frying.
In a small bowl, mix 1 tbsp flour with 1.5 tbsp water and mix. Use this paste to stick the corners.
Finish making all the rolls and keep them aside.
Now drop a very small piece of papad in hot oil and if papad comes up immediately, this means oil is ready for frying. Keep the flame on medium-high as you don't want them to cook too fast.
Add one or few rolls at a time slowly in the hot oil and cook. Cook until golden on one side and then flip and repeat.
Place the fried rolls on a paper towel lined plate and serve immediately with green chutney.
 Some more delicious Indian inspired recipes ->>