How will you feel if someone combines two of your favorite foods in the world. Fresh cranberry crisp meets Pizza = Cranberry Crisp Pizza!! Ah-mazing!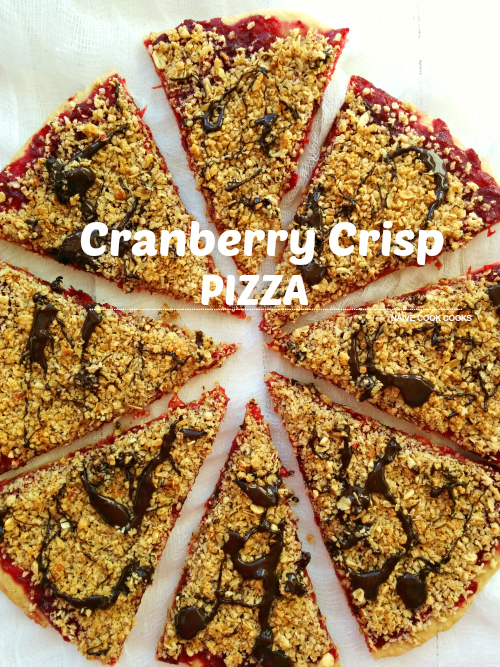 This pizza is nothing like any pizza you have eaten before! I am serious!This is tangy + crunchy + sweet and most importantly it is a PIZZA. How better can things get! Yeah my world revolves round the food and when I come up with some new crazy idea and when it gets a big thumbs up from people like you guys, it makes my day and makes me believe I am on the right track! Like few days back I received an amazing comment from a very very sweet reader named Caitlin and her comment on one of our favorite lentil recipe Dal Makhani filled me up with joy and gave me motivation to keep working hard day and night at something you love. Success will follow.

 Caitlin if you are reading this, I just wanted to let you know that how thankful I am for having readers like you who try my recipes! Thanks for the support!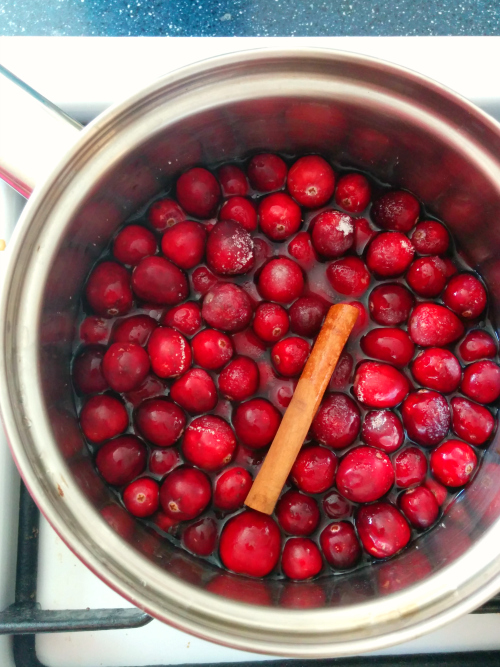 I have a strict policy with my recipes. I never ever post a recipe until it's perfectly fit to our liking. Jerry is my biggest supporter when it comes to making decisions related to taste-tasting and his criticism helps me become better little by little every day.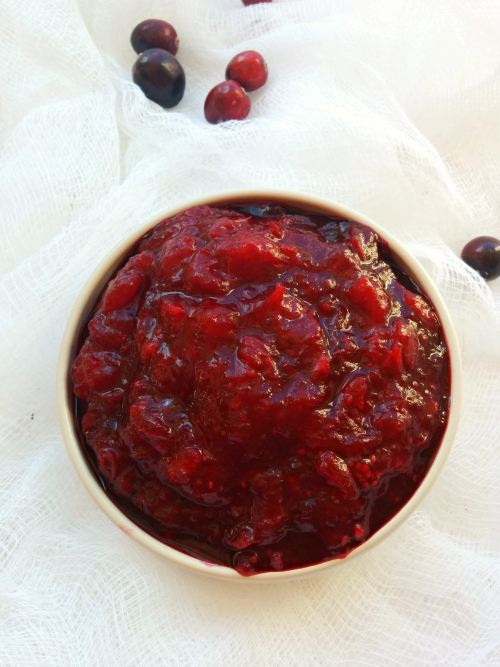 Moving on to this recipe. This recipe was an instant hit with my family and it came out perfect in the first trial. The tanginess from fresh cranberries and sweetness from the oat & pecan mix balances the flavors nicely. This pizza is great as an after dinner dessert or enjoy it for breakfast with a glass of chilled milk, black coffee or tea. It's scrumptious.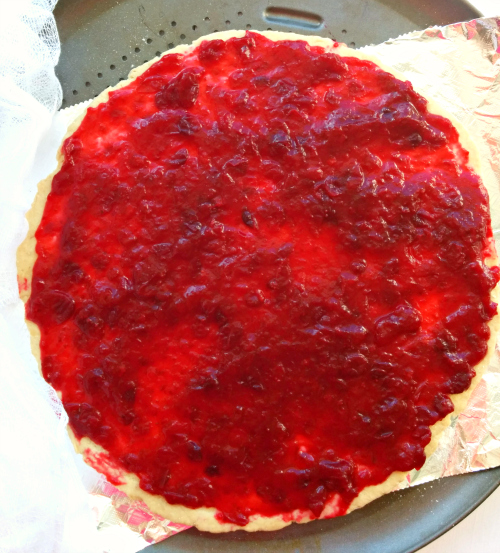 And it's so simple to make that you don't need any planning in advance. I usually make the pizza dough and let it rise while I finish making the sauce and the crumb. If you are using a ready made pizza dough or you got leftover pizza dough, then you just need to make the sauce and topping which takes literally 45 mins max total time. Roll – Spread the sauce- Spread the crumb- Bake. That's all.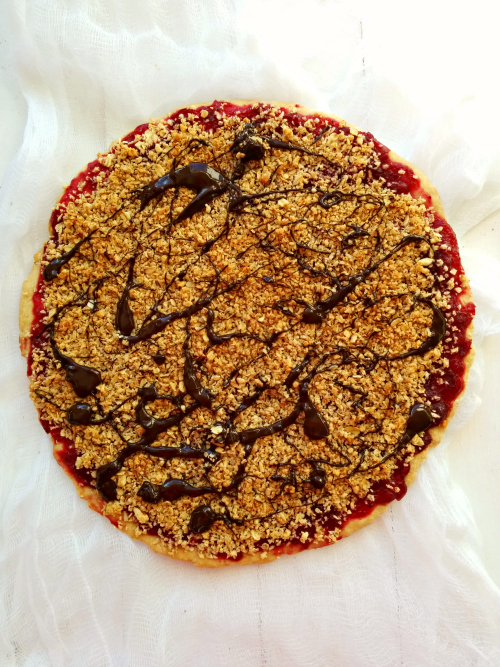 And by any means don't forget to to add chocolate sauce just before serving. Chocolate just makes everything better.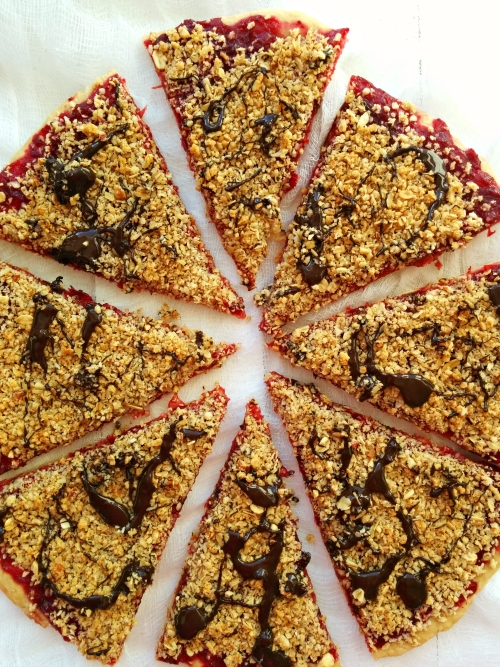 Make it today and I bet you guys will already have most of the stuff at home. You can use it for breakfast on rushed up mornings. Hey it's super healthy too – fruits + oats + nuts = Healthy morning start!
Cranberry Crisp Pizza
What happens when Cranberry Crisp meets Pizza? Most amazing dessert pizza is born!
Ingredients
Pizza dough : Makes dough for 2 thin crust pizzas ( You can freeze one and use later or go ahead and make one thick crust pizza instead)
2¼ teaspoons (1 packet) active dry yeast
¾ cup warm water
1 cup whole wheat flour
¾ cup all-purpose flour
1 tsp brown sugar or honey
½ tablespoon olive oil
½ teaspoon salt
Cranberry Sauce
2 cups fresh cranberries
1 cup water
¼ cup sugar (I like keeping the sauce slightly tangy but if you want it sweeter, go ahead and add more sugar. Once sauce is done, you can taste and add more sugar if you want.)
1 cinnamon stick
Oat-Pecan Mix
¾ cup old fashioned oats
¼ cup pecans or any other nut you fancy but NO peanuts
Pinch of salt
2 Tbsp sugar
2 Tbsp unsalted butter,softened
1 tsp cinnamon powder
Chocolate sauce
½ cup semi sweet chocolate chips
Instructions
Making Pizza Dough
In a bowl, to warm water dissolve yeast and honey. Let it sit for few mins until it starts to foam. Add both flours,salt,olive oil. Knead until smooth. If it feels too dry, add little bit more water. Add little olive oil in a clean bowl and transfer the ball of dough in there. Wrap with a plastic wrap and let it sit in warm place for good 2-4 hours or until it doubles in size.
Cranberry Sauce
In a deep pot, add all the ingredients. Bring it to a boil and then let it simmer on medium-low for good 15-20 minutes or until most of the cranberries break and you get a medium thick sauce.
Keep it aside.
Oat-Pecan Mix
In a food processor, add all the ingredients and process until you get a crumbly mix, not too coarse and not too fine.
Keep aside.
Assembling
Pre heat oven to 400F.
If making a thick crust, roll out the entire dough. If making a thin crust, roll half the dough and refrigerate the later covered tightly in plastic wrap for later use.
Transfer the rolled out dough to a pizza baking sheet.
Spread the sauce generously all over the rolled out dough.
Sprinkle the oat-pecan mix so it covers evenly.
Bake at 400F for 12-15 minutes.
Chocolate sauce
Melt chocolate in a microwave safe bowl for 30 seconds. Stir it around and if still some pieces of unmelted chocolate left, microwave for another 20 seconds. Stir it again.
Drizzle on the pizza.
Make sure you make chocolate sauce whenever you are serving it as it hardens up sitting if not used up.
Notes
This pizza stays good covered in plastic wrap in refrigerator. You can enjoy it for those rushed up mornings with a glass of milk or coffee/tea.
Make sure you don't overbake the pizza because the oat mix might get burnt. I usually like baking at 400F for around 12 minutes.
More Pizza Recipes:
https://www.naivecookcooks.com/peach-caramelised-onion-goat-cheese-flat-bread/