Delicious Cold winter months sweet – Til Mawa Ke Ladoo (Sesame Seed Fudge Balls) a traditional sweet from North India requires just 4 basic ingredients and is such a great protein packed snack or dessert!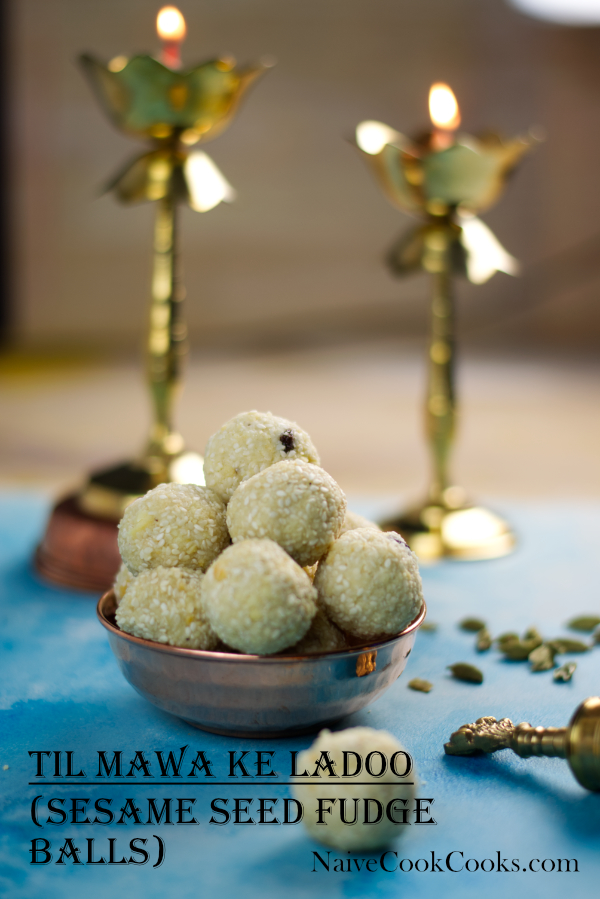 With Diwali being just around the corner and election results pending, this whole week has been weird! I have been trying to get into Diwali mood but sometimes I feel it's just so hard especially living in USA because unless you have lots of Indian friends or family nearby, you won't even realise that Diwali came and went by! This is also the time I miss my side of the family the most.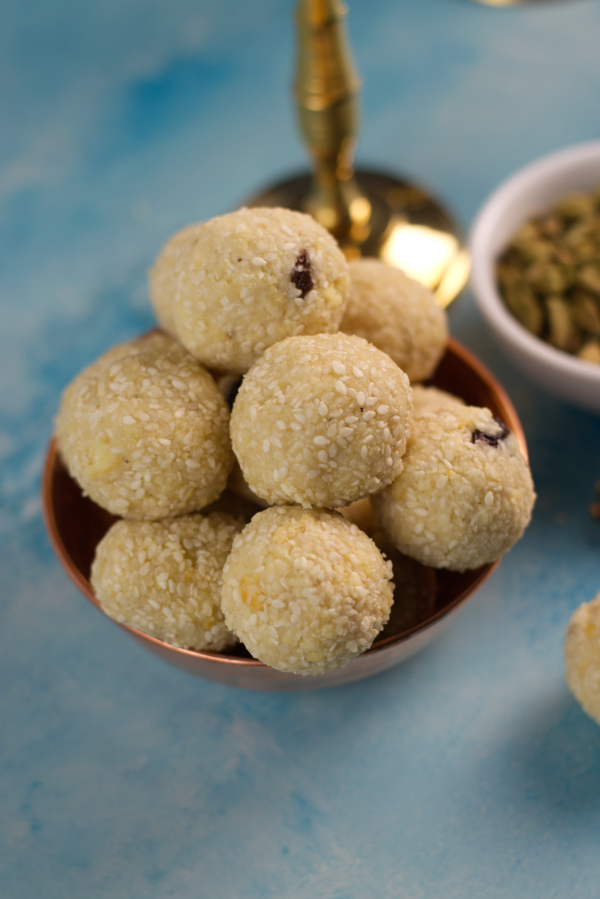 So obviously making all my favorite Diwali treats so it feels like home. These Sesame seed fudge balls (til mawa ke ladoo) have always been a favorite. My grandmother used to make these all the time and after she passed away my mom started making these! These ladoos are one of those winter treats you just cant stop at 1! I might have munched on few by the time I was done photographing them!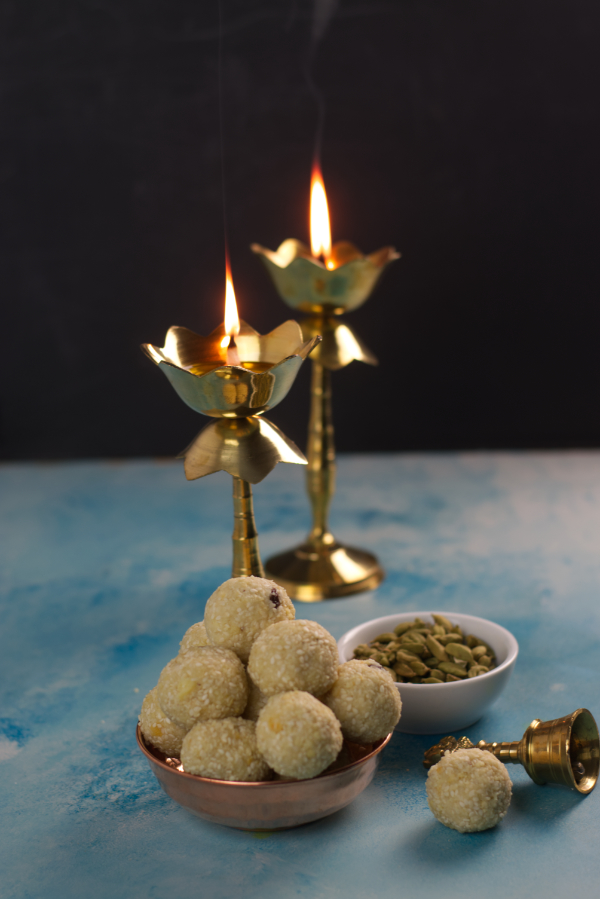 To make these you will need –
SESAME SEEDS ( I prefer the white sesame seed and try to get fresh if possible or if you have them at home, make sure they were stored in fridge so they don't have any weird oil smells and they are fresh)
MAWA/KHOYA ( This is basically just whole milk dried evaporated to give thick milk solids. My mom mostly makes it at home but until now I haven't tried making this at home. I bought it from the freezer section of our Indian store)
FINE POWDERED SUGAR 
CARDAMOM POWDER
Just these basic ingredients and a really simple STEP BY STEP to show you guys how to make these ladoos! If you have never before made ladoos. let me tell you that til (sesame seeds) have tendency to stick on hands so it might take little longer to shape them but you will get them right!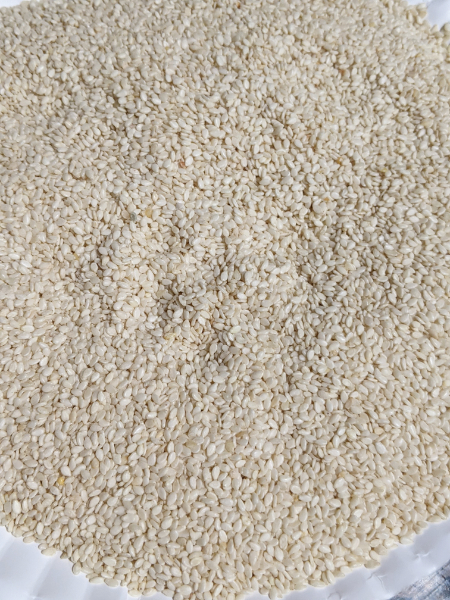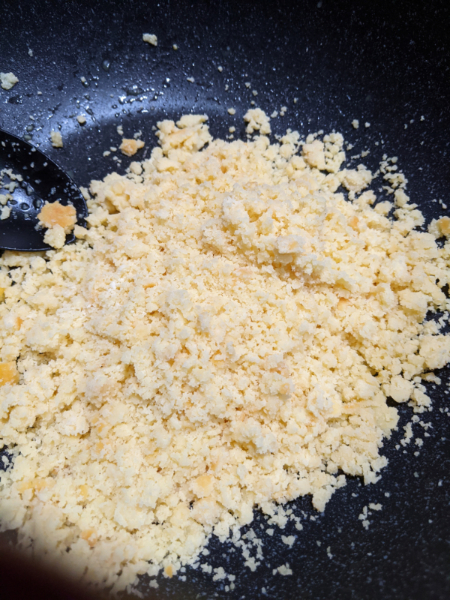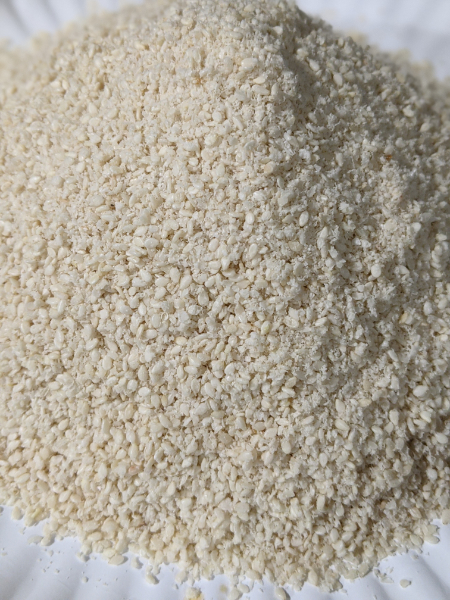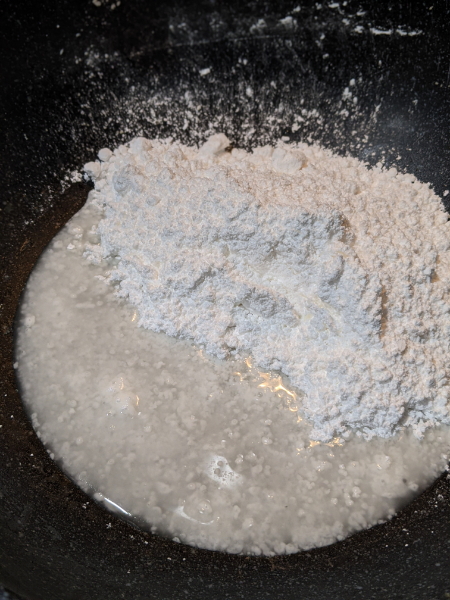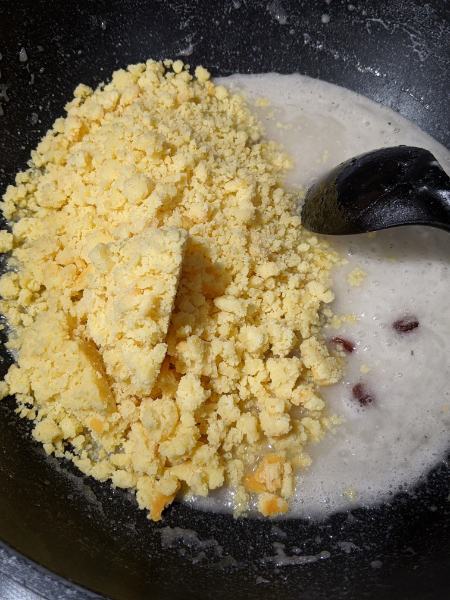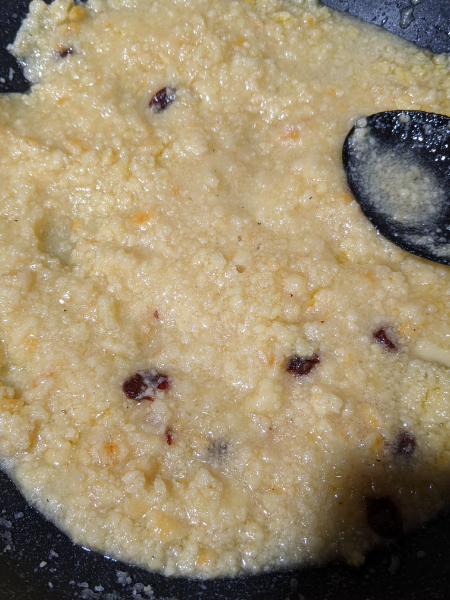 THE SEQUENCE FOR ABOVE STEP BY STEP PICS GOES LIKE THIS :
ROW 1 LEFT TO RIGHT PIC 1 & 2
ROW 2 LEFT TO RIGHT PIC 3 & 4
ROW 3 LEFT TO RIGHT PIC 5 & 6
Super simple as you can see – In PIC 1 you can see that's sesame seeds very slightly roasted. PIC 2 shows the khoya/mawa slightly roasted just to make sure that ladoos last for longer days.
PIC 3 shows roasted sesame seeds that were crushed roughly. PIC 4  shows that we are making sugar solution by mixing powdered sugar and water in a heavy deep bottom pan.
PIC 5  shows that once sugar has melted, we have added raisins, cardamom powder and khoya/mawa. PIC 6 shows that the gas has been turned off , we have added those roasted sesame seeds and we keep mixing the until you have a nice smooth dough.
Then let it cool just a little bit, water your hands and start rolling ladoos. Water on hands helps to prevent sesame seeds (til) from sticking too much.
I hope you make it and share it with your loved ones!
So go ahead and make these TIL MAWA KE LADOO! If you make this, remember to tag us on social media by using #naivecookcooks . We will feature your pics on our SOCIAL MEDIA CHANNELS!
If  you enjoyed this recipe, don't forget to FOLLOW me on  INSTAGRAM ||FACEBOOK||PINTEREST ||TWITTER ||GOOGLE+ || BLOGLOVIN || YouTube 
Til Mawa Ke Ladoo ( Sesame Seed Fudge Balls)
Ingredients
250 gms white sesame seeds ( around 2 cups)
250 gms khoya/mawa ( fresh made at home or from store)
200 gms powderd sugar
½ - 1 tsp cardamom powder
¼ cup plus few tbsps water
Instructions
Roast sesame seeds on low heat in a pan just for 3-5 minutes so the color barely changes. If you roast too much, they will become bitter.
Keep them aside.
Now in the same pan, take your khoya/mawa. If you mawa was frozen, make sure to thaw it all the way. If mawa was in a brick form (that's how most Indian stores sell it), crumble it using your fingers and then add to the pan. Cook it on slow to medium heat for 10-15 minutes until it slightly changes color. Transfer it to a plate.
Now to the same pan add water ⅓ cup along with powdered sugar. Mix on low to medium heat. When sugar is mixed, add raisins, cardamom powder. Mix and then add khoya/mawa. Mix until it's incorporated well into the sugar solution. Then turn off the heat and add sesame seeds. Mix mix until you get an even dough. If it feels too dry ( which will really vary as all of our khoya will be different) then add few tbsp of water and mix again.
Now you have to work little fast, let it cool down just slightly! If you let the dough cool too much, it will be hard to roll them into balls. Take some water into a bowl and grease your hands with it. take a golf ball size dough and roll tightly into a ball. Keep storing them in a covered container.
Enjoy, share with loved ones and if it's hot where you live after a day or two keep them in fridge!
SOME MORE DELICOUS INDIAN SWEETS ->>