Spiced Lentil & Rice Cakes packed with tons of shredded zucchini which even pickiest eater won't be able to tell! A popular baked snack from Gujarat which is not just healthy but extremely delicious too!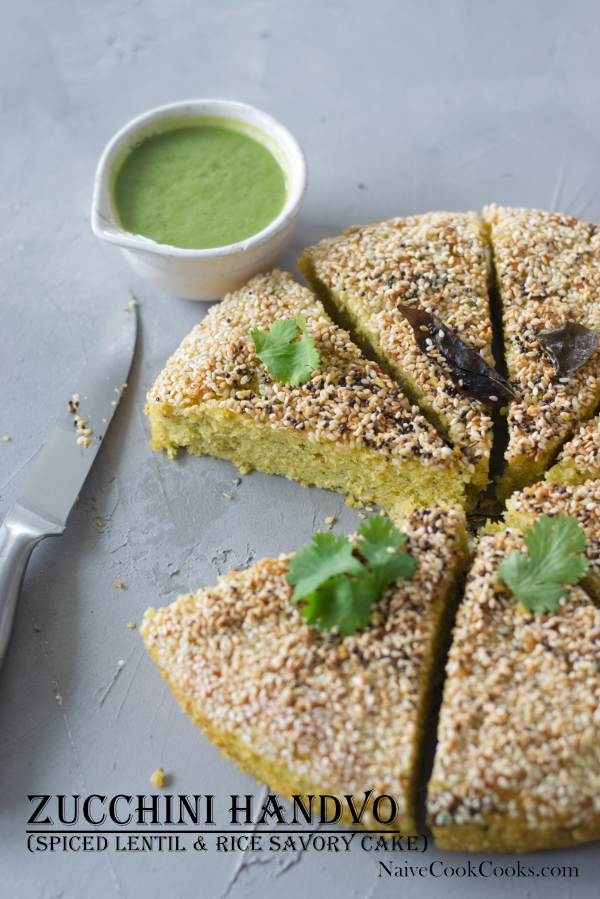 Marrying a Gujarati boy has its perks! Speaking in all seriousness, it's been an amazing journey to experience an entire new culture  specially when it comes to food! Lucky for me Ronak is a very easy person so we never really felt like we came from two totally different cultures but there were few things I learnt in the initial days of us being together one of them being some of our favorite Gujarati recipes – Guajarati recipes which I ate and which I fell in love with immediately. Zucchini Handvo is one such recipe – I must confess for some reason I don't make this enough but whenever I make it, I regret for not making it enough and tell myself to be better about it.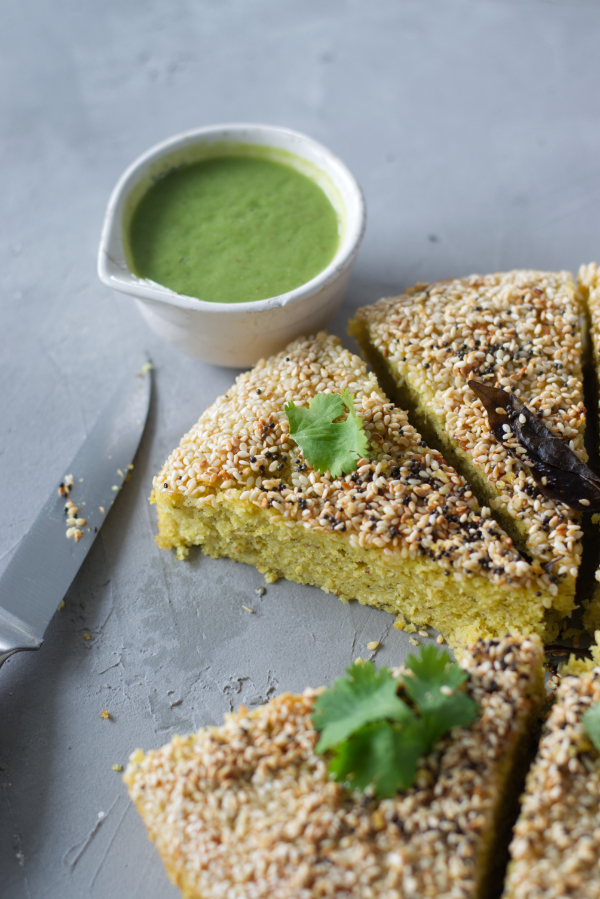 So what is HANDVO / ONDHAWA ? It's a savory baked cake made up of Indian spices, some kind of vegetable and a flour which is a mixture of rice and lentil. Some people make it completely from scratch by soaking, drying and grinding their own lentil and rice mix. I have always wanted to go that route but been always short on time, so that never happened. But his mom had taught me this recipe some years back using her simple shortcut method ( where you can use already prepared lentil + rice mix called handvo / ondhava flour sold at almost all Indian stores). It saves you time , is still 100% authentic and as always so good & healthy!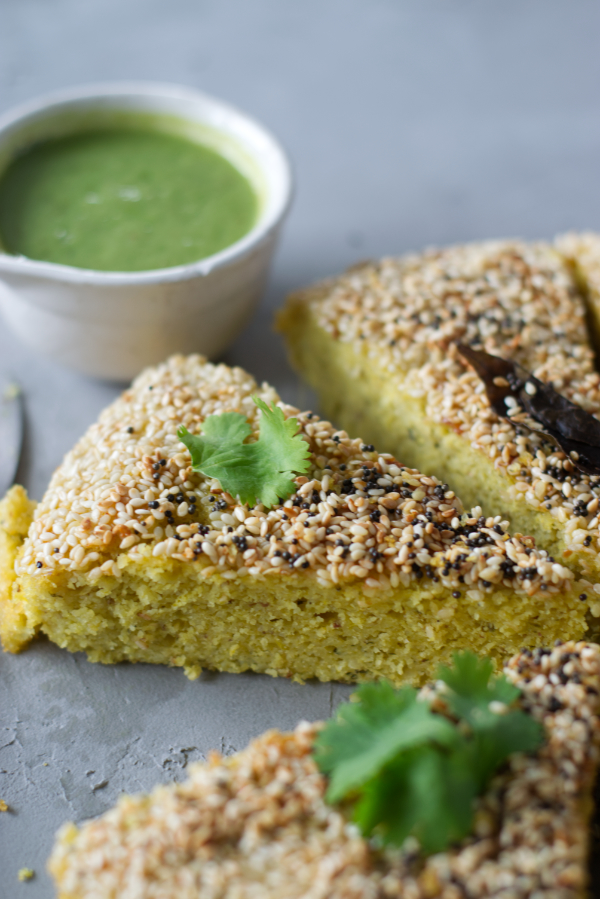 So we like to make it 2 ways – either in a cake pan like I have made it here or if you love crispy edges, go the square pan route and fill up only half the filling so you get thin and crispy handvo pieces! So good with a cup of garam chai.
YOU MIGHT BE WONDERING IF YOU CAN SUBSTITUTE ANY OTHER VEGGIES? Yes!! I learnt to make it with lauki / doodhi / bottle gourd but I have made it successfully with zucchini as shown here or with a mix of zucchini and carrots or basically any veggie your heart desires.
IS IT KID FRIENDLY? This is 100% kid approved yummy healthy snack or even a great meal option when served with some fruit and yogurt on the side.
CAN I SKIP PEANUTS? Totally! I add coarsely crushed peanuts inside the batter which you can totally skip if you want to.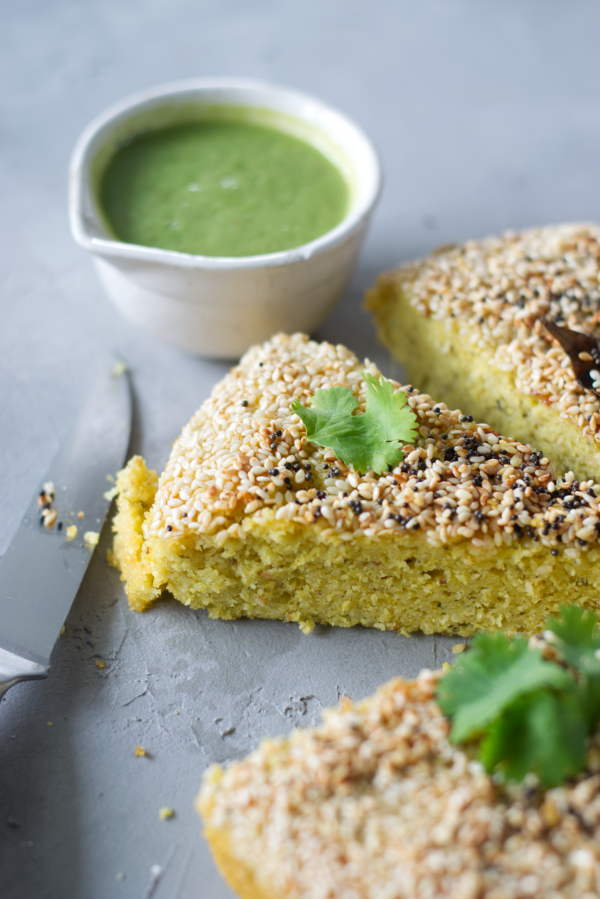 I hope you make it and share it with your loved ones!
So go ahead and make this ZUCCHINI HANDVO! If you make this, remember to tag us on social media by using #naivecookcooks . We will feature your pics on our SOCIAL MEDIA CHANNELS!
If  you enjoyed this recipe, don't forget to FOLLOW me on  INSTAGRAM ||FACEBOOK||PINTEREST ||TWITTER ||GOOGLE+ || BLOGLOVIN || YouTube 
I have a SHOP PAGE on AMAZON STOREFRONT where you can find tons of items from KITCHEN, FOOD ITEMS, KIDS/BABY TO HOME STUFF I absolutely love and use on regular basis! Hope you check it out and find it useful 🙂
Zucchini Handvo ( Spiced Lentil & Rice Savory Cake)
Recipe type:
Breakfast, Snack
Ingredients
2 cups Handvo (Ondhawa) flour (358 gms) (12.6 oz)
3 tbsp yogurt ( any fat content is fine)
½ tsp baking soda
1 tsp instant dry yeast
1 cup water
1.5 cups finely shredded Zucchini
1 tbsp + 1 tsp ginger paste
Green chili paste to taste
¼ tsp turmeric powder
Handful fresh curry leaves ( meethi neem), chopped fine
⅓ cup raw peanuts, crushed
5 tbsp oil, divided
Few drops of lime juice (optional)
2 tsp mustard seeds
3-4 Tbsp sesame seeds
3-4 tbsp unsweetened finely shredded dry coconut (optional)
8-10 fresh curry leaves
Instructions
I a bowl, take handvo flour. To it add 1 Tbsp oil and mix so oil is properly mixed with handvo flour. I like to do it using my hands.
Next to this add yogurt, baking soda, yeas and 1 cup warm water and mix everything together, Cover and place it in a draft free warm area for overnight or for atleast 6 hours.
When ready to bake, preheat oven to 350 F.
To the above batter add shredded zucchini, ginger paste, green chili paste, salt to taste, turmeric powder, crushed peanuts, curry leaves chopped and mix. Taste and adjust if you need to any salt, ginger or green chili. If the batter is not tangy at all you can add few drops of lime/lemon juice and mix again.
Now take a baking pan. I used a circular 9" pan but if you like thin and crispy slices split the batter into 2 of these pans or bake one half first and then another half.
Now warm up 1 tbsp oil and use it to grease the bottom and sides of baking pan. You can also use parchment paper if you want to.
Pour the batter.
In a small pot ( chaunk pot), heat 3 tbsp oil. Once hot, add mustard seeds and curry leaves. Let it splutter. Pour this hot oil mix all over the batter. Now sprinkle sesame seeds all over the batter an d if you like coconut, also sprinkle dry finely shredded coconut all over.
Place it in 350F oven and bake for 20 minutes. Lower the temperature to 200F and bake for 30 mins, then broil for 5 minutes.
Once done, let it cool completely in the pan. Release the edges and then cover it with a plate or chopping board. Flip it gently so it will slide onto the plate. But it will be upside down, so flip it back onto another plate. Cut into slices and enjoy with chai!
Notes
Ami says:
Once completely cool, store in an airtight container in fridge. Just pop it in oven to enjoy a fresh warm slice of handvo!
SOME MORE EASY HEALTHY SNACKS ->>