Til Mawa Ke Ladoo ( Sesame Seed Fudge Balls)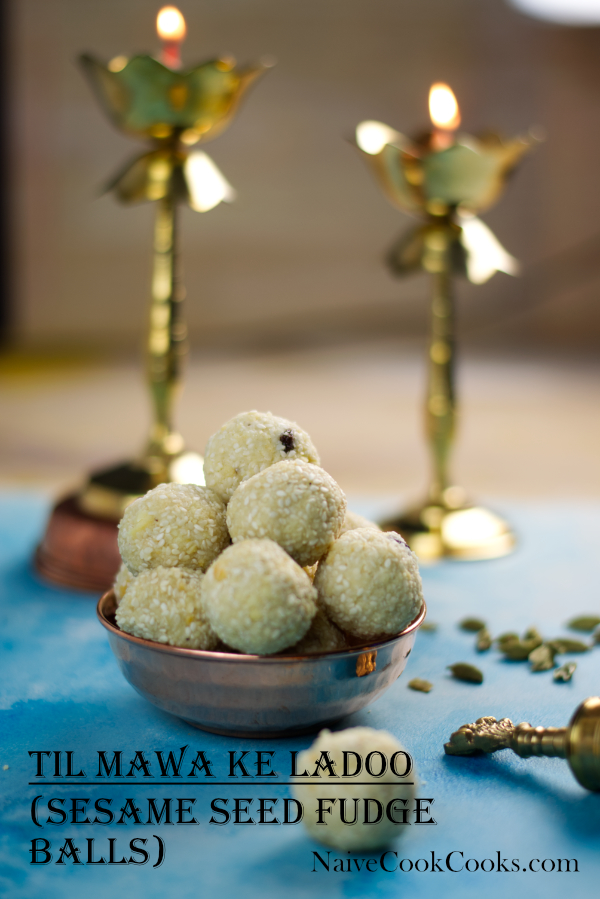 250 gms white sesame seeds ( around 2 cups)
250 gms khoya/mawa ( fresh made at home or from store)
200 gms powderd sugar
½ - 1 tsp cardamom powder
¼ cup plus few tbsps water
Roast sesame seeds on low heat in a pan just for 3-5 minutes so the color barely changes. If you roast too much, they will become bitter.
Keep them aside.
Now in the same pan, take your khoya/mawa. If you mawa was frozen, make sure to thaw it all the way. If mawa was in a brick form (that's how most Indian stores sell it), crumble it using your fingers and then add to the pan. Cook it on slow to medium heat for 10-15 minutes until it slightly changes color. Transfer it to a plate.
Now to the same pan add water ⅓ cup along with powdered sugar. Mix on low to medium heat. When sugar is mixed, add raisins, cardamom powder. Mix and then add khoya/mawa. Mix until it's incorporated well into the sugar solution. Then turn off the heat and add sesame seeds. Mix mix until you get an even dough. If it feels too dry ( which will really vary as all of our khoya will be different) then add few tbsp of water and mix again.
Now you have to work little fast, let it cool down just slightly! If you let the dough cool too much, it will be hard to roll them into balls. Take some water into a bowl and grease your hands with it. take a golf ball size dough and roll tightly into a ball. Keep storing them in a covered container.
Enjoy, share with loved ones and if it's hot where you live after a day or two keep them in fridge!
Recipe by
Naive Cook Cooks
at https://www.naivecookcooks.com/til-mawa-ke-ladoo-sesame-seed-fudge-balls/