Foxnuts (Makhane) & Indian Rice Pudding – Creamy Indian style Rice Pudding with fox nuts (lotus seeds) made with JUST 5 INGREDIENTS which gives it a nice chewy texture in each bite! So good – this version is even better than regular Indian Rice Pudding.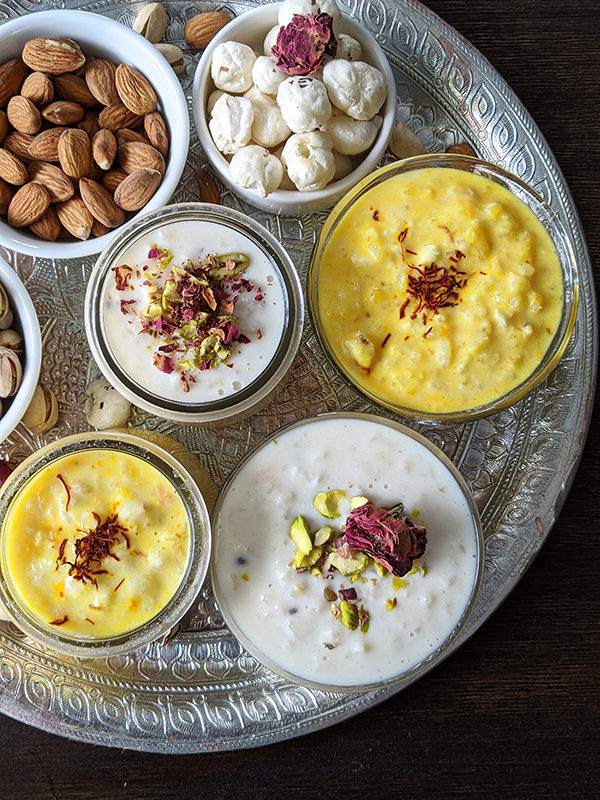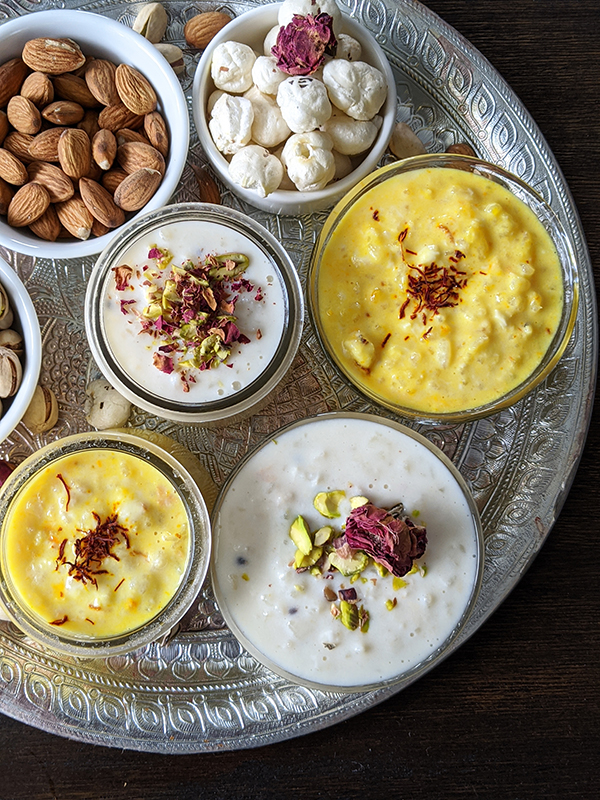 Have you ever tried Indian rice pudding? If you are an Indian, your answer must be Yes! and even if you are not an Indian but have enjoyed Indian food then you must have crossed paths with Indian rice pudding at some point in your life which is nothing but a simple mix of milk, rice and sugar often flavored with nuts such as almonds, cashews, pistachios and rose water or cardamom powder or saffron depending on person to person.
I grew up eating simple version of chilled rice pudding at home all the time and this version with fox nuts (lotus seeds) was often made by my mom during fasting.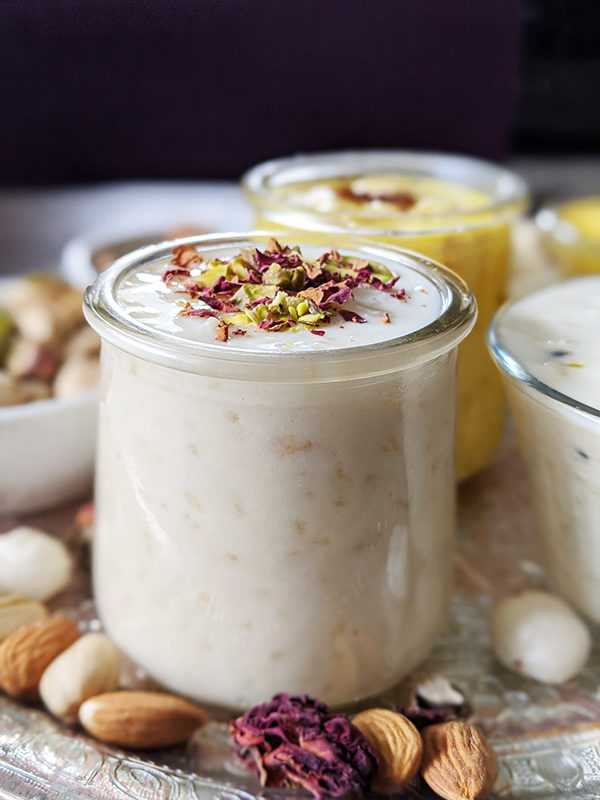 Fox nuts (Lotus seeds) are simply seeds from Lotus flower. They are very nourishing and when cooked with little ghee and salt, these make for an irresistible snack just like popcorn but so so much better tasting. 
Here fox nuts give a chewy texture to rice pudding and in case you can't find fox nuts, it's totally ok to leave these out and still you will have a creamy rice pudding.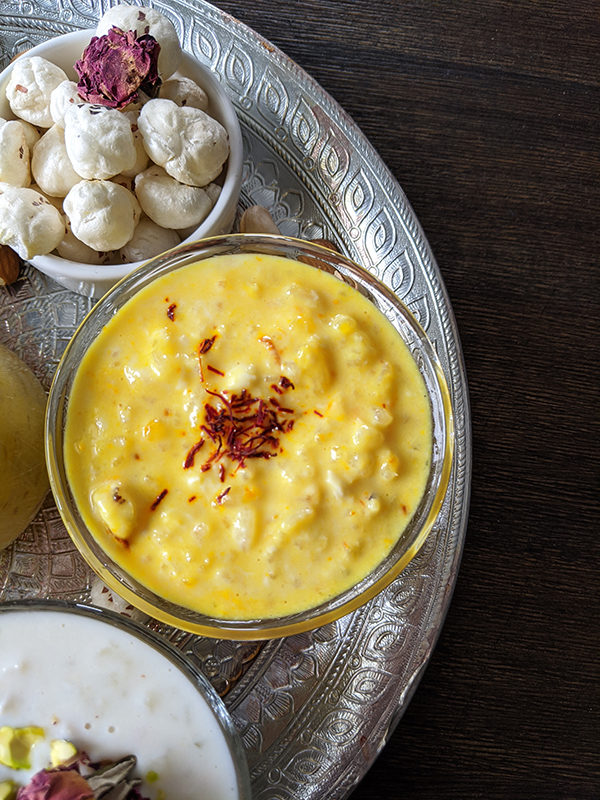 Why 2 colors of RICE PUDDING here you might wonder? So at our home, Ronak is team saffron and I am team cardamom so after cooking rice pudding, I poured half in one container and added crushed cardamom in it while the remaining half I poured in another container and added saffron for him.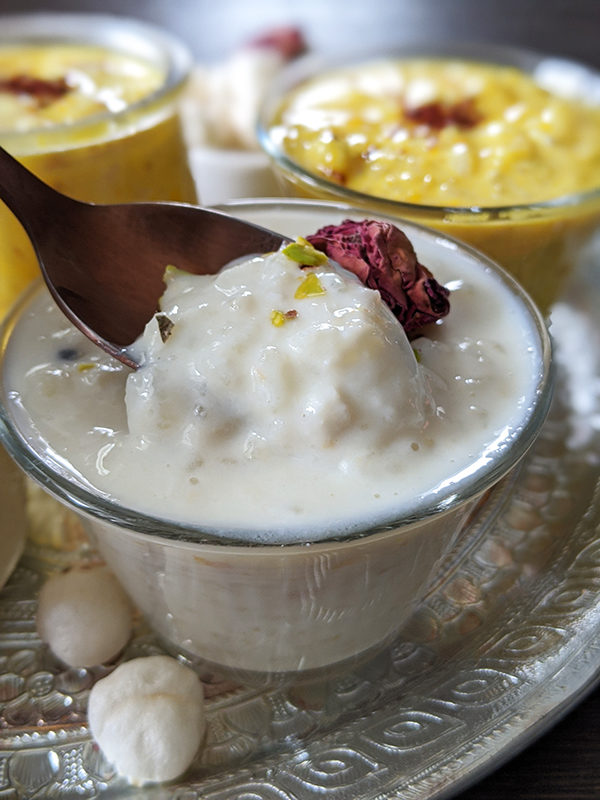 Seriously give this RICE PUDDING a try, made with simple ingredients you might already have at home! 🙂
Foxnut (Makhane) & Cardamom Rice Pudding
Ingredients
5 cups whole milk ( You can use skimmed milk but I STRONGLY suggest to use whole milk if you want to get a creamier rice pudding)
4 Tbsp jasmine rice (or any short grain rice)
⅜ cup fox nuts (chopped in small pieces)
1'2 cup + 2 Tbsp castor sugar or as per taste
Few saffron strands
4 cardamom pods
Instructions
Take a deep heavy bottom pot. Add milk in there and bring it to a boil. Once it comes to a boil, immediately set the gas to lowest setting. Meanwhile wash your rice until water starts to run clear.
Add this clean and rinsed rice to milk and let it cook on lowest gas setting. Keep stirring every few minutes or so just so milk doesn't stick to the bottom of the pot.
Once milk is reduced to half, add chopped fox nuts and if you want to add any nuts in your rice pudding go ahead and add them as well.
Also at the same tome add sugar and mix everything. Let it cook for another 15-29 minutes so sugar is dissolved and fox nuts are soft.
At this stage rice pudding is not going to be super thick, it will still have some milk but once it sits in refrigerator it is going to thicken up.
If you like more thicker rice pudding keep cooking it longer or if you like way thinner rice pudding, stop cooking few minutes earlier.
Once done, add saffron or cardamom or both if using.
Let it come to room temperature. Transfer to a airtight container and store in refrigerator until chilled.
SOME OTHER TREATS ->>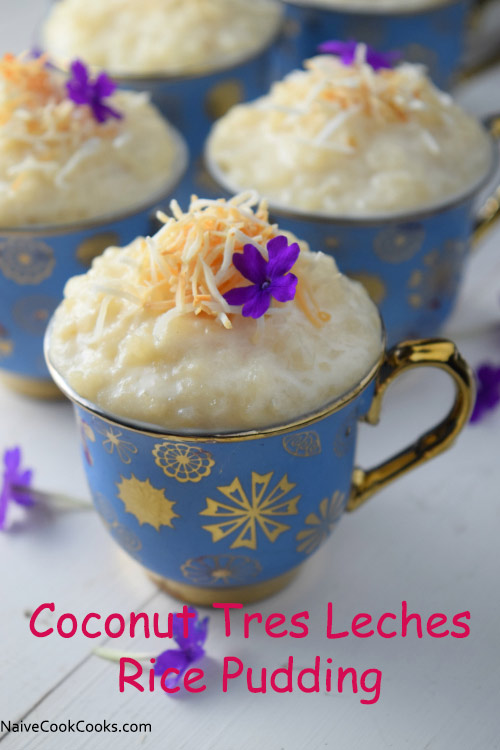 BOOZY GAJAR HALWA (The way my mom makes Carrot halwa back home. I went a step ahead added some booze but that's totally optional.)