Crushed Black tea leaves along with fragrant cardamom, cloves, ginger, cinnamon and black pepper added to classic chocolate chip cookies to make these extremely addicting MASALA CHAI CHOCOLATE CHIP COOKIES! Its like CHAI IN A COOKIE FORM!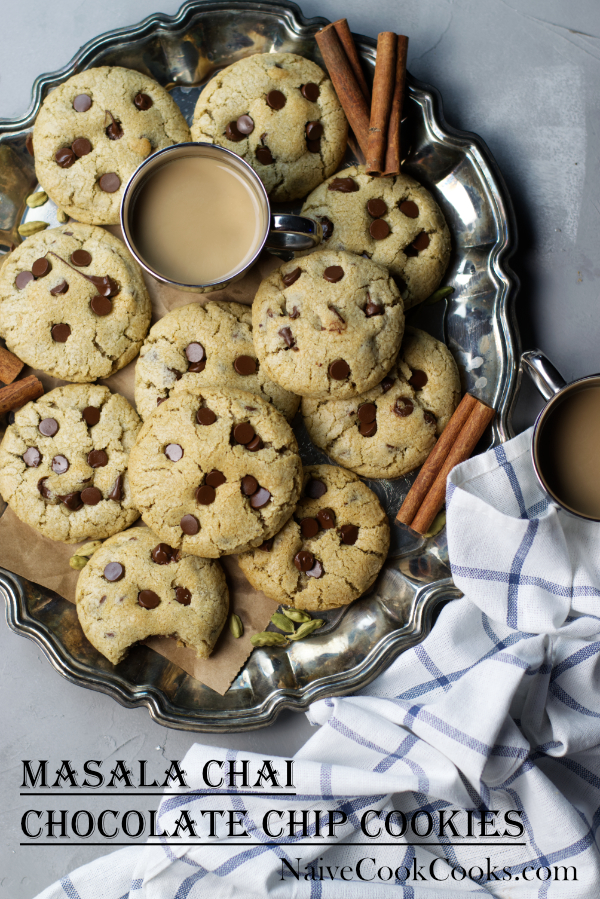 I grew up watching my mom having tea first thing in the morning. There were never any ifs/buts when it came to her chai. I on the other hand never really cared for chai until I went to college at IIT (Indian Institute of Technology Delhi) where thanks for my awesome friends, I got addicted to chai ( not too many cups just a cup or two in between lab breaks!).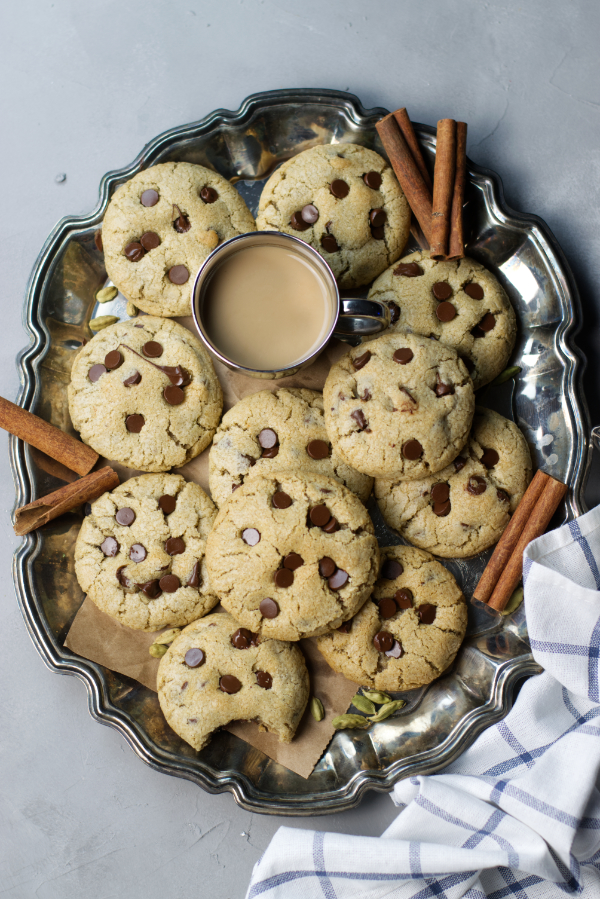 Now fast forward a really really long time, my love for chai has but only grown stronger! From being a seriously strict morning coffee person for the last 10 years, I have been slowly slowly craving CHAI for my first caffeine fix in the early mornings! I think age does that to you – you miss all the things you grew up with and being away from birth country for long doesn't help much too! Can't wait for this pandemic to end and run back home to India to see my parents and give them the tightest hug.
So I figured what would be perfect for this holiday season especially DIWALI if not everyone's favorite CHAI? So I added everything that goes in to make a mean chai – 
BLACK TEA LEAVES
CARDAMOM
CLOVES
CINNAMON
GINGER
BLACK PEPPER
to my OLD FASHIONED CHOCOLATE CHIP COOKIE DOUGH
and made a cookie that feels like having CHAI IN COOKIE FORM!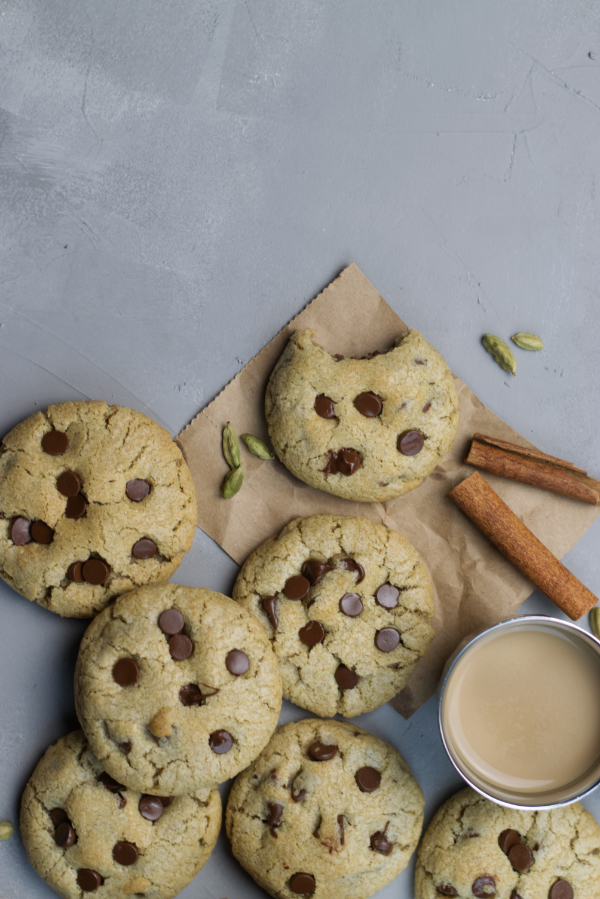 You ask if you can make these ahead? Sure! Make the dough and roll into tight balls. Place on a plate and freeze. Once hard as a rock, transfer these cookie balls to a airtight plastic bag and place it back in freezer. Whenever craving hits, pop few in the oven and tada!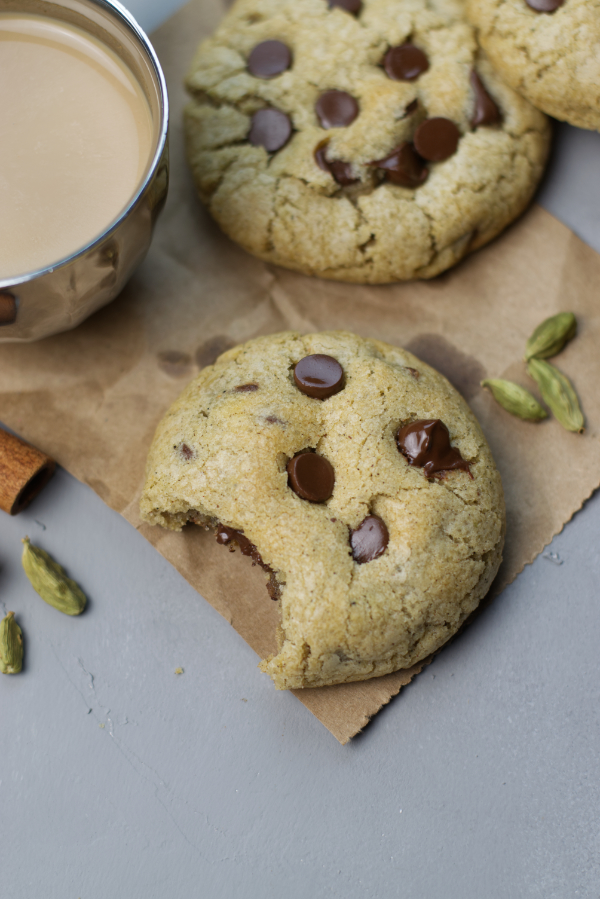 ARE THEY KID FRIENDLY? I would say Yes & No depending on how old your kid is and if you have exposed kid to caffeine yet! But you can just make them my OLD FASHIONED CHOCOLATE CHIP COOKIES  which every kid seems to love at my place!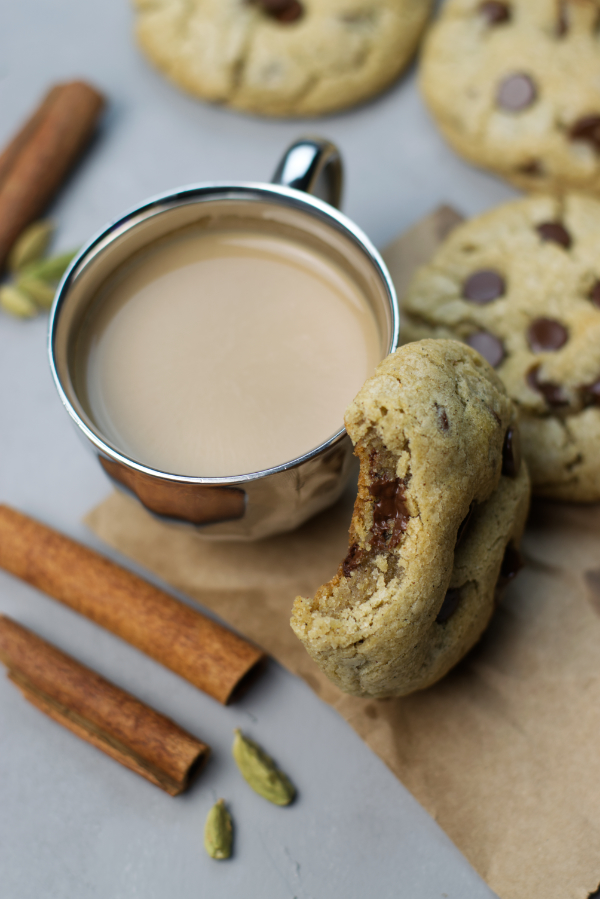 HOW TO STORE COOKIES? I would store them in a tight airtight container.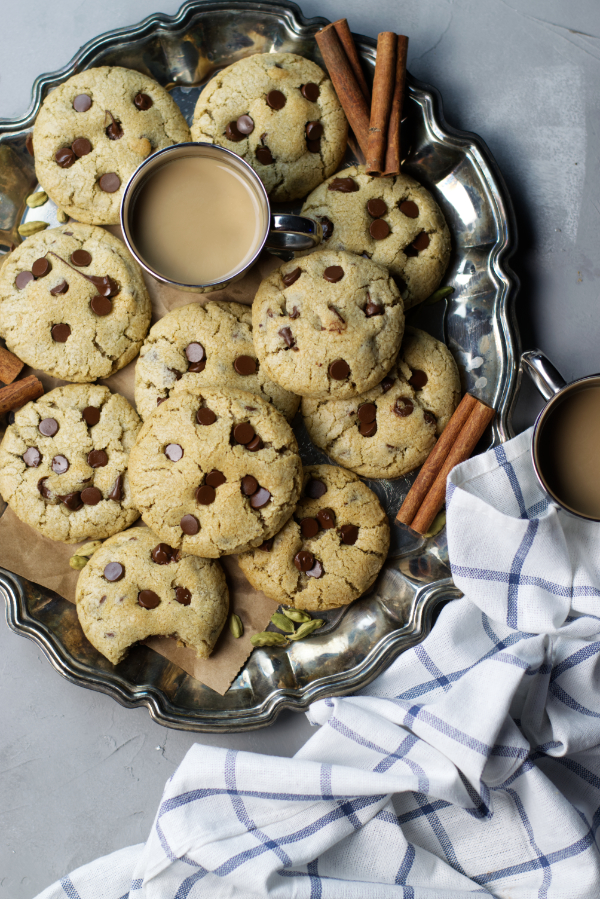 I hope you make it and share it with your loved ones!
So go ahead and make these MASALA CHAI CHOCOLATE CHIP COOKIES!! If you make this, remember to tag us on social media by using #naivecookcooks . We will feature your pics on our SOCIAL MEDIA CHANNELS!
If  you enjoyed this recipe, don't forget to FOLLOW me on  INSTAGRAM ||FACEBOOK||PINTEREST ||TWITTER ||GOOGLE+ || BLOGLOVIN || YouTube 

Masala Chai Chocolate Chip Cookies
Ingredients
MASALA CHAI INGREDIENTS:
1 tsp cardamom whole
4 cloves
½ tsp cinnamon powder
2 tsp black tea leaves
Pinch of Black pepper
½ tsp ginger powder
COOKIE INGREDIENTS:
1.5 cups all purpose flour (around 8.2 oz)
½ tsp baking soda
½ tsp salt
½ cup (1 stick) unsalted butter at room temperature
½ cup white sugar
½ cup packed brown sugar
1 large egg
1 tsp vanilla extract
1 cup semi sweet chocolate chips
Instructions
Add all the MASALA CHAI INGREDIENTS to your grinder and grind to a fine powder.
Keep aside.
Now whisk flour, baking soda, salt and 1 Tbsp of MASALA CHAI INGREDIENTS we just grinded in a medium size bowl. In a large bowl, beat butter until light and fluffy. Add both sugars to the butter and beat it until well blended. Add eggs and vanilla. Beat until mixture becomes smooth and creamy. Add flour mixture to it and beat until just incorporated. Stir in ½cup of chocolate chips.
Cover the dough and let it chill in fridge for 30 mins. This helps in making nice thick chewy cookies that don't spread too much.
Preheat oven to 375 F.
Spray a baking sheet with non stick oil or use a parchment paper or baking mat over baking sheet. Roll around 2-3 tbsp cookie dough into a tight ball and place them on sheet at least 2-3 inches apart. Bake them for 11-13 minutes or until golden brown.
Let them cool on the baking sheet for a minute or two. Then transfer the cookies on a rack, add few chocolate chips gently and carefully onto hot cookie and let them cool completely.
Store in airtight container at room temperature.
Some more delicious COOKIE RECIPES ->>