If you are still planning your Thanksgiving, here is some help in the cooking department!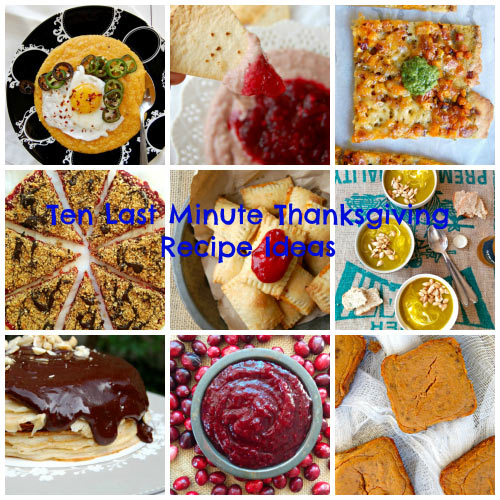 Ten Last Minute Thanksgiving Recipes:
1. Butternut Squash Polenta : A cozy Thanksgiving brunch idea or perfect to make day after thanksgiving for guests as it's super quick, easy and can be made ahead!
2. White Bean & Cranberry Chutney Dip : Serve it as a starter to your guests and this dip with it's sweet and salty notes will keep them busy!
White Beans and Cranberry Chutney Dip with Homemade Tortilla Chips
3. Butternut Squash & Poblano Soup with Ghee Roasted Squash Seeds : This soup will be a great accompaniment to the thanksgiving spread you have planned for your guests! Don't forget to serve with ghee roasted squash seeds and yogurt/sour cream.
4. Red Wine Cranberry Habanero Sauce : This red wine infused cranberry sauce will surprise your guests with it's sweet and spicy notes and it goes really well with turkey, pilafs or just smeared on fresh rolls.
https://www.naivecookcooks.com/red-wine-cranberry-habanero-sauce/
5. Cranberry Crisp Pizza : This pizza took me by surprise as it is a dessert pizza but being not too sweet, it can easily be passed as a side dish.
6. Caramelized Butternut Squash Pizza with Pesto : This was the "best winter squash pizza" labelled by my family when they were served this for dinner. Pesto totally takes it to a level of perfection, so if planning on making this make sure you use good pesto!
7. Spiced Pumpkin Bars with Hazelnut Crust :  Well goes without saying. If you are totally not into making full sized pies, this is your answer! Perfectly sized spiced pumpkin bars with a unique hazelnut crust will go very well with the rest of the traditional desserts.
https://www.naivecookcooks.com/spiced-pumpkin-bars-with-hazelnut-crust/
8. Sweet Potato Pie "Mini" Pop Tarts with Cranberry Sauce :  Pop tarts gone mini! If sweet potato pie is not your cup of tea, than these pop tarts are certainly what you need!
https://www.naivecookcooks.com/sweet-potato-pie-mini-pop-tarts/
9. Old Fashioned Apple Pie : Old is gold, right?! So goes with the ever classic Aple pie. This pie tastes even better if served few hours after making! Thanksgiving or no thanksgiving, make this!
10. Chocolate Hazelnut Crepe Cake : If you are those brave hearts willing to try something more creative at your thanksgiving spread, this is it! Look no further as this is one classic chocolatey crepe cake!
Caution : You won't be left with any leftovers!
Happy Thanksgiving!