Caramelized squash, zesty pesto and creamy provolone & cheddar cheese on a whole wheat crust! Pizza night at its best!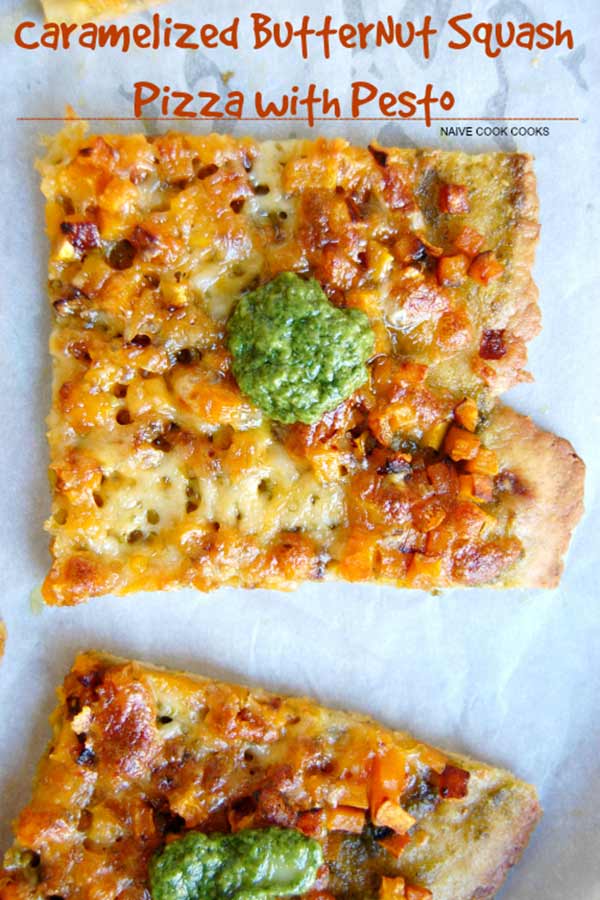 Lets talk about this pizza.
The only time I had butternut squash pizza was a year or so back in Chicago, one late night after lot of drinks, when almost everything tastes good. We ordered a giant size butternut squash pizza and another heirloom tomato pizza. The only clear memory from that night which I remember is hearing Jerry say that how good that pizza was and how you can't even taste the squash! In a good way of course, as it was cut into super thin slices and let me tell you that was the day I fell in love with squash on a pizza. 
Now since then I have made tons of pizzas with almost 99% of the time making fresh homemade dough as well but surprisingly I never dared to give that combination a try again. I am not sure what it was, the idea of using something like butternut squash on my pizza scared me or more than that was it the worry that I might end up tumbling that pizza in garbage if it tasted too butternut squashy!
For our pizza night this week (yes we have a day assigned for pizza night!)(call us pizza crazy if you want!!), I finally decided to make caramelized butternut squash pizza with basil pesto combination, kind of same what I ate at that restaurant long time back. I was surprised at the results. Jerry said it tasted very good though being not much of a veggie lover, after trying few slices he stuck to his cheese pizza. For me leftovers turned into my next day lunch with more pesto on top.
So this pizza is one rockstar! Delicious warm slightly sweetened squash, zesty basil pesto with two kinds of cheeses on a whole wheat crust makes it super duper delicious. I like to cut my butternut squash pieces into small chunks using this. This makes it all so quick and easy.
This winters I am planning on making pizzas with other fall veggies combo's. What do you guys like to make your pizza with usually? It it usually meat pizza or plain cheese or mix of both or is it loaded with veggies?? Will love to get more ideas.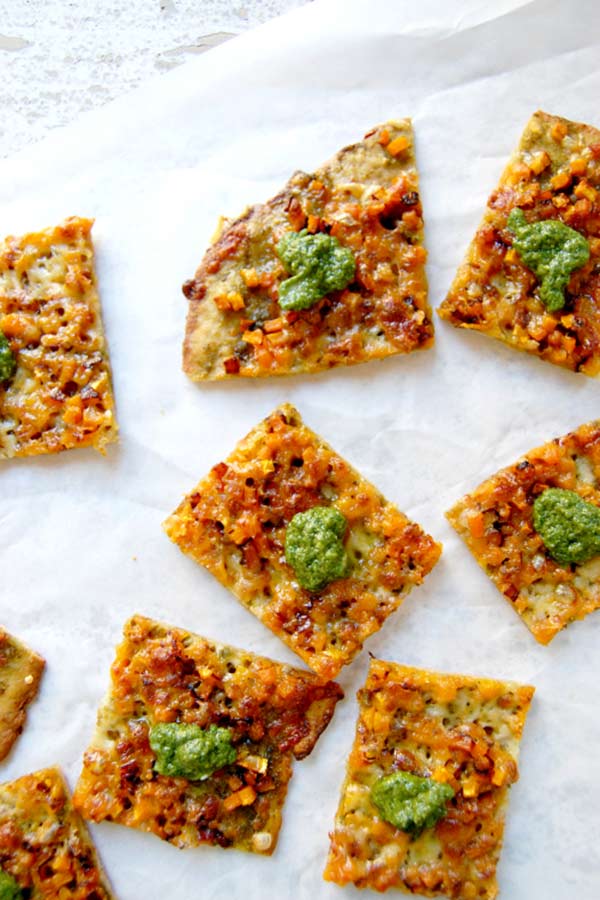 Till then, eat this!
Caramelized Butternut Squash Pizza with Basil Pesto
Delicious cheesy winter squash pizza with fresh pesto and provolone cheese.
Ingredients
Pesto
1 cup tightly packed basil leaves
2 tsp pine nuts
1 garlic clove
4 tbsp olive oil
1 slice provolone cheese
Pizza dough
2¼ teaspoons (1 packet) active dry yeast
¾ cup warm water
1 cup whole wheat flour
¾ cup all-purpose flour
1 tablespoon honey
½ tablespoon olive oil
½ teaspoon salt
1-2 tsp chili flakes (optional)
Pizza topping
1+3/4 cup finely chopped butternut squash
1 tbsp olive oil
1 tsp brown sugar
½ cup cheddar, shredded
3 slices provolone cheese, shredded or around ¼-1/2 cup
Red chili flakes for sprinkling on top
Instructions
Blend everything for the pesto until smooth.Keep it aside.
In a pan, add oil,butternut squash and sugar.Cook while stirring until caramelized.Keep it aside.
For pizza dough: In a bowl, to warm water dissolve yeast and honey. Let it sit for few mins until it starts to foam. Add both flours,salt,olive oil and chili flakes. Knead until smooth. If it feels too dry, add little bit more water. Add little olive oil in a clean bowl and transfer the ball of dough in there. Wrap with a plastic wrap and let it sit in warm place for good 2-4 hours or until it doubles in size.
Assembly
Roll out the dough on a floured surface. Spread with pesto evenly. Spread shredded cheddar cheese on top. Spread with caramelized butternut squash and then provolone cheese. Bake in a 420 F oven for around 19-21 mins. Bake until crispy. Serve with remaining pesto.
Notes
If short on time, you can swap homemade pizza dough with store bought.
For a quick "under an hour" dinner prep, you can make the dough in the morning and let it sit all day in a warm place. The rest of the work will take under an hour and you will have pizza on table before you die of hunger!
More Pizza Recipes: