Chewy, whole wheat English Muffins are sure to become a staple in your house! Perfect weekend project!
Another Sunday and another brunch recipe! Today's recipe is not really a complete brunch recipe but it sure super easily and quickly turns into one! Yesterday on our way to meet some family, we had taco bell breakfast before hitting the road and I have been seriously waiting to eat their breakfast items for some good time now and I can totally say that they were ridiculously delicious!! That California crunch wrap was totally delicious! The only thing after eating a huge satisfying brunch was that I found myself still missing that usual egg and cheese muffin which is kind of my favorite food while taking a super early morning flight.
So here I was up super early (in my world 9am on a sunday morning is pretty early!) and starving as usual. So I though why not make egg & cheese muffin at home-from-scratch! Sounds a lot of work, huh? Only it wasn't!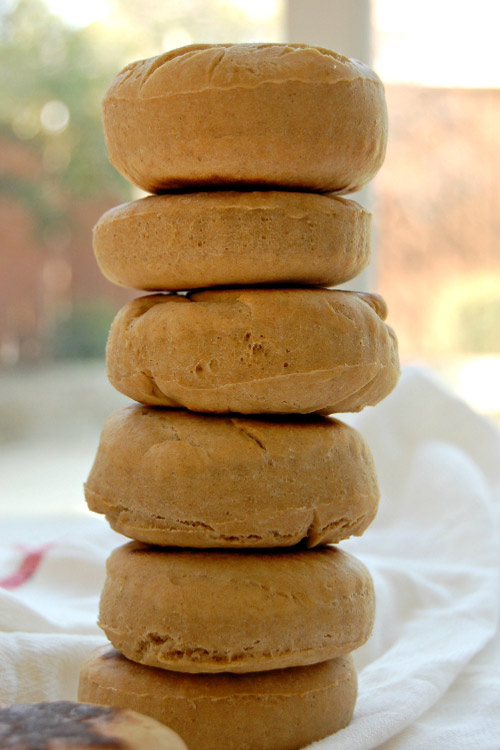 These whole wheat muffins are a charm to make. They take a total of 1 hour from start to finish with only like 20-30 minutes hands on time! I usually make extra on the weekends to have them for breakfast during the week. Super easy, economical and you know what's going into your food and there's always so much satisfaction from making something from scratch!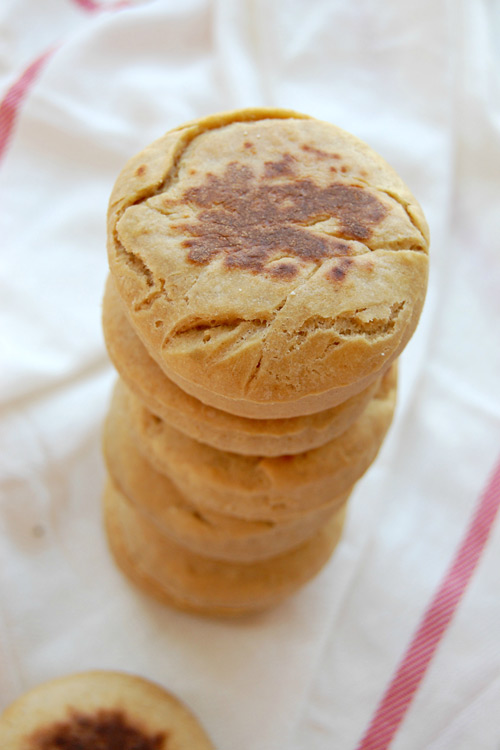 I took inspiration from an english muffin recipe from Honest Cooking and swapped  whole milk for the milk I had at home that was 2% fat milk. They turned out delicious though I would like them to be a little bit more airy the next time. So I might increase the cooking time or may be let them sit a bit longer the next time I make them.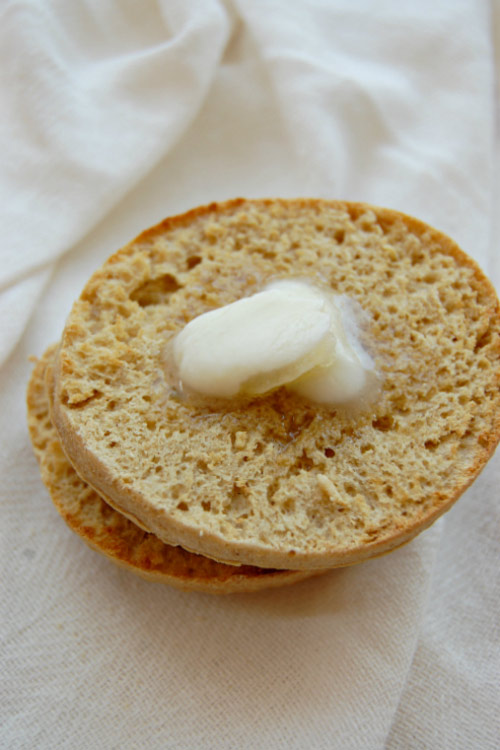 But go ahead and make these as they are worth your brunch even with their slight imperfections! I served them with a soft omelette and some gruyere cheese along with my favorite hot sauce.
Do it!
Whole Wheat English Muffins
Chewy, whole wheat English Muffins are sure to become a staple at your home!
Ingredients
1+1/8 cups whole wheat flour, more for dusting
1+1/8 cups all purpose flour
1¼ tsp kosher salt
½ tbsp sugar
½ tsp baking soda
1 tsp instant yeast
¾+1/8 cups 2% fat milk (The recipe suggests using whole milk but this is what I had on hand and I wanted them to be more healthier)
1.5 tbsp unsalted butter
1 large egg, lightly beaten
cornmeal or semolina for dusting
Instructions
Mix both flours,salt,sugar,baking soda and yeast in a bowl.
Warm up milk and butter until melted.
Add the wet ingredients to the dry ingredients and add the egg. Mix it using a spatula or in a stand mixer until it comes together.
On a well floured surface, knead the dough for another minute. Roll it to a thickness of 1" and using desired cookie cutter, cut in rounds. Transfer to a baking sheet dusted with semolina or cornmeal. Re-roll the dough and continue to cut out until all the dough is used up.
Cover with a towel and let it sit for 20 minutes.
Preheat oven to 325F.
Transfer the muffins to a non stick pan and cook them on each side for good 3-4 minutes at medium-low heat until they are browned up and crispy. Transfer them to the baking sheet and bake in oven for 15-20 minutes to finish cooking.
Cut them in half and toast before serving.
Notes
These whole wheat muffins are slightly more chewier than normal all all-purpose-flour muffins.
You can always skip whole wheat and use just all purpose for a more airy and less dense texture.
Smear them with butter & jam, or add fried egg and wilted spinach or kale, or serve it with usual egg and cheese for a filling breakfast, brunch or even breakfast for dinner!
Recipe adapted from
Honest Cooking
.
More Breakfast Recipes: