Chocolate peanut butter stuffed french toast served with delicious mixed berry sauce is sure to please even the pickiest eaters.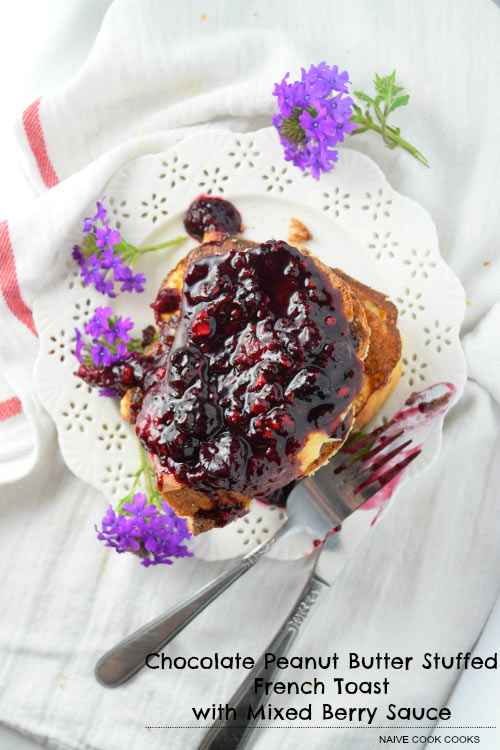 Let's talk about Easter Brunch.
Exactly 1 week to go before Easter Sunday and I bet you all are planning your brunch. Even if you are not into brunches, I suggest you to make this. I mean SERIOUS DELICIOUSNESS going on here. I love good french toasts but not so the homemade ones and now I know why?! All this time for making french toast, I was using simple bread and that's why I was never able to create the kind of french toast you get served when you go to awesome brunch places. But well I know the secret now!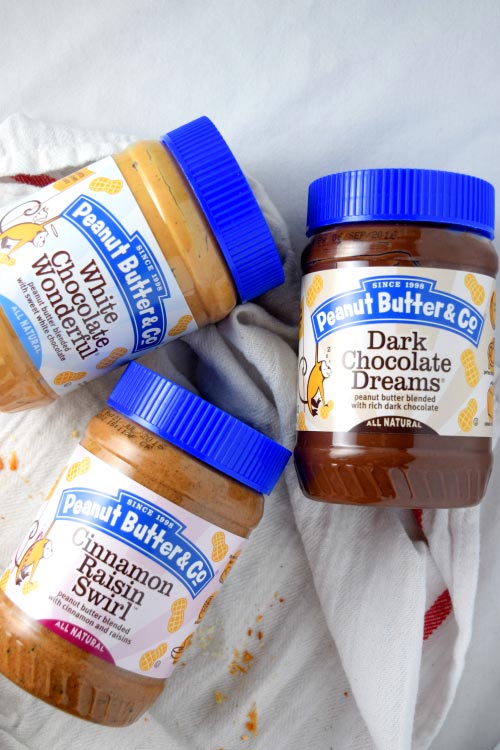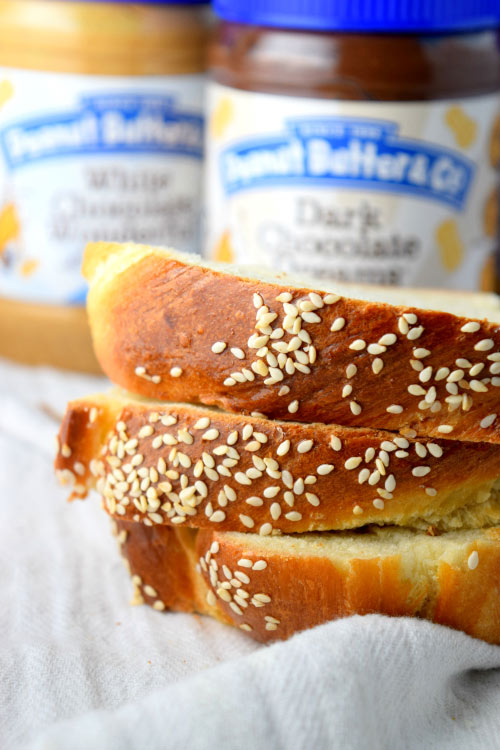 Usually a good egg rich bread is preferred and usually most restaurants swear by using challah or brioche as their bread for french toast. Lately I have been experimenting with all sorts of bread and I must say challah has been my favorite. Did you see the round crown shaped challah bread I baked recently? It was so much fun kneading and braiding that I plan on making it more often. If you are thinking that it looks so intense and hard, then let me tell you that it is not. I am posting the recipe soon and it's one Fool Proof recipe and it's amazing to eat just plain toasted with eggs, with butter or the best – make french toast with it.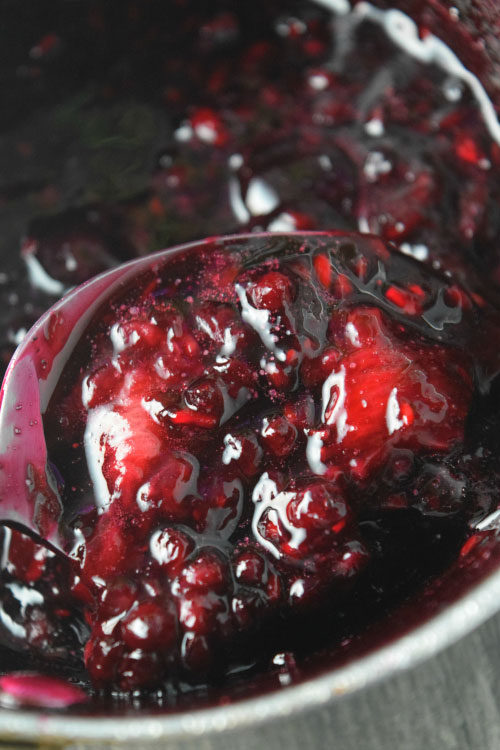 On to this french toast. I was sent few peanut butter samples from  the amazing people at Peanut Butter & Co. Jerry has always liked this brand over all the others and his go to is their Dark Chocolate Peanut butter. So I decided to stuff my bread with chocolate peanut butter and make french toast. And french toast is just not complete without a good sauce, right?! So we have a delicious 5 minute mixed berry sauce to top off this creamy peanut butter stuffed french toast.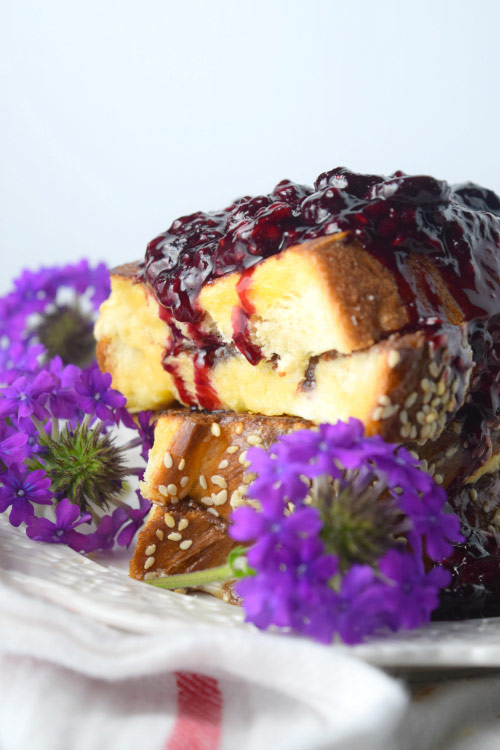 With weather getting warmer and all these stunning flowers growing in my backyard, I simply couldn't resist but had to incorporate them in my pictures. Weekends are for delicious breakfast in bed sort of brunches, right?!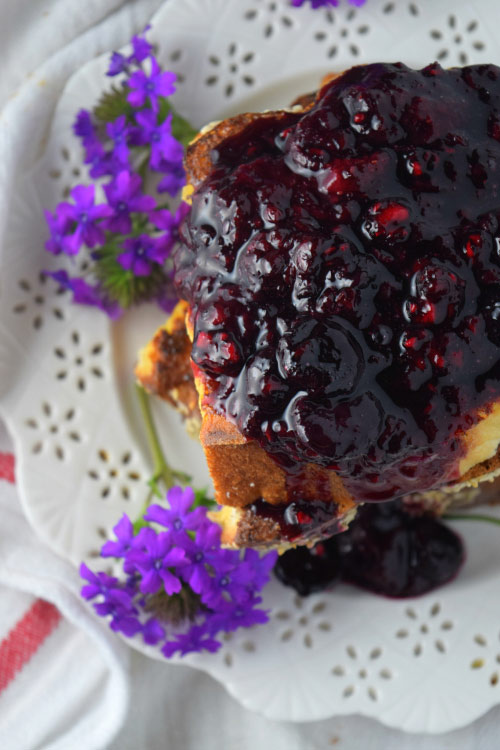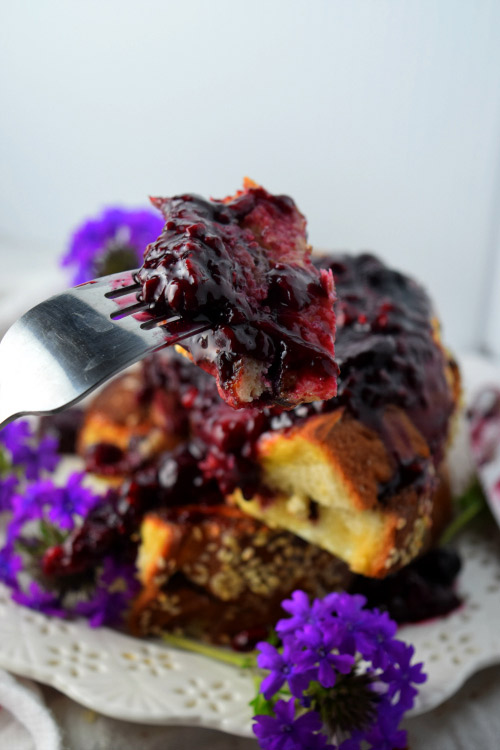 Seriously you need this you life and it's perfectly kid friendly too.
Chocolate Peanut Butter French Toast
Ingredients
French Toast
4 thick slices of good bread (I prefer challah or brioche or any good thick sliced bread)
¼ cup milk (I used 2%)
2 eggs
1 tsp vanilla extract
Butter for cooking
Chocolate peanut butter (I love the one from Peanut Butter & Co. but you can use your favorite!)
Mixed Berry Sauce
½ cup frozen mixed berries or use berries of your choice
½ cup water
2-3 tbsp sugar
2 tbsp maple syrup
1 tbsp cornstarch
Instructions
If using fresh bread, it's advisable to leave it out overnight so it gets a bit dry which will help in absorbing the custard better.
In a shallow bowl, mix eggs, milk and vanilla extract.
Smear good amount of chocolate peanut butter on one slice and cover it with the other slice and press tightly to seal the edges.
Heat some butter in a pan. While butter is melting, place the sandwich in the egg mix and let it sit for a minute. Flip and repeat so both sides absorb the egg mix.
Now place it on the pan and cook on medium heat until nicely golden brown. Flip and cook the other side the same way.
While french toast is cooking, in a pot add all the ingredients of sauce and bring it to a boil. Let it simmer for 3-4 minutes. Add cornstarch and stir. Cook until it gets to your desired thickness.
Serve warm french toast with berry sauce. Devour immediately.
Notes
You can make the sauce in advance and just heat it up before serving. If it get's too thick, add little water to loosen it up and bring to a boil once.
More Breakfast Recipes: