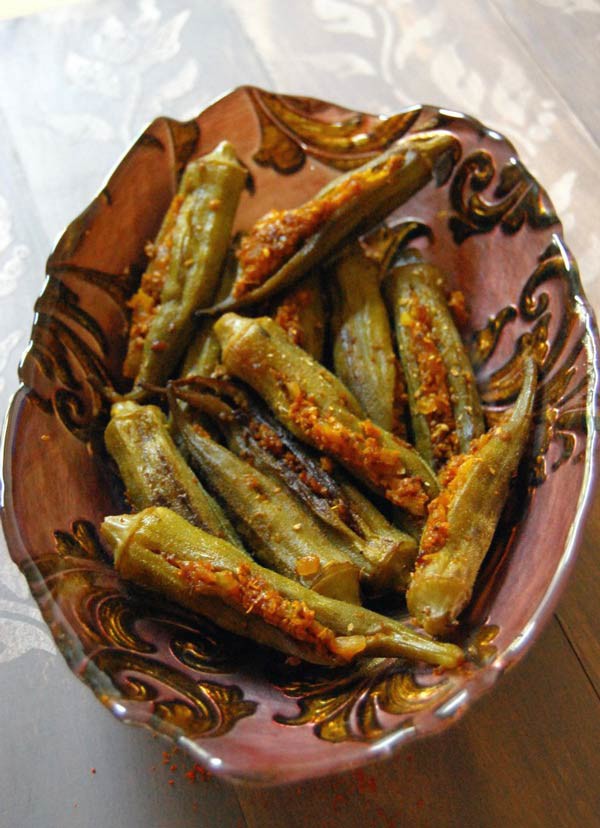 It is going to be almost 2 years since I visited my parents place . Parents place I call it sometimes,  as  I have a home of my own, which Jerry keeps reminding me lovingly whenever I tell him I miss home SO much. I think he is right. To me my parent's place means those familiar smells of room freshener, my father pretending to watch TV though we all knew his love for books was far greater than for TV, my brother no where in sight and my mother in the kitchen getting hot dinner ready. My heart feels heavy as I write this. The thing I have been missing most these days is the fresh home cooked food. Not that I don't cook. Being a food blogger gives me the joy and the opportunity to cook a lot. But it is the taste of my mother's cooking I miss most. Nothing can replace that.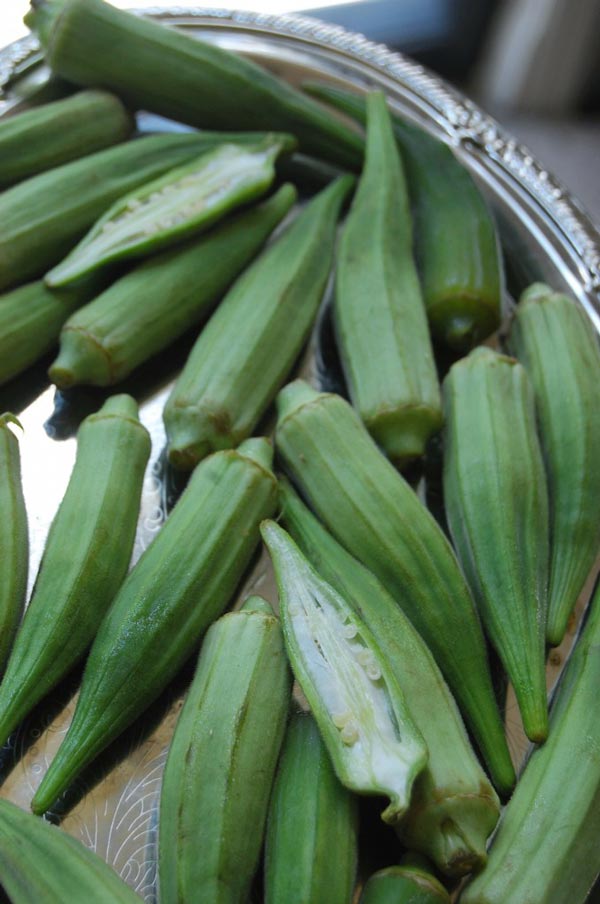 Recently at the grocery store when I came across fresh okra's, I couldn't resist but buy some. The few times I tried making okra's, I was met with very little luck. So I was little hesitant at first but than Jerry gave me the morale boost. Isn't cooking about trial and errors? . It perfects with time.
After  jotting down the recipe given  by my mother, I decided to give it a try. After I was done with chopping and stuffing, I waited patiently to let it cook at a pace of it's own. Soon I realised that the aroma had taken over the home . I was in a state of bliss. I would say I had a big meal after days. So what are you waiting for? Go grab your car keys and get it now. Trust me you won't be hungry.
Hope you enjoy this dish as much as I did. See you soon. Happy weekend.

Stuffed Masala Bindi - Stuffed Okra
Ingredients
20-24 fresh okras, washed, using a knife make a slit in between making sure you don't cut the back part. Even if you do, don't worry. It just helps in easy filling.
1 medium size yellow onion, chopped fine
1 tbsp oil like canola oil, coconut oil, mustard oil or ghee
¼ tsp carom seeds (Ajwain)
Salt to taste
2 tsp red chili powder or to taste
1 tsp turmeric
4-5 tsp dhaniya (dry coriander powder)
2-3 tsp khatai or amchoor (Dry mango powder)
Instructions
In a skillet, heat 1 tsp oil. To the hot oil, add carom seeds and let them pop. To it add onions and saute them until translucent. Turn off the gas and to the cooked onions, add salt, red chili powder, turmeric, coriander powder and dry mango powder. Mix it all nicely. Taste and adjust seasoning.
Keep it aside. Wash the okra's well and make a slit length wise making sure not to cut the bottom part. Once the spice mix comes to room temperature, stuff the mix in the okra's one at a time. Keep them aside.
Heat remaining oil in a skillet. Turn the gas to lowest. Arrange the stuffed okra's one by one, keeping the stuffed side facing up. Sprinkle with some salt and coriander powder. Put the lid on and let them cook slowly on slow gas. Keep checking after every 15-20 mins to make sure they are not sticking. If you feel okra's sticking to the skillet add little more oil. After about 20-25 mins, using tongs flip them one at a time. Cover and cook for another 20-30 mins on slow.
Serve hot with fresh Indian flatbread, naan or bread.
More Indian Inspired Recipes: