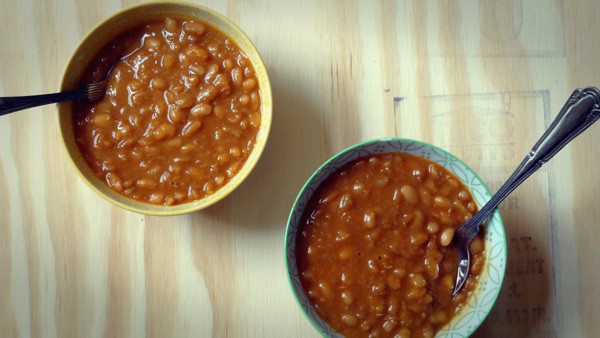 I really really admire you guys for sticking around. I am still keeping my promise. I never thought that designing a website was going to be so much work, It has been quite a few days but I am not losing hope. As you can imagine, at the food front I haven't been much creative as all my mind thinks these days is how to make posts look presentable, how do I get the color scheme I saw like zillion years ago somewhere and other weird stuff.
I will keep this post rather short today because first it is late at night and second I am still in my gym clothes. Wish there were more hours in a day. But anyways on to these amazing baked beans. It is one of the easiest meals to put together and tastes way better than canned ones. I have always had this fear that making baked beans from scratch as in from dry navy beans is lot of work and I was more scared thinking what will I do with them if they taste nasty? I was WRONG. It was a cake walk making these and while you are busy doing your business, they get cooked on their own without bothering you a tinsy bit.
If you have never tried making baked beans at home, I suggest you go right now and make a big pot of these. It always helps to have leftovers and they freeze well.

How to Make Baked Beans
Ingredients
1.5 cups dry navy beans, soaked in water overnight
½ yellow onion, chopped
2 garlic cloves, chopped
4 tbsp ketchup
1 tbsp brown sugar
2 tbsp molasses
Salt to taste
Red chili to taste
1 tsp dijon mustard
3 - 4 cups water
1 tsp olive oil
Instructions
Pre heat oven to 350F.
Add olive oil in a deep dutch oven pot or any deep pot over medium heat. Add chopped onions and garlic and saute until onions are translucent. Add the pre-soaked beans. Add rest of the ingredients. Mix it all up together. Bring it to a boil.
Transfer it to the oven and let it cook for 1.5 hours covered. Keep stirring after every half hour and add more water if it feels too dry. After 1.5 hours, cook it uncovered for an hour until it becomes thick.
More How To Recipes: