Spicy Achaari Lachha Paratha aka Indian style bread with tons of layers. Each layer tastes like eating mango pickle! Perfect for curries or Indian style breakfast with chai.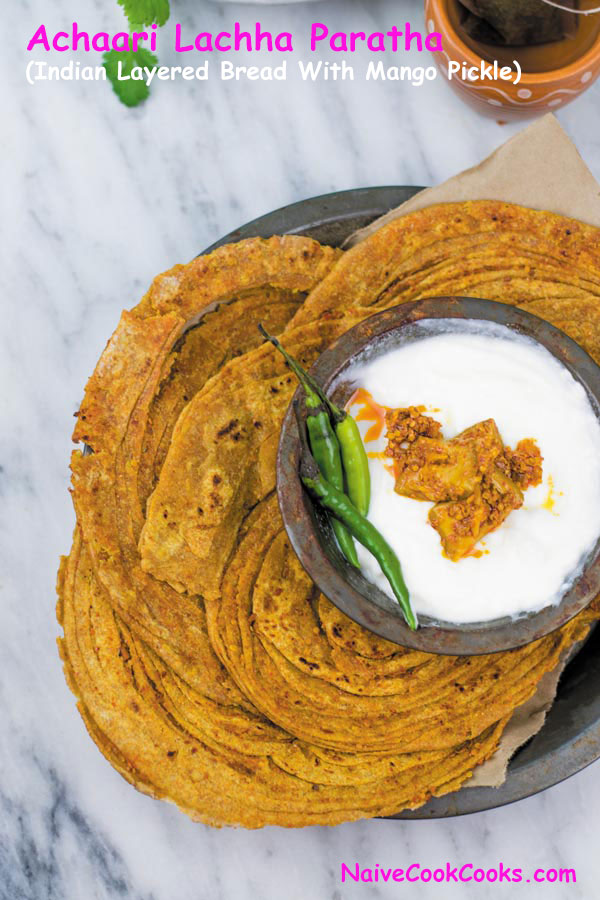 Today is third day of our 10 day long trip and I am sitting looking at ice covered gorgeous Grand Tetons while I type!  I must say I have never seen anything this stunning. Yesterday we went to look at Grand Tetons up close with water flowing next to them and it felt as if I was in true serenity. I will soon have a picture heavy post coming up with all the fun places we went, what we ate and what we saw! Todays' post is very close to my heart, though growing up mamma never used to make these at home but it was a mandatory affair to order them every single time we used to go to eat out. They were and still are my father's favorite!
Though we would always get the plain kind where the paratha comes fragrant with ghee. Lachha paratha comes from Northern states of India and is a bread people often eat along with curries or if you are lucky enough to have leftovers then for morning breakfast with some chai 🙂
It just seems hard but it is really simple to make. If made properly this bread comes with lots of flaky layers which are so much fun to eat one layer at a time. I decided to give it my own twist and since it is mango season what better but to flavor it with mango pickle! I spread a layer of spiced oil that is always there in the jar of mango pickle which makes these parathas so so delicious & spicy! But if you love Indian food or lachha paratha, this is one must try recipe!!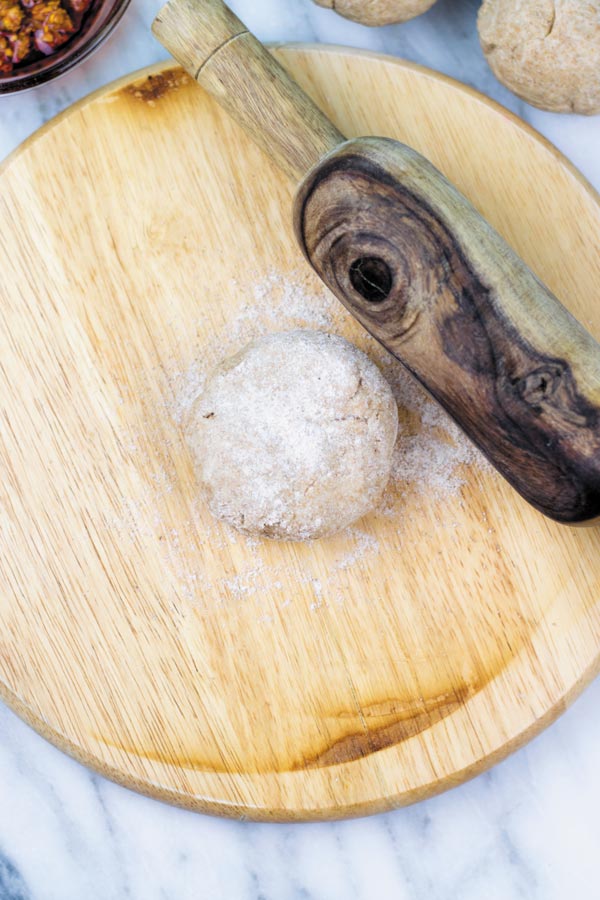 First I make the dough and break it into 4 equal pieces. Then I roll out one piece into a ball and cover it generously with flour.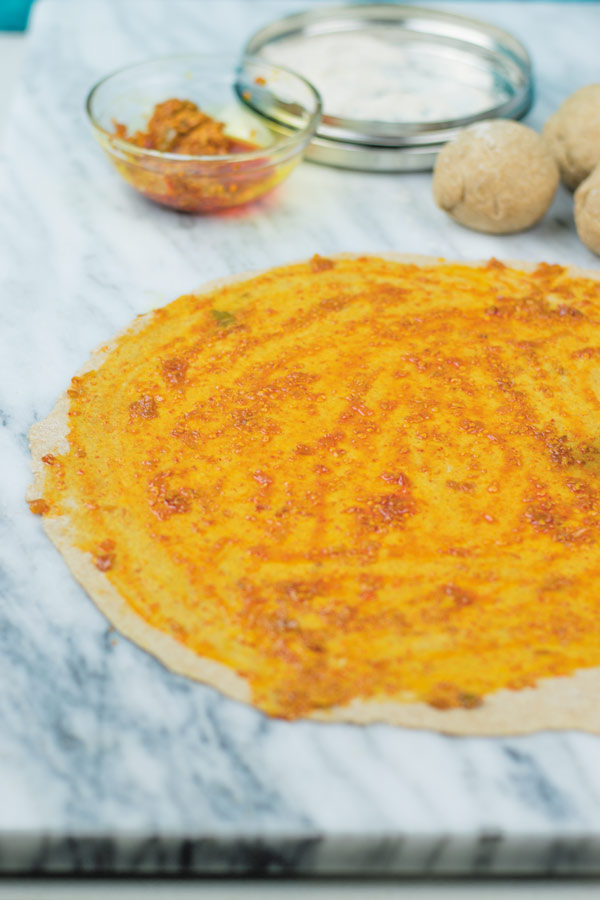 Roll out the dough as thin as you can. Keep coating it with flour so it slides easily and doesn't stick. Once it's as thin as you can get, take the spiced oil from mango pickle jar and spread a nice layer all over it.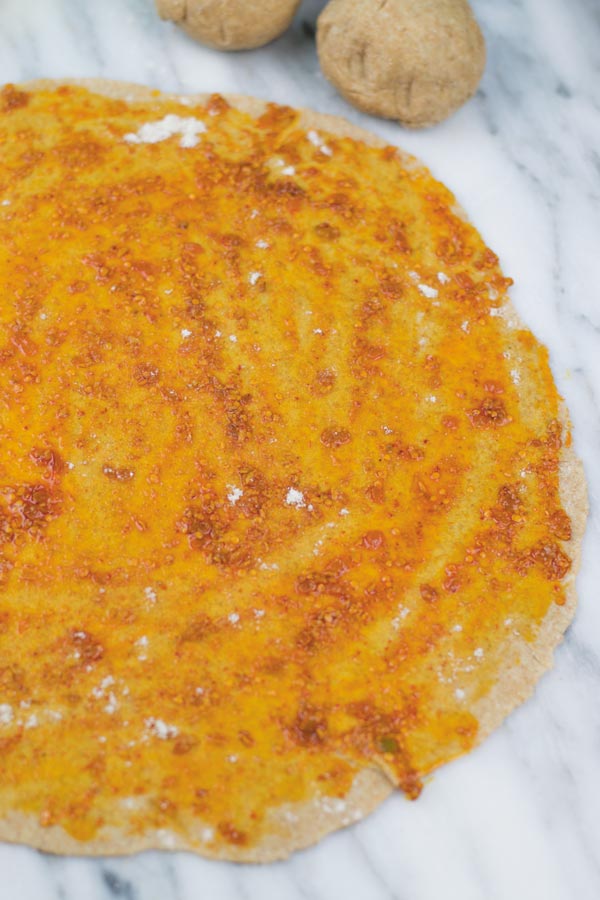 Sprinkle flour all over the oil mixture as it helps the layers to separate easily.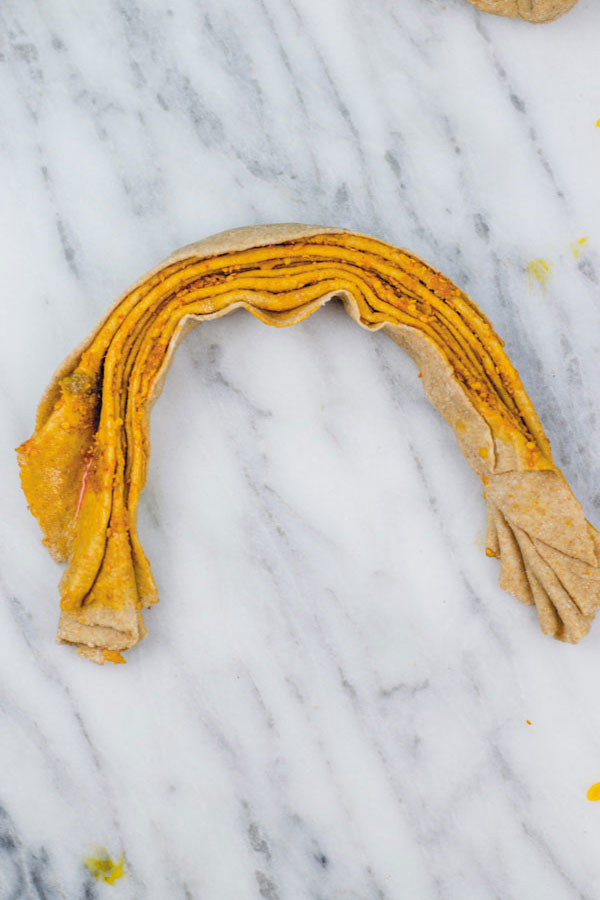 Then fold it starting from the side towards you and moving away just the way you would fold a fan. Basically fold one small layer over another and so on.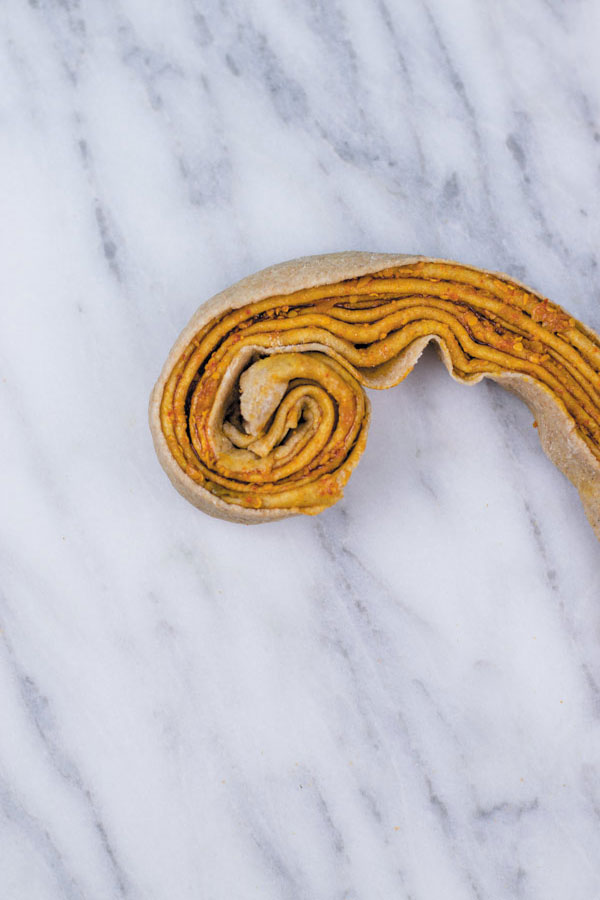 Then start rolling it into a tight circle.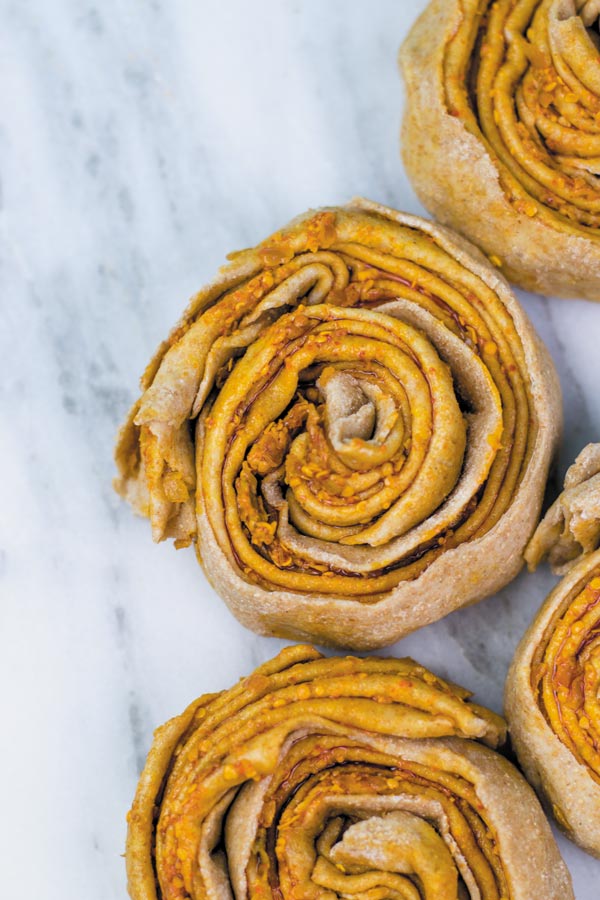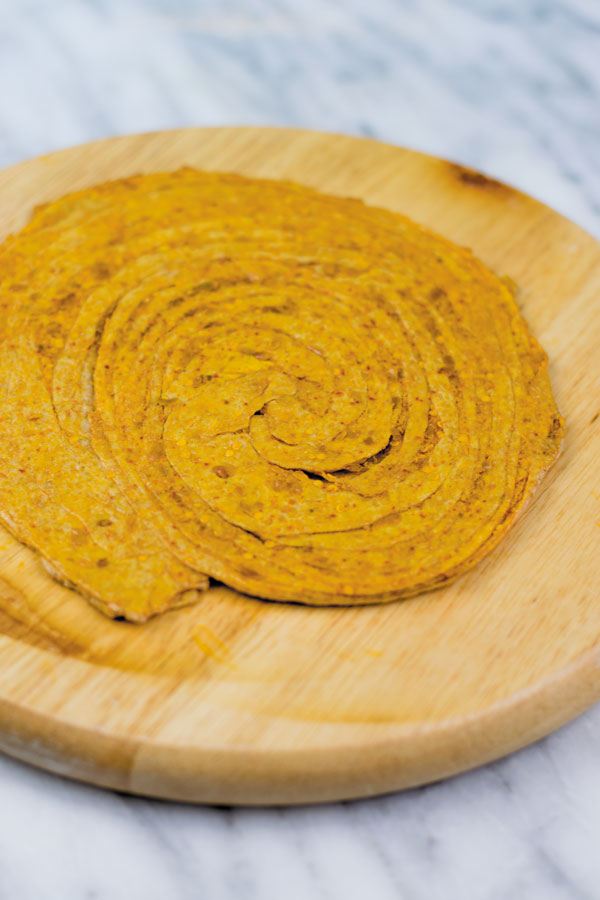 Place it on a clean surface and roll it into a medium thickness circle. Heat a skillet. Spread a tsp of oil and place the paratha gently over it. Cook on medium-high heat for a minute. Cover the top side with some oil and flip. Cook and spread oil on the layer on top now. This is the layer that was at the bottom first. Cook by waiting for a minute or two and then flipping.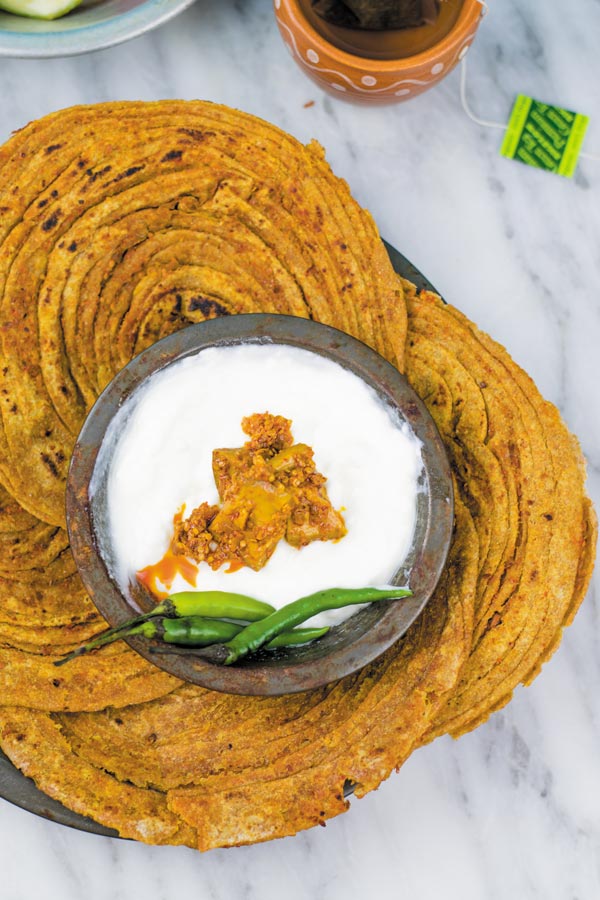 They already have tons of flavors and for that reason I like to enjoy them with plain chilled yogurt and chai!
If you enjoyed this recipe, don't forget to FOLLOW me on  INSTAGRAM ||FACEBOOK||PINTEREST ||TWITTER ||GOOGLE+ || BLOGLOVIN || YouTube 
Achaari Lachcha Parantha
Ingredients
1 cup whole wheat flour
½ cup all purpose flour
Salt to taste
Lots of oil from aam ka achaar (oil from mango pickle) (You can find mango pickle in any Indian store or even stores like Walmart sometimes)
Oil for cooking
Instructions
In a bowl mix both flours and salt. Add ¼ cup water and start kneading. Keep adding 1 tbsp of water at a time and knead until you have a soft dough. Knead for a minute or two more. Keep it covered with a wet paper towel.
Now break the dough into 4 equal pieces. Generously flour your working surface. Place one ball of dough and sprinkle some flour on top. Roll it into as thin a circle you can roll it into. You will need to keep it well floured so it doesn't stick to the surface or your rolling pin.
Once it's as thin as you can get spread oil mix from mango pickle all over it. Now starting from the side towards you, start folding it just like you would for a hand fan that is one thin layer on top of other and so on.
For reference check the step-by-step pictures above!
Now roll into into a tight circle and roll it into a medium thickness round. Repeat with the other 3 dough balls in the same way.
Now heat a skillet. Coat it with some oil. Once hot, place one of the rolled out paratha and cook on medium-high heat for a minute. Rub oil on the top and flip. Cook for another minute and roll oil on the layer that's on top now. Flip and cook by flipping 2-3 times more until nice & golden.
Serve with plain chilled yogurt or curries.
 Some MORE delicious bread recipes ->>