Stuffed Masala Bindi - Stuffed Okra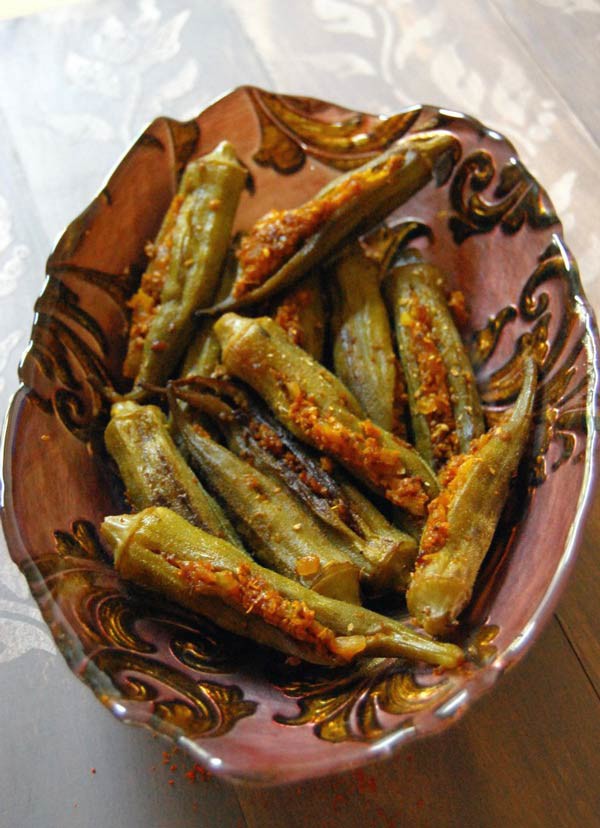 20-24 fresh okras, washed, using a knife make a slit in between making sure you don't cut the back part. Even if you do, don't worry. It just helps in easy filling.
1 medium size yellow onion, chopped fine
1 tbsp oil like canola oil, coconut oil, mustard oil or ghee
¼ tsp carom seeds (Ajwain)
Salt to taste
2 tsp red chili powder or to taste
1 tsp turmeric
4-5 tsp dhaniya (dry coriander powder)
2-3 tsp khatai or amchoor (Dry mango powder)
In a skillet, heat 1 tsp oil. To the hot oil, add carom seeds and let them pop. To it add onions and saute them until translucent. Turn off the gas and to the cooked onions, add salt, red chili powder, turmeric, coriander powder and dry mango powder. Mix it all nicely. Taste and adjust seasoning.
Keep it aside. Wash the okra's well and make a slit length wise making sure not to cut the bottom part. Once the spice mix comes to room temperature, stuff the mix in the okra's one at a time. Keep them aside.
Heat remaining oil in a skillet. Turn the gas to lowest. Arrange the stuffed okra's one by one, keeping the stuffed side facing up. Sprinkle with some salt and coriander powder. Put the lid on and let them cook slowly on slow gas. Keep checking after every 15-20 mins to make sure they are not sticking. If you feel okra's sticking to the skillet add little more oil. After about 20-25 mins, using tongs flip them one at a time. Cover and cook for another 20-30 mins on slow.
Serve hot with fresh Indian flatbread, naan or bread.
Recipe by
Naive Cook Cooks
at https://www.naivecookcooks.com/stuffed-masala-bindi-stuffed-okra/