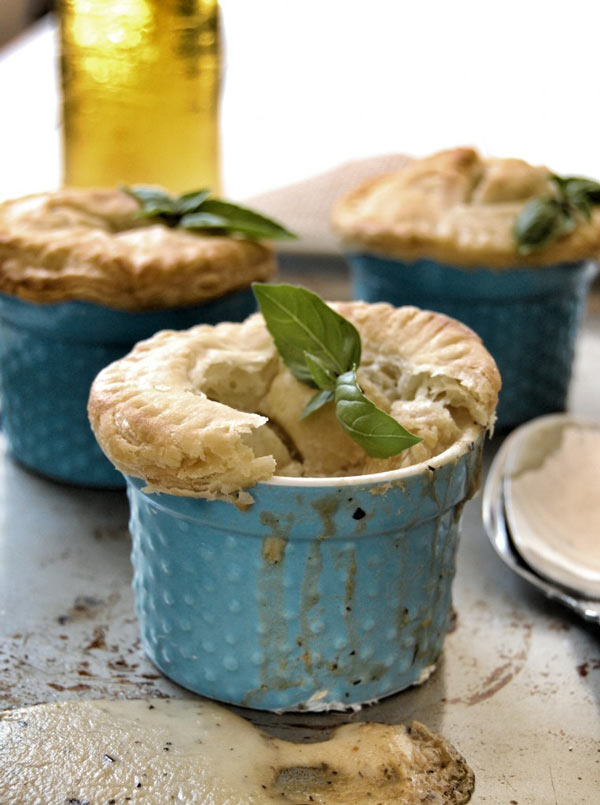 Lately I have been pondering  about  the quality of food we eat and recently a documentary by Food matters titled as "Hungry for change" made me question our eating habits. Over fed and under nourished is what we are dealing  with,  specially in developed countries. But sometimes just being more aware is not enough, actions are required on our part as well. These days in the name of organic, big companies are selling produce and other products at prices which are sometimes hard to reach for the commons. It is creating a void and money is controlling people's eating preferences. This is when farmer owned farms and communities supporting these come into scene. This is the time to become more conscious of what we put in our bodies and support these farmer owned businesses to make them grow and impart healthy eating habits at affordable cost.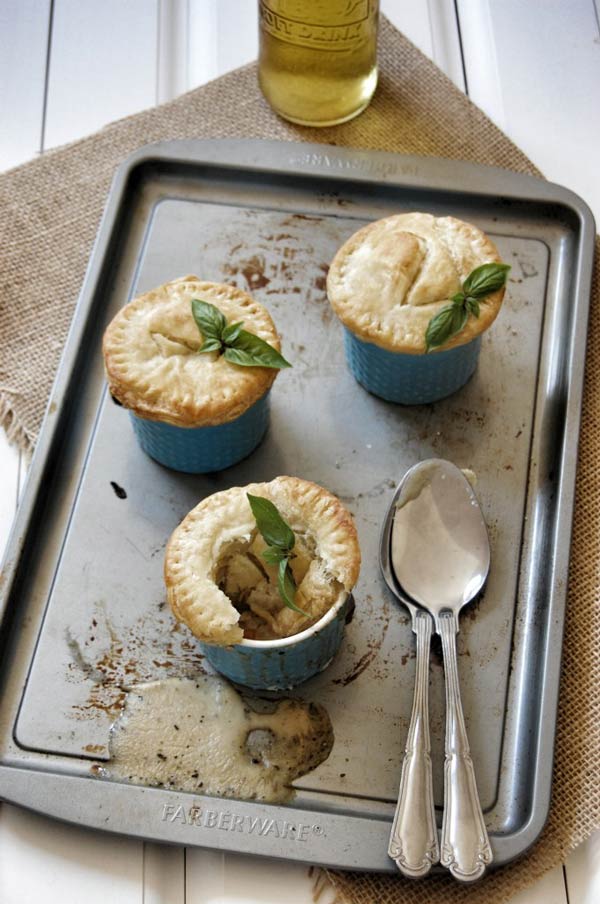 I hope this inspires us all  to eat better, smarter and healthier. I first made this pot pie on Jerry's special request and was taken by surprise when he confessed how much he enjoyed eating it. I have made it twice since than and it always feels a treat after a hard work week. It is super simple to put together and you can use whatever fresh produce you have on hand.
We are leaving for Chicago to visit friends! You can follow me on instagram.
Hope you like it as much as we do. See you soon. Happy summers.
Best Veggie Pot Pies
Ingredients
White sauce:
1 tbsp butter or coconut oil or ghee
2 tbsp unbleached all purpose flour
1 cup 2% or any fat content milk
¼ tsp rosemary
Salt to taste
Black pepper to taste
2-3 tbsp shredded low fat cheddar
Vegetables:
½ tsp olive oil
1 yellow onion, chopped
3-4 garlic cloves, chopped
¼ tsp rosemary
1 tsp oregano
1 cup chopped mushrooms ( button mushrooms)
⅛ cup Marsala wine (optional but gives an amazing taste and aroma)
¾ cup mixed chopped vegetables. I used a mixture of carrots, green beans and corn.
1 packet of puff pastry sheet
Instructions
Assembly:
Let the puff pastry thaw according to directions on package.
Preheat oven to 400F.
Heat up a skillet on med-high heat and add ½ tsp olive oil. To it add chopped onion. Cook until onions are translucent. Add garlic to it. Cook for a minute. Add rosemary, oregano. Add chopped mushrooms and let them sweat for few minutes. Add marsala wine to it and throw in the chopped mixed vegetables. Add salt and let it cook until vegetables are soft and cooked through. Turn off the gas and keep the mixture aside.
Heat up another deep pot over low-med heat and add 1 tbsp butter. Once it melts, add 2 tbsp flour and stir it until it becomes light golden brown. Add 1 cup milk along with rosemary and salt and keep it stirring to prevent lumps. It will start to thicken in 5-10 minutes. Add black pepper and cheddar. Turn off the gas and add the vegetable mixture. Fold the vegetables in the white sauce and taste. Adjust seasoning.
Fill up individual ramekins with the mix and cover them up with puff pastry cut outs. Place all the ramekins on a baking sheet to prevent overflowing inside the oven. Bake at 400F for 25-30 mins.
Serve and enjoy.
More Vegetarian Recipes: