Easy, super flavorful Slow Cooker BBQ shredded chicken made in slow cooker with just 3 ingredients! Super tender and great on sandwiches, salads, wraps, tacos or just enjoy plain!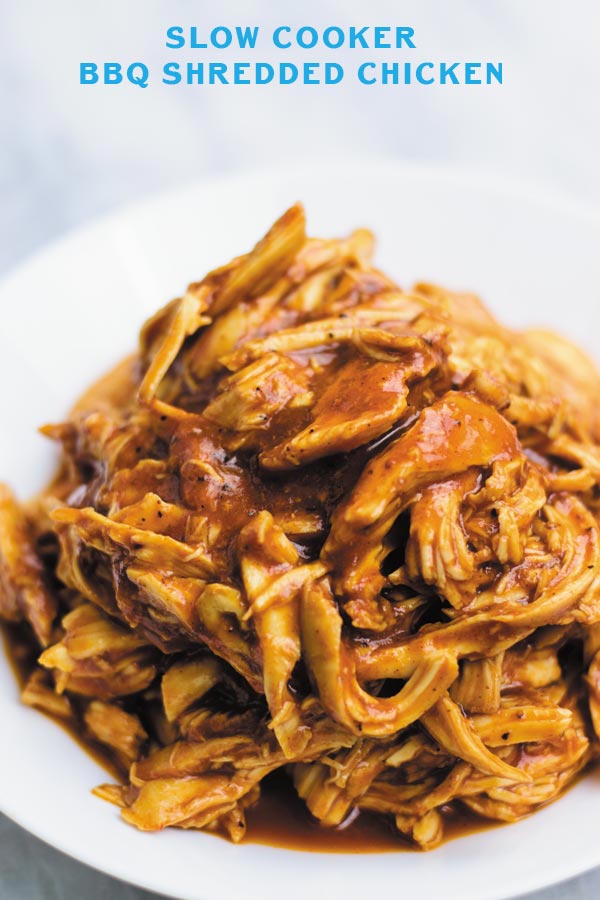 I am back after a long much needed break friends! I have not been feeling too good lately and I blame it on the dry weather we have been experiencing in Colorado! Please send us snow and rain!! Last week all I did was rested and ate lots of food. If you follow me on Instagram , you might have seen what we cooked on Thanksgiving. We ate our thanksgiving feast for 2 days straight and then were in no position to move because of all the food we inhaled!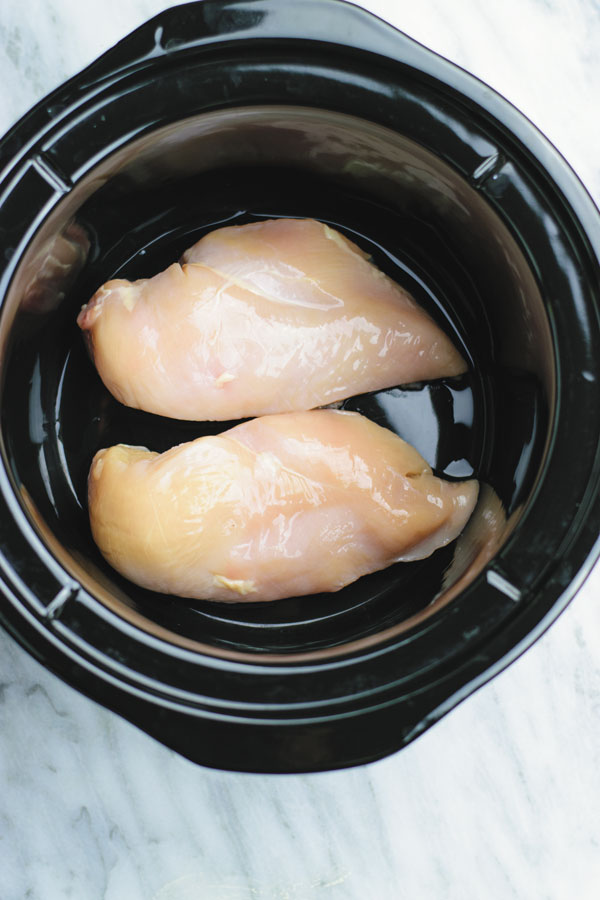 So yesterday I thought of making our favorite BBQ chicken to have on hand for healthier meals. But who was I kidding? We made sugar cookies last night and all my hopes of eating healthy during holiday season were gone out of the window! 😛 Now if you have never tried making shredded chicken in slow cooker, you are missing out! It seriously makes the softest shredded chicken and with no mess. No oven space, no hanging around to check on chicken. Just add chicken, the best BBQ sauce ( and this is very important as if you use a cheap BBQ sauce which you don't like, it will ruin the taste of chicken too. So always use a good quality, probably your favorite BBQ sauce) and little oil in slow cooker and let it cook.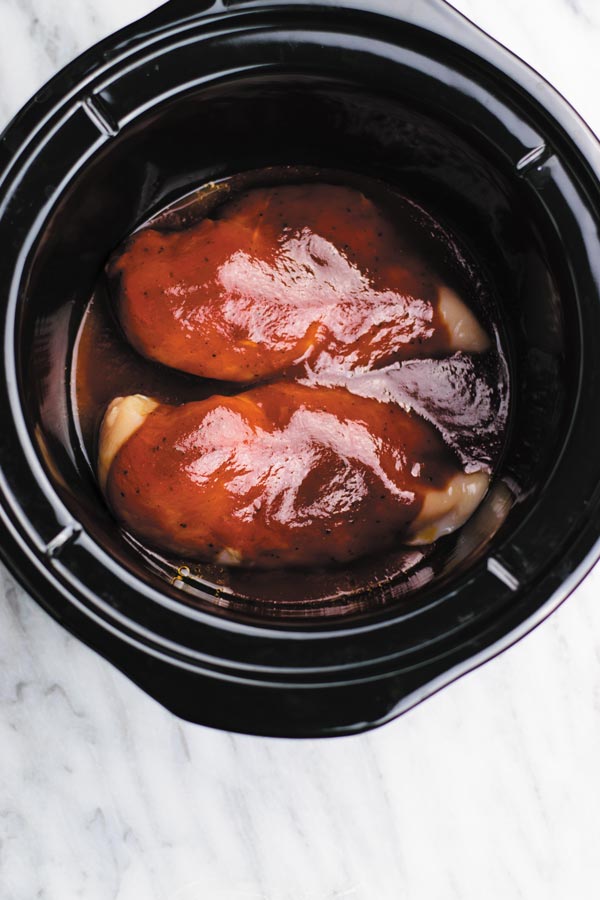 Once done, just shred the chicken and that's about it to this recipe! Now go crazy and add it to tacos, sandwiches, burritos, pizza, wraps, serve with some rice and veggies or just enjoy plain! It's that good!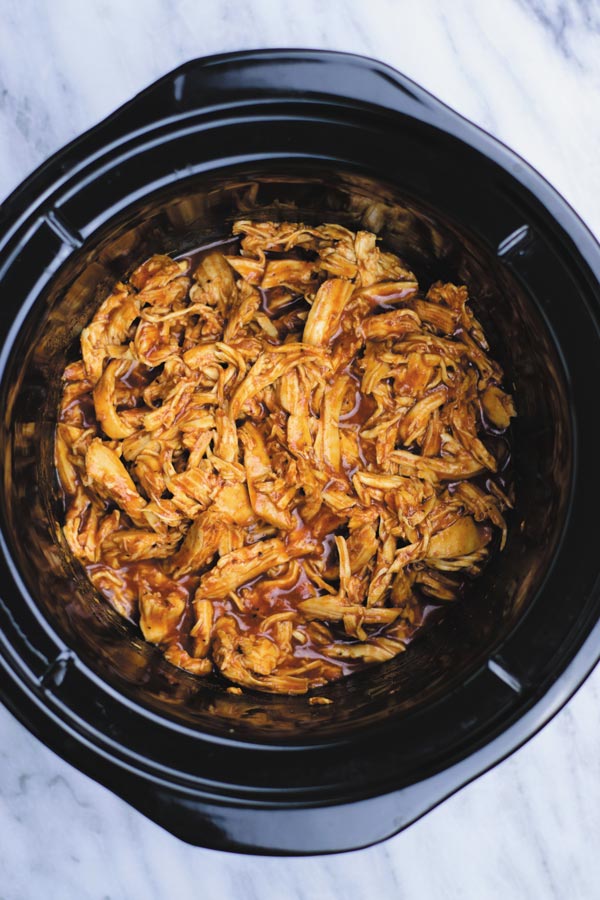 I always freeze extras in indivisual portioned ziplock bags and put name and date so I know when I take it out of freezer that for how long it's been sitting in my freezer. I have a tendency to make a lot and to forget what I have in my freezer so writing the date really really helps! Just thaw it overnight in fridge and use it next day.
P.S This recipe is husband approved (lol!!) as he is fussy when it comes to shredded chicken but he enjoyed these stuffed in buns with homemade slaw!
So go ahead and give this a try! If you make these or any other recipe from our blog, do tag us by using#naivecookcooks on social media channels.
If you enjoyed this recipe, don't forget to FOLLOW me on INSTAGRAM||FACEBOOK||PINTEREST||TWITTER ||GOOGLE+ || BLOGLOVIN || YouTube

Slow Cooker BBQ Shredded Chicken
Instructions
Add all the 3 ingredients in your slow cooker and cover. Cook on high for 1 hour 30 minutes to 2 hour.
Mine was done in 1 hour and 30 mins.
If you decide to double or triple the recipe, the time to cook will increase as well.
Once the chicken is cooked, let it cool enough to handle. Take it out on a plate and using two forks or hands shred. That's it!
Want to learn how to make plain shredded chicken in 15 mins on stove top?!! Then try this (Our most popular recipe!) ->>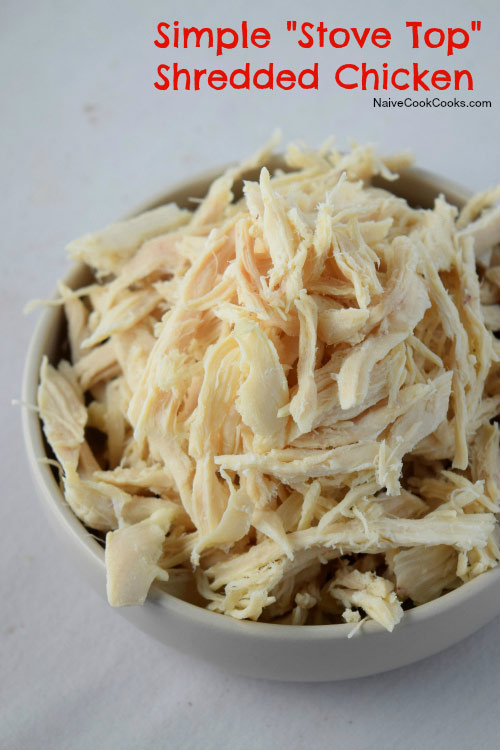 Some delicious ways to use SHREDDED CHICKEN ->>