30 mins Chicken Fried Rice – for those busy nights make this delicious hearty fried rice with marinated chicken and lots of veggies! Simple healthy meal in no time!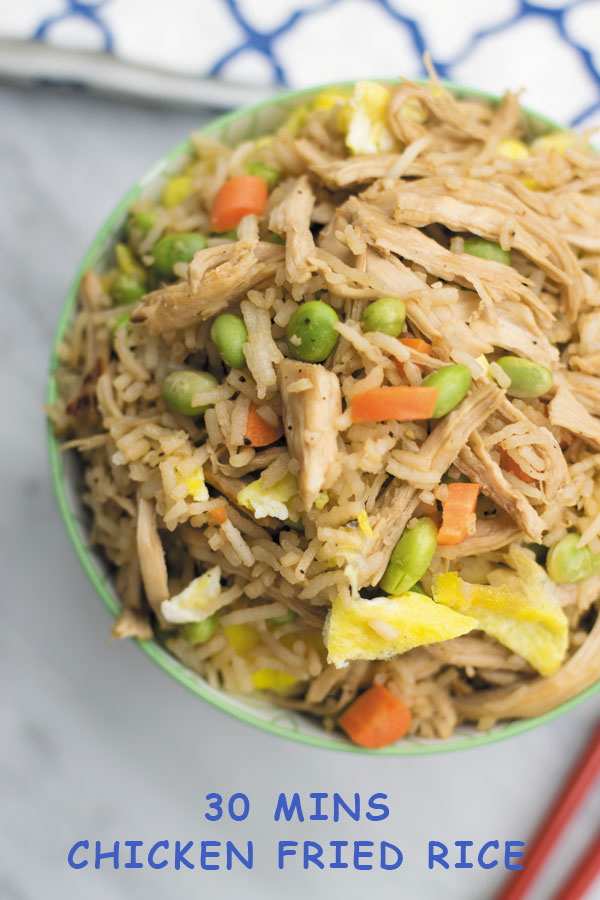 This is one meal I always cook when I am short on time to cook an elaborate dinner or super tired or alone. This is one of those meals that's just not easy to make but healthy and filling too! I love eating Chinese Fried Rice and any given day if you ask me what I want to eat, 90% of the time, my answer is take out Chinese food. I know I know! 😛
Sadly where we live now we haven't had good experience with Chinese food which means there have been lots of times, when to satisfy my cravings I made myself fried rice at home! And it's super simple so why not. I add way less oil as compared to one from restaurant and I get to customize too! No weird vegetables for me, please & thank you! I never used to use fish sauce in making fried rice but recently I have it a try and I was surprised as that was the flavor I always felt missing in my fried rice at home. Seems lots of restaurants use this stuff to make authentic fried rice. But if you are not into fish sauce, then just leave it out.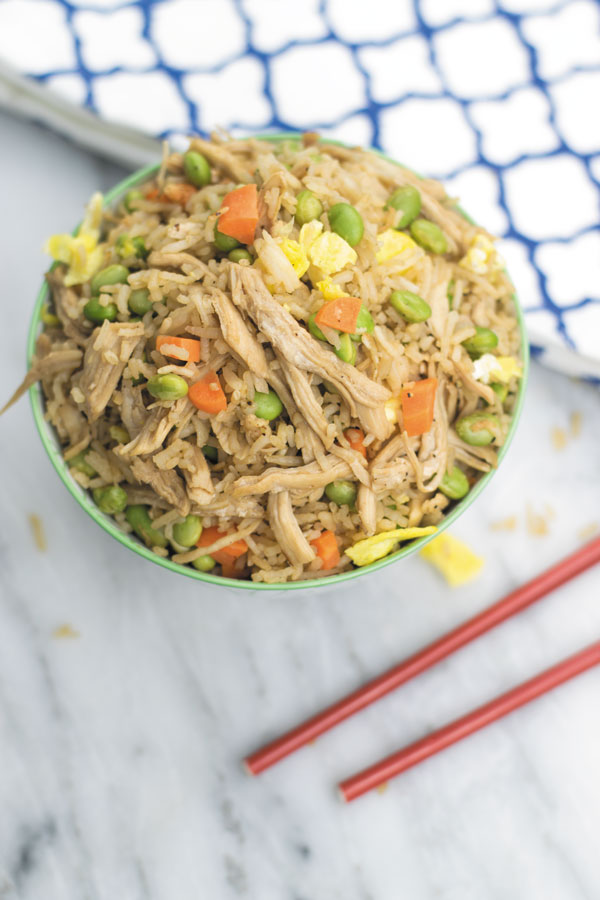 I feel this is a meal in itself but if don't want to consume so much rice by itself, you can serve this as a side to this chicken !If you love quick easy meals and if you love fried rice, then this is a must try recipe!
If  you enjoyed this recipe, don't forget to FOLLOW me on  INSTAGRAM ||FACEBOOK||PINTEREST ||TWITTER ||GOOGLE+ || BLOGLOVIN || YouTube

30 mins Chicken Fried Rice
Ingredients
1 Chicken breast, shredded (See HOW TO MAKE STOVETOP SHREDDED CHICKEN BREAST)
2 tbsp soy sauce
1 tsp fish sauce (optional)
2 cups already cooked and cooled rice (White rice or brown rice)
2 tbsps oil, divided
1 egg
Salt & Black Pepper to taste
½ cup frozen edamame ( or peas)
½ carrot , finely chopped
Instructions
You can shred chicken as given in here way earlier and marinate the shredded chicken in 2 tbsp soy sauce and 1 tsp fish sauce. Cover and let it marinate for few hours or overnight in fridge.
If you don't have leftover rice, then cook rice and once it's fully cooked and drained, spread it on a baking sheet or plate and place in fridge so it dries out. Leftover rice works best for fried rice as it doesn't stick.
Take a skillet and add 1 tbsp oil. Break egg into a separate bowl and salt to taste and whisk until smooth. Once oil is warm add this egg into the skillet and let it cook for few seconds. Break it into small pieces but not a lot as you don't want scrambled eggs just small pieces. Cook for few minutes so egg is just cooked. Take it out on a plate and keep aside.
Now add remaining 1 tbsp oil to the same skillet and add carrots and edamame and cook for 2-3 minutes until carrots are almost soft. Make sure that you chop carrots fine so they cook quickly. Now add rice and stir for 1-2 minutes. Add marinated chicken with the sauce and stir again for 2-3 minutes. Add salt and pepper to taste. Add already cooked eggs and stir again. Taste and serve.
Some more delicious 30 min recipes ->>