Classic chicken noodle soup in immunity boosting turmeric broth! So delicious that you won't have any leftovers.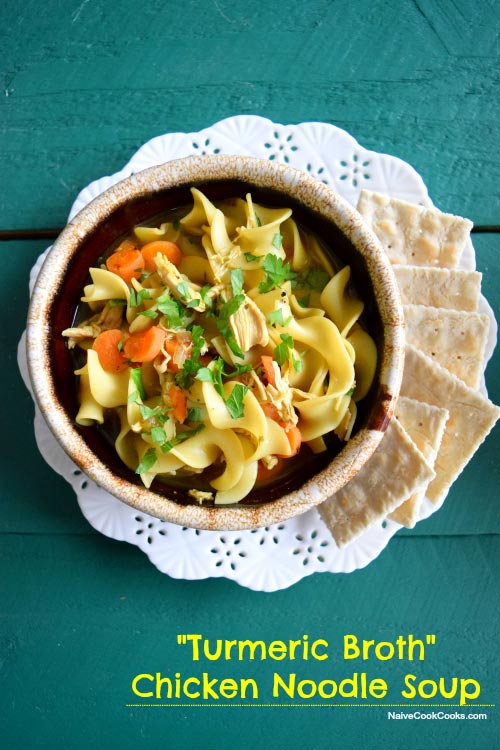 When it comes to healing power, I feel chicken noodle soup wins all the awards and it's one soup mostly all picky eaters enjoy and in turn it allows you to feed them a bunch of fresh veggies and protein as well. With changing weather, everyone is getting some sort of sickness and when Jerry got under the weather too, we reached for this classic noodle soup again. But this time, I added some turmeric in the broth to make it immune boosting.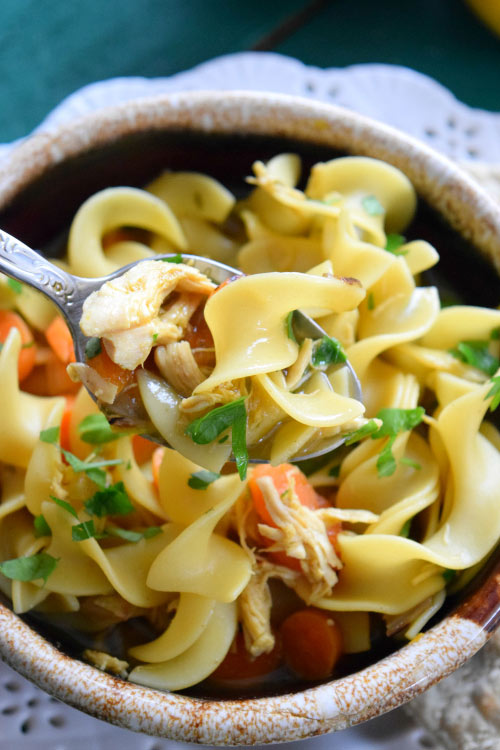 Turmeric has tons of health benefits and it's used in almost mostly all the Indian curries. I grew up watching my mother cooking almost all the curries using turmeric powder. So while making this soup, I decided to add some in the broth to impart those healing properties and that bright yellow color  which has always been appealing atleast to me.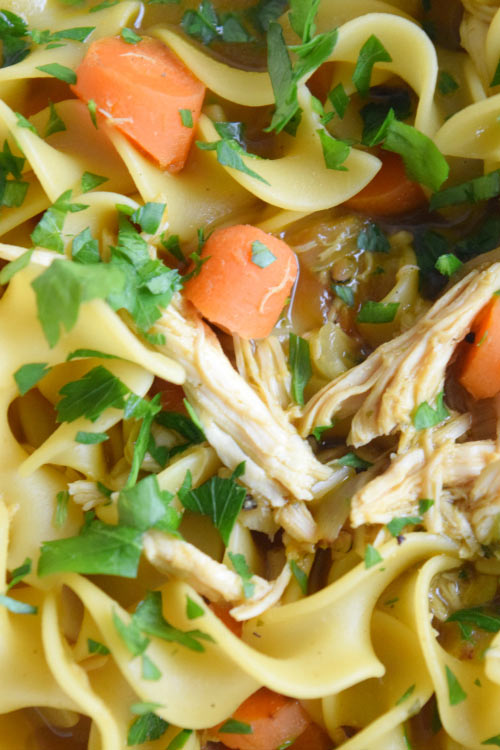 If you have the time, you can make your own broth and here is one super simple and easy "only 4 Ingredient" vegetable broth recipe for that.Start to finish this soup comes together in under an hour and might take little extra time if you are making your own broth but will be made in much lesser time if you already have shredded chicken on hand. Packed with flavor and super delicious, served with your favorite saltine crackers, this is one classic we all keep going back to!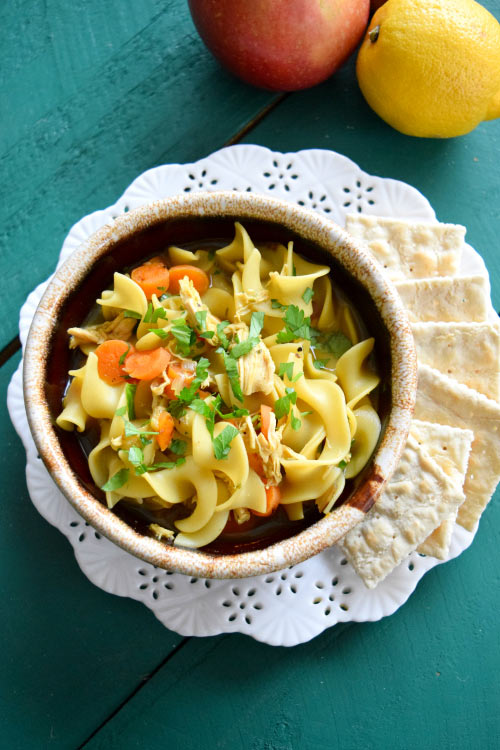 Help in spreading the word!
Follow along for lot more delicious treats and life happenings on INSTAGRAM || FACEBOOK || PINTEREST 

Turmeric Chicken Noodle Soup
Ingredients
1 tsp olive oil
1 tsp butter
2 garlic cloves, chopped
¼ cup chopped, red onion
½ cup chopped carrots ( around 10-12 baby carrots, chopped)
1 celery stick, chopped
Salt & Black pepper to taste
½ tsp thyme powder
¼ tsp turmeric powder ( You can add more if you want but first taste as adding too much turmeric might impart a slight earthy flavor)
14 ounce vegetable or chicken broth ( Homemade or store bought)
4 ounce egg noodles
1 cup shredded chicken
Lemon juice (optional)
Chopped fresh parsley for garnishing (optional)
Crackers for serving along with the soup
Instructions
If you already have shredded chicken, you can skip this step. Otherwise add 1-2 chicken breast in salted boiling water and simmer for good 25-30 minutes until white and cooked all throughout. Take it out of the water and using two forks, shred. Keep aside. You will end up with way more shredded chicken you will need for this soup. You can freeze the remaining chicken for later use.
In a pot, add oil and butter. Once hot, add garlic and onions and saute for good 3-5 minutes. Add carrots and celery and saute for another. Add salt, black pepper and thyme. Now add half of the broth and bring it to a boil. Cover and simmer on medium-low under all the vegetables are cooked through for good 10-15 minutes. Now add the egg noodles and the rest of the broth and cook the noodles. Once the noodles are done, add the shredded chicken. Cook for another minute. Taste and adjust salt, black pepper and thyme as needed. Serve hot with few wedges of lemon and garnished with chopped fresh parsley.
Looking for more soup recipes? Here are some suggestions:
https://www.naivecookcooks.com/barley-and-green-split-pea-soup/