Easy Layered Mexican Dip perfect for entertaining!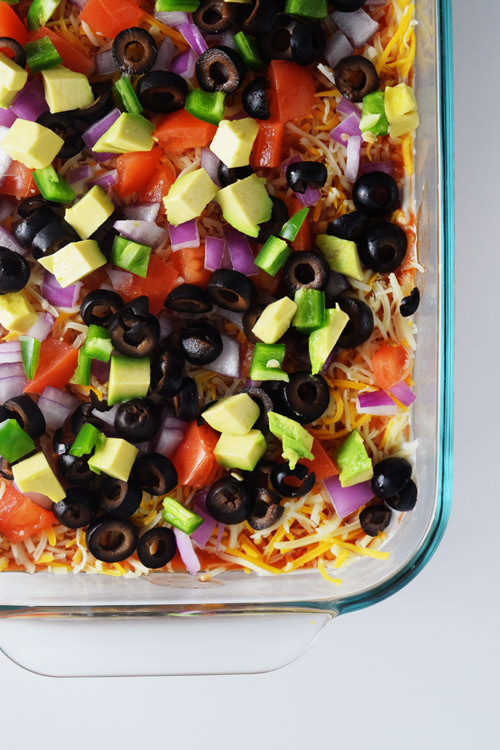 What's your favorite snack to bring when watching games? I am not much of a sports fan but I love all the food that comes with it. Tomorrow it's a big game day and I am all ready to relaxing infront of tv with lots of delicious layered mexican dip, crispy tortilla chips, beer and for dinner some enchiladas!
We both love Mexican food so it's the perfect solution to those nights when we both can't figure out what we want to eat!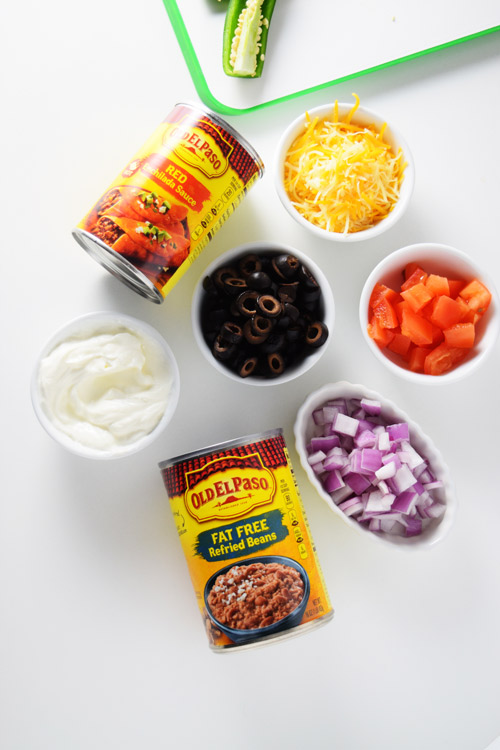 Now on to today's recipe. This is our favorite way to make classic 7 layered dip.It's a little different from the classic dip but with way more flavors! I have been using Ol El Paso products for a long time now and since this dip is an easy 15 mins sort recipe that you would want to keep at hand at all times , I went ahead and used our favorite Old El Paso Enchilada sauce and Old El Paso beans and tada a delicious dip that is almost healthy is ready in no time and trust me, it's a crowd pleaser! #GameDayFavorites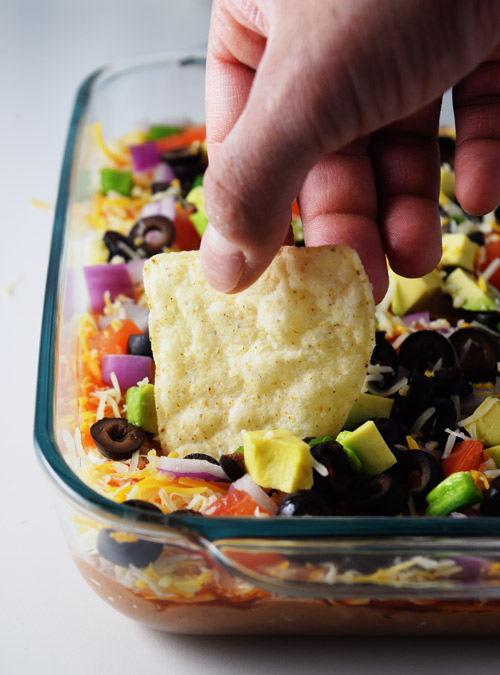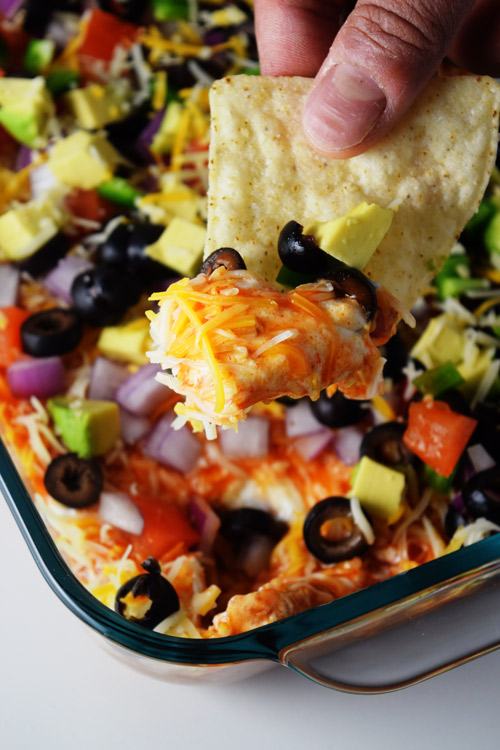 On top, you can buy our favorite Old El Paso products with these AMAZING COUPONS!! I love shopping at Publix and for this recipe I used Old El paso products & Avocados from Mexico sold at Publix. #OEPgameday #GameDayFavorites

Follow along for a lot more delicious treats and life happenings on INSTAGRAM || FACEBOOK ||PINTEREST ||TWITTER ||GOOGLE+
Layered Mexican Dip
Ingredients
1 can of Old El Paso Refried Beans ( I used Fat Free version, 16 oz can)
¾ cup low fat sour cream
1 can of Old El Paso Enchilada Sauce (10 oz)
1 cup shredded Mexican blend cheese
1 tomato, chopped
½ red onion, chopped
¼ cup black olives
1 Avocado, chopped
½ jalapeno, chopped
Salt to taste
Instructions
Open both refried beans and sauce can and empty them into 2 separate pots. Add a little salt to the beans and 2 tbsp water and mix.
To the sauce, add salt to taste and bring it to a boil.
Now take a glass dish or any dish where you are going to be making this dip.
Layer the beans in the first layer.
Add sour cream on top of beans in a smooth layer.
Now add half of this sauce on top of sour cream layer.
Now add shredded cheese on top of sauce layer and then top it off with tomatoes, onions, jalapenos, olives & avocado.
Sometimes I even like to add a few more tbsp of this enchilada sauce on top to give more flavor.
At this point, you can cover the dish and chill in fridge overnight.
Serve with lots of tortilla chips!
More Game day recipes ->>
This TOMATILLO GUACAMOLE using Avocados fro Mexico !