Make your own EASY MEXICAN PIZZA at home with few simple ingredients that tastes so much better!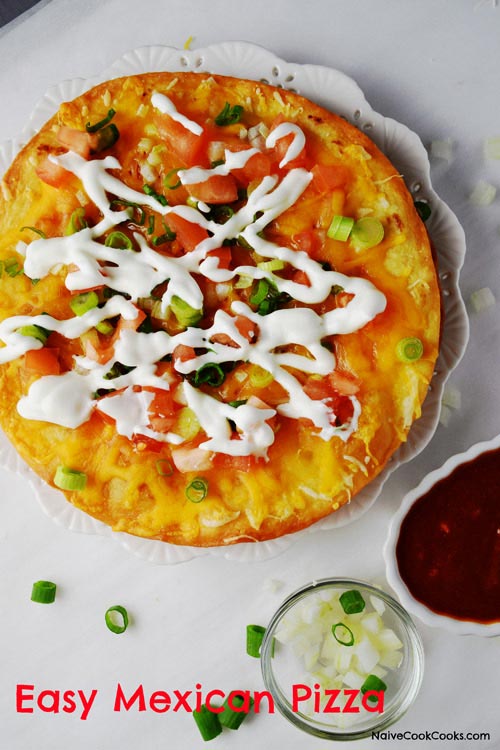 Hola amigos! Yes we are in a Mexican Food Coma here and I feel it's the best food ever! I mean I love cooking and learning all different sorts of cuisines but when it comes to Mexican food, I have a soft corner. Spicy sauces always hold a special place in my heart. Now if you love Mexican food, then you might have heard of Mexican pizza or if live where there is Taco Bell, then I should probably just shut up as you already know what I am talking about! ?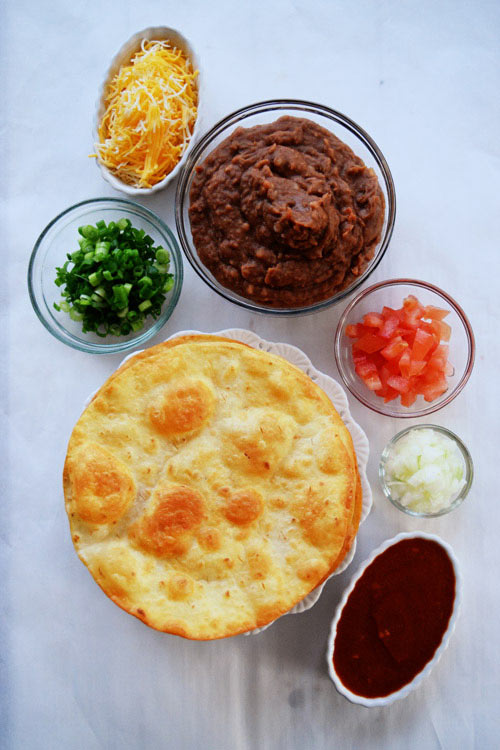 So today's recipe is my attempt at recreating Jerry's favorite Mexican Pizza from Taco Bell. Here we are making our very own sauce and our own refried beans. So if you have an hour to spare, I would definitely suggest you to go the FROM-SCRATCH route and I must add here that it tastes AH-MAZING!
But but not everybody cooks for a living and I totally understand how there are gazillion of things to take care of rather than spending an hour in the kitchen, so I have a quick version for you all out there too. Just buy can of refried beans and a bottle of Taco bell sauce. You can easily find both of these at almost all the grocery stores and after that it's only few simple steps!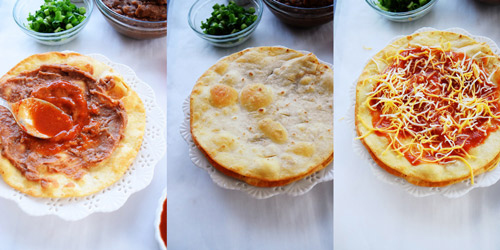 I made it twice to make sure I give you the exact details. There are few things I would suggest you keep in mind before you start making them
When you fry your tortillas, make sure you keep the gas at low-medium so they fry evenly on both sides because we need them to be really crispy.
Do not add too much beans or sauce as it will make them a bit soggy. I like to serve them with hot/warm sauce on the side so everybody can add or drizzle some on top as they eat.
Last melting the cheese. You can melt it in microwave but I personally didn't like the way it turned out. So I like to melt it for 3-5 minutes in oven which melts the cheese evenly & makes them extra crispy too! So BONUS points to oven!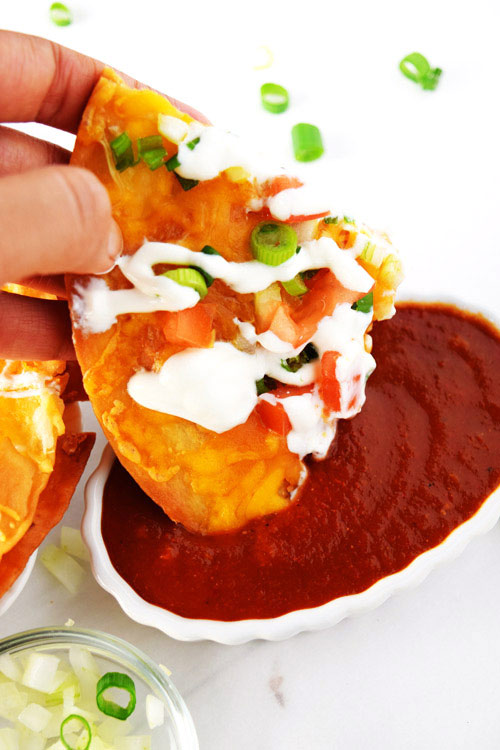 These turned out so delicious – crispy, spicy, cheesy and little sour cream to balance it all! Perfect COMFORT FOOD!
Follow along for a lot more delicious treats and life happenings on INSTAGRAM || FACEBOOK ||PINTEREST ||TWITTER ||GOOGLE+
Easy Mexican Pizza
Ingredients
REFRIED BEANS (To make your own follow the steps or just buy a can of ready made refried beans)
1 cup dry pinto beans
Salt to taste
Red chili powder to taste
2 tsp cumin powder
2-3 tsp taco bell seasoning
SAUCE ( To make sauce follow the steps under or just buy a bottle of taco bell sauce or red enchilada sauce)
15 oz tomato sauce
½ cup water
2-3 tsp red chili powder ( add depending on how spicy you like)
1 tbsp cumin powder
1 tsp oregano
1-2 tsp sugar
1 tbsp or more apple cider vinegar
1-2 tsp black pepper
2 garlic cloves, minced
12 Small fajita sized flour tortillas (1 Mexican Pizza will need 2 tortillas)
Oil for frying
Shredded cheddar cheese
Chopped onions, green onions and tomatoes
Sour cream for serving
Instructions
For REFRIED BEANS:
Boil pinto beans in a pot or pressure cooker until completely soft. Using a hand blender, blend them until smooth but still little coarse. To it add little water if too dry and all the spices. Stir and cook for few minutes until warmed up and taste and adjust the seasoning as per your liking. Keep it aside.
**If you are buying ready made refried bean can, you can still add all these spices in there to give them a boost of flavor!
For SAUCE:
Add all the sauce ingredients in a pot and simmer for 10-15 minutes until it reaches a medium thick consistency. Taste and adjust seasonings as per your taste.
For TORTILLAS:
In a heavy bottom skillet, heat oil. You can test if the oil is hot, by dropping a very small piece of tortilla in it. If it comes to the top instantly, that means oil is hot. Keep your gas at low- medium low to make sure the tortillas cook evenly and they get super crispy. Drop one tortilla at a time slowly in hot oil and fry for about 30 seconds to a minute and flip and repeat. Pull them out using tongs and drain them on paper towel.
Chop your veggies:
onions, green onions (spring onions) and tomatoes.
ASSEMBLY:
Lay one fried tortilla on a plate. Drop 1-2 tbsp beans and smooth it out. Now add 1 tbsp sauce and spread it on top of beans. Lay another fried tortilla on top of it. Add 1 tbsp sauce on top of this tortilla and sprinkle shredded cheese generously. Add chopped onions and place in a pre heated 350F oven for 3-5 mins or until all the cheese melts but make sure tortillas don't burn.
Take them out and garnish with remaining veggies : tomatoes and green onions and serve with a dollop of sour cream and more sauce on the side Enjoy the Mexican Feast you just made!
Notes
Ami says:
You can prepare beans and sauce ahead of time.
I have another red enchilada sauce
RECIPE
here which you can try if you want.
Some more delicious Mexican recipes:
https://www.naivecookcooks.com/poblano-crepe-enchiladas/
https://www.naivecookcooks.com/baked-veggie-chimichangas/