Soft & Chewy Simple Chocolate Chip Cookies that need just "1-Bowl", are Eggless & use basic pantry ingredients!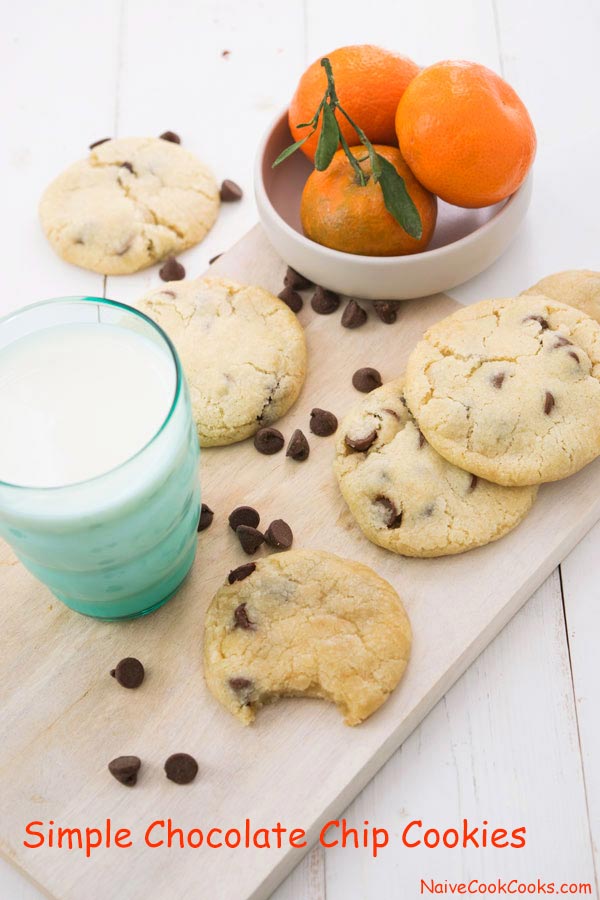 Who doesn't love good soft & chewy simple chocolate chip cookies and when you know you can make these in just 1-Bowl & freeze the dough for later use, it feels like a double bonus! You eat a batch now and then you have them anytime you want!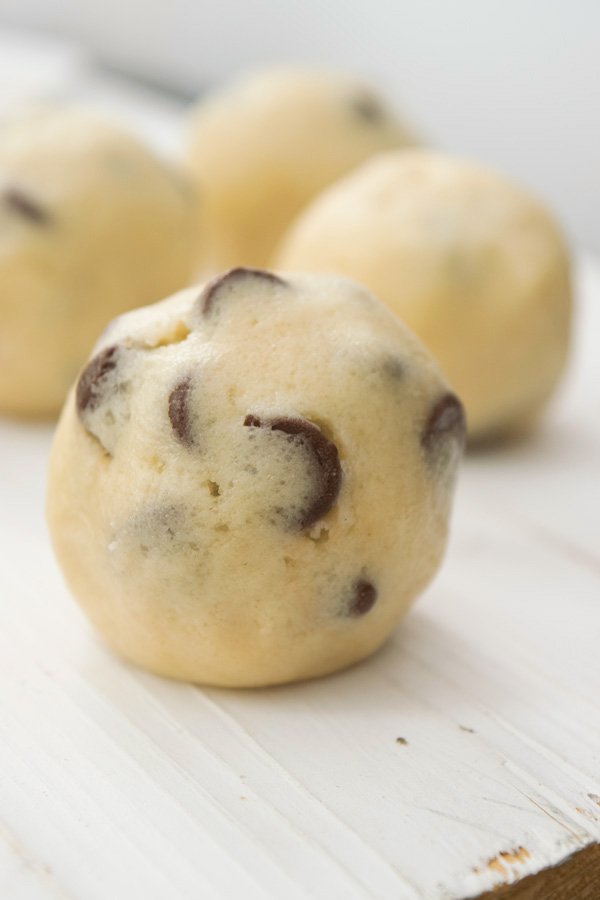 Ok so I have made a bunch of chocolate chip cookie recipes but whenever I try to make cookies without eggs, they just never tasted right. We eat eggs but I still wanted to make a version that is eggless as so many of our family members avoid eggs so I decided to make something they can actually try. And on top so many of my awesome readers asked for eggless version of chocolate chip cookies. It took me 3 trials to get them right but at last I was happy with the results.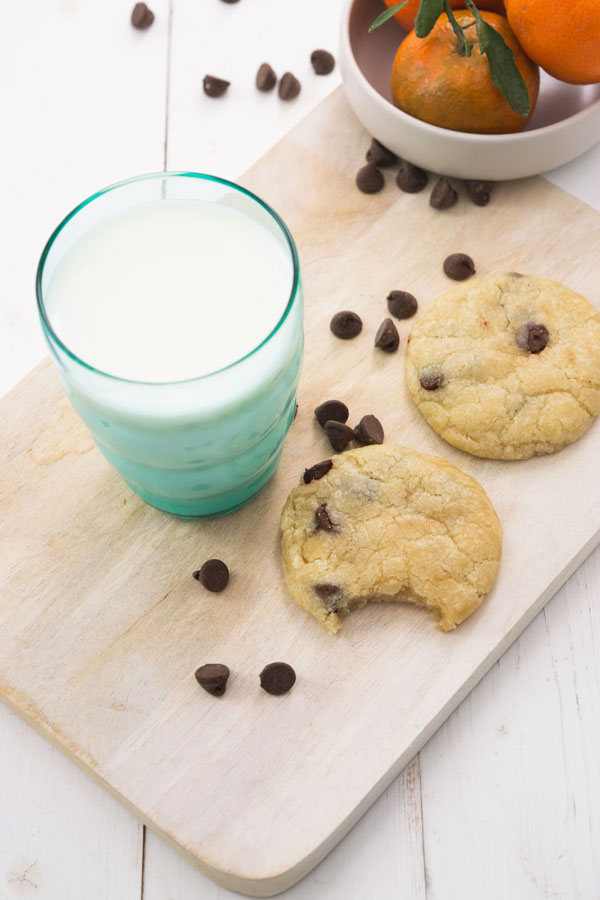 If you love soft & chewy simple chocolate chip cookies then these are for you! These are everything that a good chocolate chip cookie is supposed to be – chocolatey (a must, duh!), soft yet still intact, chewy and perfect when eaten dipped in a glass of cold milk.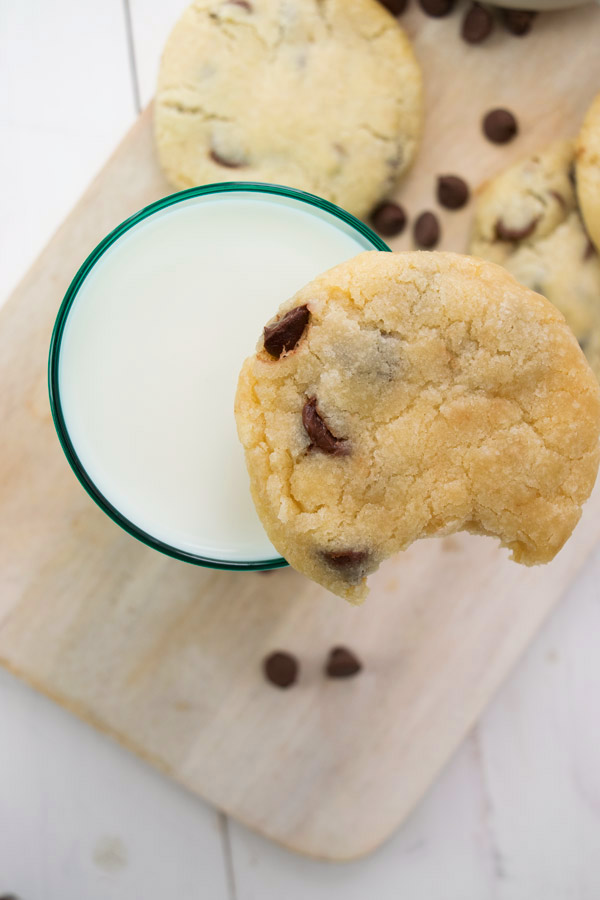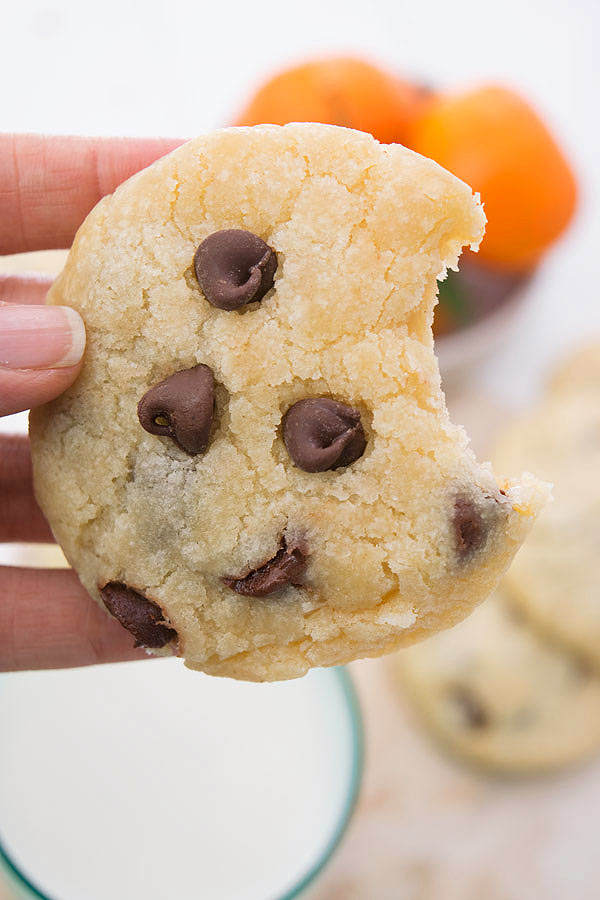 So go ahead & make these!
Follow along for a lot more delicious treats and life happenings on INSTAGRAM ||FACEBOOK||PINTEREST ||TWITTER ||GOOGLE+ || BLOGLOVIN
Simple Chocolate Chip Cookies
Ingredients
6 tbsp granulated sugar
2 tbsp unsalted butter, at room temperature
1 tbsp yogurt
½ tsp vanilla extract
½ cup all purpose flour
⅛ tsp baking soda
⅛ tsp salt
3-4 tbsp semi sweet chocolate chips
Instructions
Pre heat oven to 350F.
In a large bowl, mix sugar, softened butter, yogurt and vanilla extract. Using a whisk or hand blender, blend until smooth. Now add all purpose flour, baking soda and salt to it. Mix until evenly mixed.
Now using hands mix it so it's all evenly mixed. Transfer this dough to a plastic wrap and wrap tightly. Let it sit in freezer for 15-20 minutes.
Now take the chilled dough out. Break it into 4 equal sized pieces. Shape each piece into round balls. Place the balls onto a parchment paper lined baking sheet with almost 2 inch distance between each dough ball.
Bake for 15-16 minutes for soft & chewy cookies and longer if you like crispy cookies.
Let them cool for 5 minutes on baking sheet. Transfer cookies gently using a spatula to a cooling rack and let them cool completely. It might feel they are crumbly or uncooked but don't worry, as they cool down completely they will get the right texture! Enjoy once completely cool and these can be stored in airtight container for upto 2 weeks.
Notes
Ami says :
1. You can even leave the dough in freezer for longer. It will stay good for upto 2 months. Make sure to wrap it tightly in plastic wrap.
2. When ready to bake frozen dough, thaw it at room temperature for few minutes and then bake.
3. Recipe adapted from FoodNetwork.com
4. You can use double, triple the recipe as you want.
 Looking for some more sweets :