Simple Chocolate Chip Cookies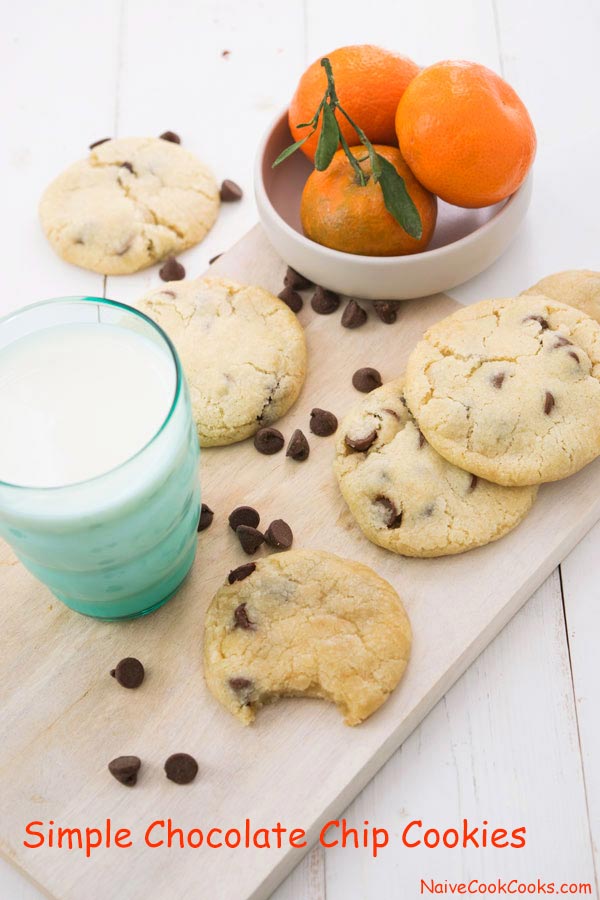 6 tbsp granulated sugar
2 tbsp unsalted butter, at room temperature
1 tbsp yogurt
½ tsp vanilla extract
½ cup all purpose flour
⅛ tsp baking soda
⅛ tsp salt
3-4 tbsp semi sweet chocolate chips
Pre heat oven to 350F.
In a large bowl, mix sugar, softened butter, yogurt and vanilla extract. Using a whisk or hand blender, blend until smooth. Now add all purpose flour, baking soda and salt to it. Mix until evenly mixed.
Now using hands mix it so it's all evenly mixed. Transfer this dough to a plastic wrap and wrap tightly. Let it sit in freezer for 15-20 minutes.
Now take the chilled dough out. Break it into 4 equal sized pieces. Shape each piece into round balls. Place the balls onto a parchment paper lined baking sheet with almost 2 inch distance between each dough ball.
Bake for 15-16 minutes for soft & chewy cookies and longer if you like crispy cookies.
Let them cool for 5 minutes on baking sheet. Transfer cookies gently using a spatula to a cooling rack and let them cool completely. It might feel they are crumbly or uncooked but don't worry, as they cool down completely they will get the right texture! Enjoy once completely cool and these can be stored in airtight container for upto 2 weeks.
Ami says :
1. You can even leave the dough in freezer for longer. It will stay good for upto 2 months. Make sure to wrap it tightly in plastic wrap.
2. When ready to bake frozen dough, thaw it at room temperature for few minutes and then bake.
3. Recipe adapted from FoodNetwork.com
4. You can use double, triple the recipe as you want.
Recipe by
Naive Cook Cooks
at https://www.naivecookcooks.com/simple-chocolate-chip-cookies/