Little HEALTHIER take on everyone's beloved chocolate chip cookies! Whole wheat flour, oats and half the fats make these the BEST CHEWY HEALTHY CHOCOLATE CHIP COOKIES! Same great taste!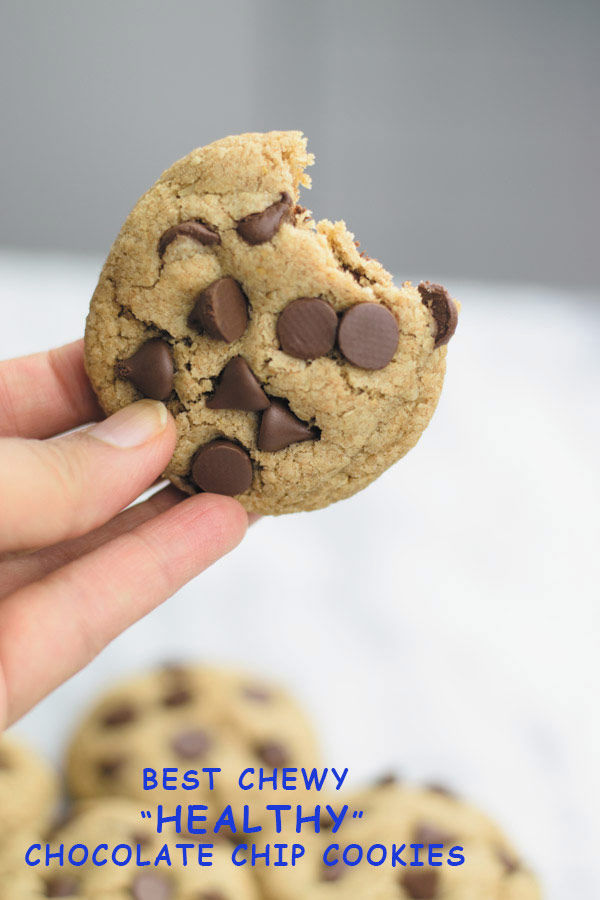 Half way towards the weekend and all I have been wanting lately is cookies. I have already made 2 batches of reader's favorite OLD FASHIONED CHOCOLATE CHIP COOKIES and after eating way too many cookies with milk, I knew I had to make a healthier version which still tastes the same but instead of 2 cookies, I can may be eat 4 without feeling guilty. You see where I am going with this?! 😉
So I worked with the classic old fashioned cookies recipe I got on the blog and made them healthier. I must admit I was little worried at first because whole wheat flour makes everything dry but not these cookies! The key here is to NOT TO OMIT  butter completely from cookies as it provides them moistness. So I kept butter but reduced the amount of butter. These are our new favorite chocolate chip cookies and the fact that they are a bit healthier, makes them a top choice!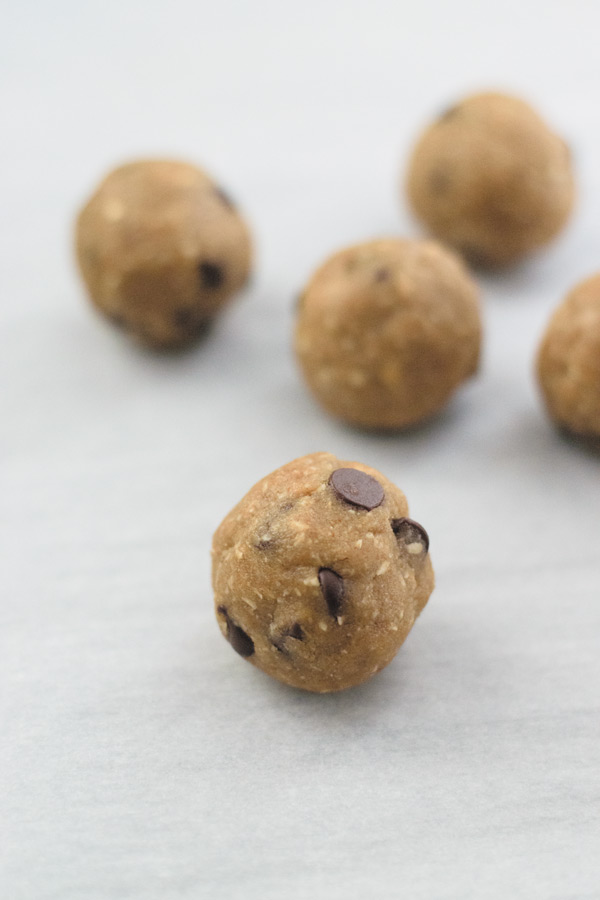 Now I got my cookie fix and now I am excited for this weekend as we are expecting our friends to visit from Chicago. It's been ages since we saw them and everytime we meet, there is so much to talk and so many things to do. It's their first time visiting Colorado and since there is so much outdoor stuff to do here, I have a long list of things I want to take them to and make them try these cookies!
They are so perfect just warm out of the oven studded with chocolate chips. Soft and chewy cookies with a tall glass of chilled milk makes them my favorite late night snack! How many of you can relate to this kind "not so healthy" late night snack?!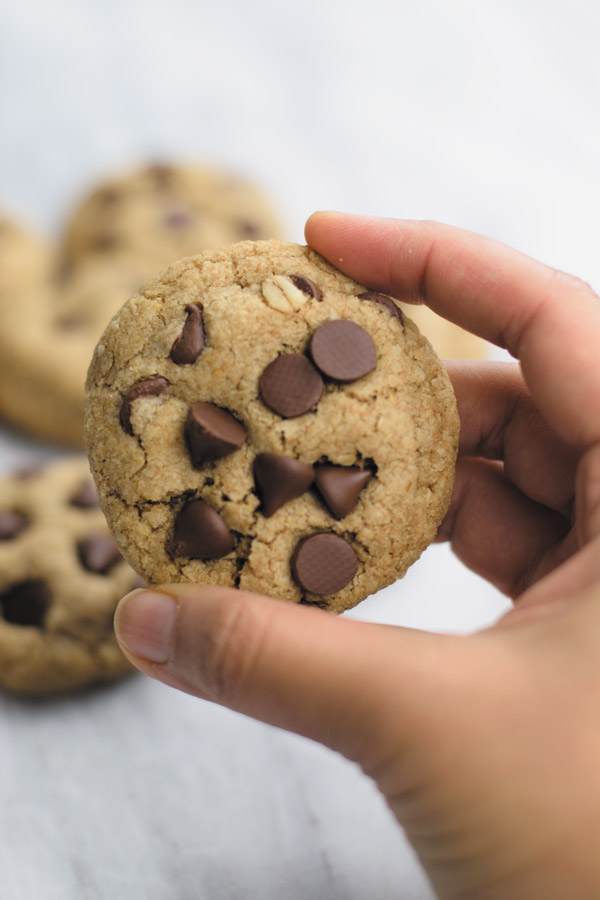 So go ahead and give this a try! If you make this or any other recipes from our blog, do tag us by using #naivecookcooks on social media channels.
If you enjoyed this recipe, don't forget to FOLLOW me on INSTAGRAM||FACEBOOK||PINTEREST ||TWITTER ||GOOGLE+ || BLOGLOVIN || YouTube

Best Chewy Healthy Chocolate Chip Cookies
Ingredients
Best Chewy Healthy Chocolate Chip Cookies -
⅜ cup (39 gms) whole rolled oats
½ cup (82 gms) whole wheat flour
¼ tsp salt
¼ tsp baking soda
2 tbsp softened unsalted butter
2 tbsp coconut oil, melted
3 tbsp (38 gms) granulated white sugar
3 tbsp (35 gms) brown sugar
½ egg
½ tsp vanilla extract
½ cup semi sweet chocolate chips
Instructions
Best Chewy Healthy Chocolate Chip Cookies -
Grind oats to oat flour.
Add oat flour, whole wheat flour, salt and baking soda in a bowl and stir.
In another bowl, add softened butter and beat the butter until creamy and smooth. To it add coconut oil, white sugar, brown sugar, egg and vanilla extract. Mix until smooth batter is made.
To it add the dry mix and mix until just mixed.
Fold in ¼ cup chocolate chips.
Cover the bowl with plastic wrap and then place in fridge for 1 hour to overnight.
When ready to bake, let the cold cookie dough thaw for 15 minutes or so.
Preheat the oven to 350F.
Roll cookie dough into 9-10 round balls and place onto a parchment paper lined baking sheet.
Bake for 11 minutes. Let it rest onto the counter and at this stage I add some chocolate chips onto the the just baked soft cookies.
Once completely cool, store in airtight container.
Some more EASY COOKIE recipes ->>