Bakery style rustic Roasted Garlic And Rosemary No Knead Bread at home in just few simple steps! A very simple FOOL PROOF recipe with success every single time!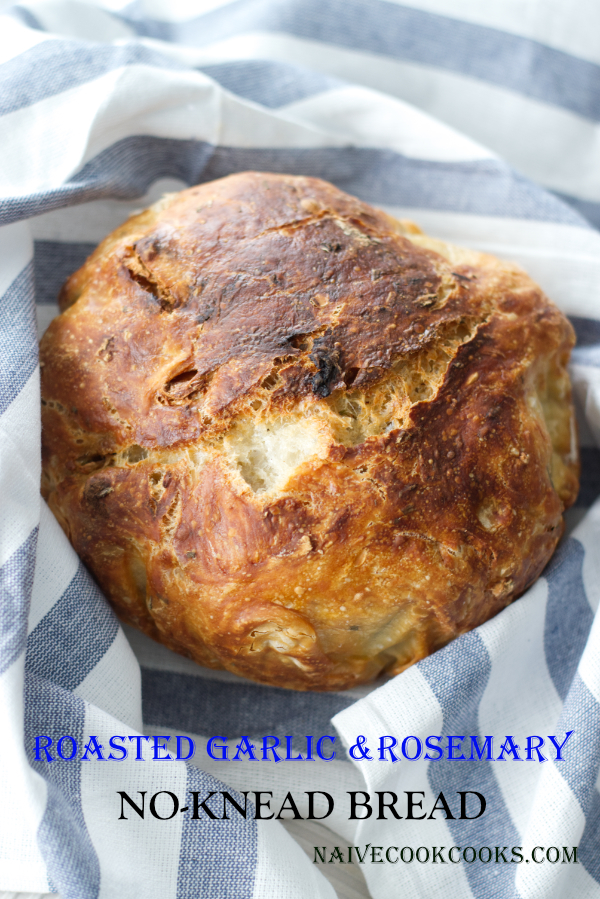 How are you all holding up these days? With spending so much time at home which is a blessing but can some days take over your mind, lately I have been feeling kind of blah all day and I worry sometimes about this situation world is in currently in. But thankfully I made sure to stock up on flour and all basic baking supply during my last grocery trip which was  like 20 days ago (!!) so baking has been keeping me calm and giving me a sense of relief. 
If you follow me on Instagram ( which I hope you do because that's where I am found a lot these days and I have been sharing STEP BY STEP tutorials for lot of my old as well as new recipes!), you will see that I have a whole STEP BY STEP on how to make this delicious ROASTED GARLIC & ROSEMARY NO KNEAD BREAD.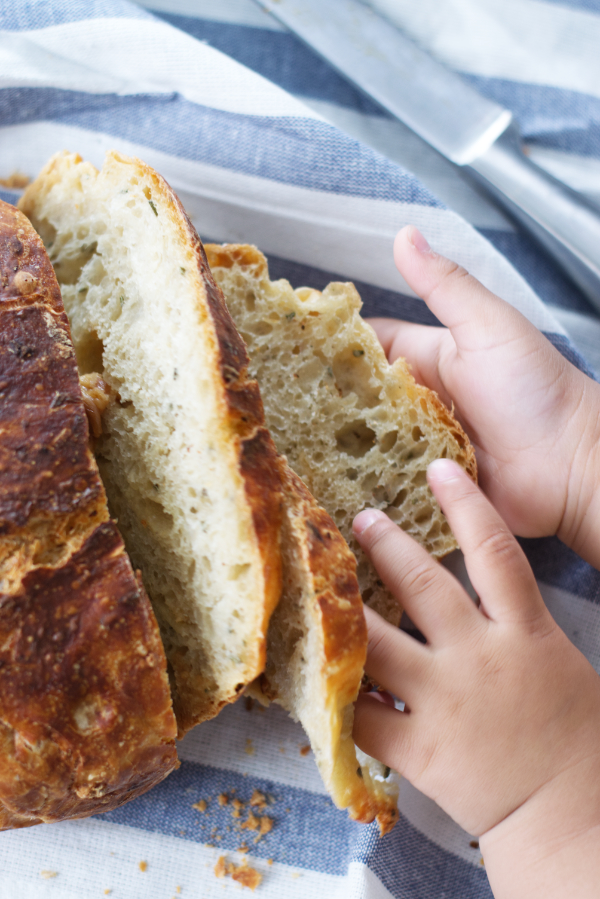 I have had the recipe for this simple NO KNEAD JALAPENO CHEDDAR BREAD on my blog for a long time & it's always a CROWD PLEASER! Since lot of my readers have baked and enjoyed this bread, so I wanted to try out other flavors. This time I went with my current favorite combo – ROASTED GARLIC + fresh ROSEMARY. Sooo good!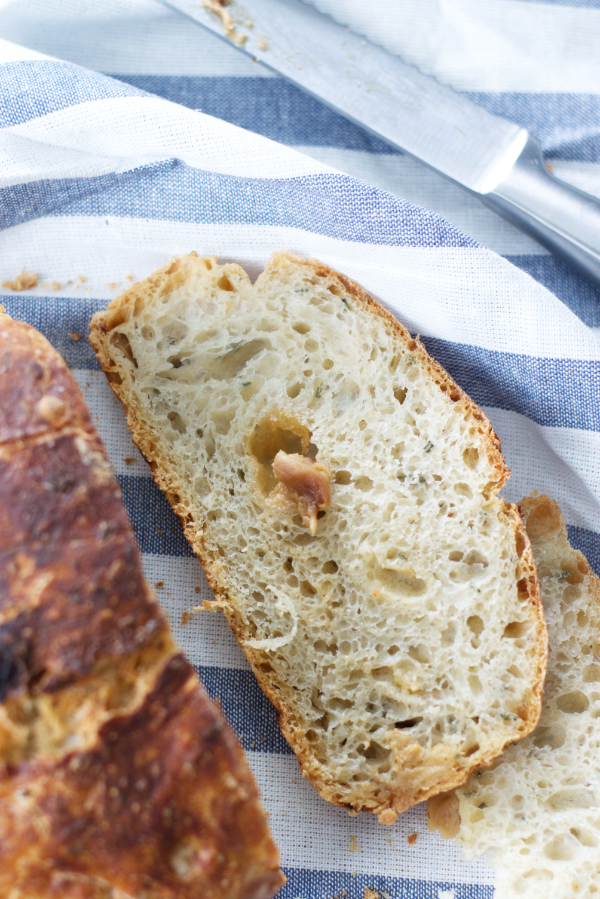 The recipe for no knead bread is super simple. You start by stirring together flour, salt, yeast. Then you add whatever mix-ins you are in the mood for, this time I went in with freshly chopped rosemary and then mix it along with oil and water. Its all just mixed with a spoon and the dough rests for almost 24 hours. Then you incorporate roasted garlic into the dough and give it a second rise and bake. 
This was the first time Aria actually ate this bread as she is into that stage where she loves bread ( just like her mama! ) and when she saw Ronak come home, she screamed " Daddy Mamma made yummy bread" ! Ahh this girl melts my heart, love her so much!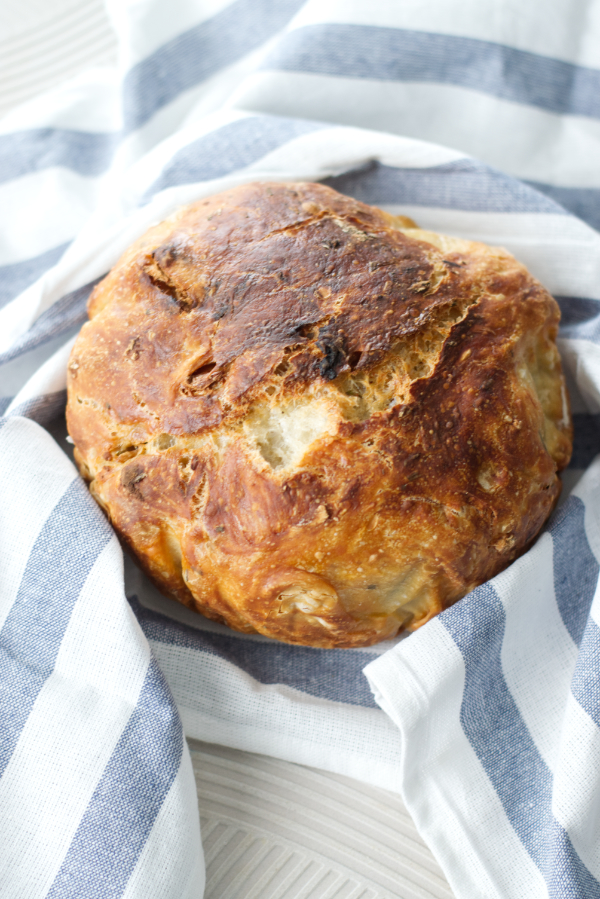 So bake away and DON'T FORGET TO TAG ME ON Instagram #naivecookcooks so I can see & share your creations. That's the best part about this whole recipe creation thing! 🙂
If you enjoyed this recipe, don't forget to FOLLOW me on INSTAGRAM||FACEBOOK||PINTEREST||TWITTER ||GOOGLE+ || BLOGLOVIN || YouTube

Roasted Garlic And Rosemary No Knead Bread
Ingredients
3 cups all purpose flour ( or use Baking flour)
2 tsp salt
¼ tsp active dry yeast
2 full heads garlic roasted
2.5-3 tsp freshly chopped rosemary
1 Tbsp olive oil
1.5 cups water
Instructions
Roast the garlic. I have a step by step onHOW TO ROAST GARLIC in this post. Once roasted let it cool down completely. The garlic cloves will pop out of the skin just by giving them a slight push. Store them in an airtight container in fridge until ready to use.
In a big bowl, add flour,salt and yeast. Stir using a spatula. To it add fresh rosemary and stir again. Now add oil and water. Mix using a spatula. All you need to do is using your spatula or spoon, stir it so the dough comes together. Remember NO kneading required!!
Cover and let it sit overnight or good 8-24 hours. The dough will double up.
When you are ready to bake, place a parchment paper on your work space. Coat it with flour. Transfer the dough from bowl to the parchment paper. It will be sticky. Now coat your hands with dry flour too. Bring the dough together in the form of a ball. Smash pieces of garlic and place them on top of the dough. Now using floured hands gently cover by pulling dough from bottom/sides. Repeat with another layer of garlic cloves and cover again with dough from bottom or sides. I ended up using about 1.5 head of garlic cloves.
Cover with a towel and let it sit for second rise for 1.5 - 2 hours.
Preheat oven to 450F and place your Dutch oven or baking pot in there to warm up too. After around 1.5-2 hrs, take out the pot from pre heated oven. Watch it will be extremely hot. Transfer the dough along with parchment paper inside. Bake covered for around 45 minutes and uncovered for 8-10 mins until top gets golden brown.
For STEP BY STEP on how to bake this BREAD, check out my INSTAGRAM STORY HIGHLIGHTS.
Notes
Ami says :
RECIPE adapted from my
NO KNEAD JALAPENO CHEDDAR BREAD
Lot of you have asked, is it really necessary to bake it in DUTCH OVEN? So my answer is you can get away by baking it another deep oven safe pot with a lid but DUTCH OVEN makes huge difference on how your bread turns out. It traps heat which cooks the bread evenly giving you crispy surface and since its well covered, the inside of bread is super soft. You don't necessarily have to invest in an expensive Dutch oven if you don't want to. I have had this
Bella brand Dutch Oven
for almost 8 years now and still love it.
More delicious BAKING RECIPES ->>