Easy Oven Roasted Garlic is creamy, rich tasting & goes well with almost everything! Add in pasta sauces, smear on toast/pizza dough or use in cooking curries!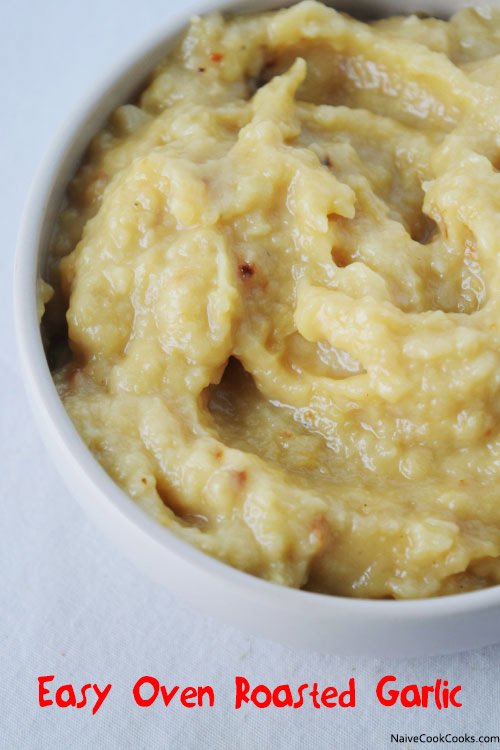 Weekend means doing things a little ahead of time! Well I am a big procrastinator when it comes to doing things ahead of time but this is one thing I have been doing every weekend religiously! I have been roasting tons of garlic, turning it into a dreamy paste & storing to use all through the week!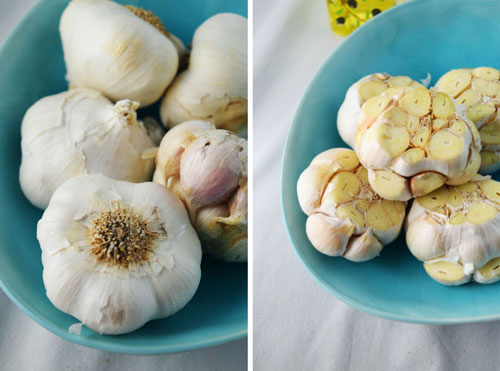 We love eating garlic around here but roasted garlic has taken my garlic obsession to new heights. How can something so sharp turn into this rich sort of sweet buttery goodness! Just 2 Ingredients is all it takes to get your hands on this amazing roasted garlic. If you have never roasted one and thinking of ways to eat, then do not worry!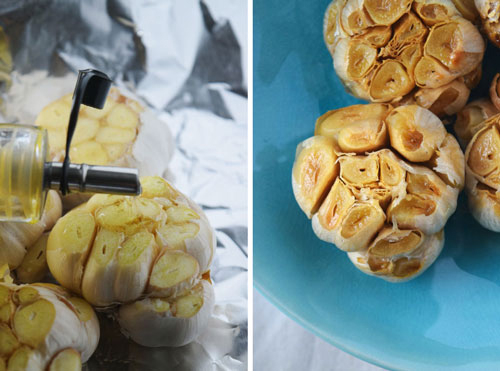 So so many ways to eat this delicious thing :
Mix some garlic paste with good quality extra virgin olive oil, salt, black pepper & vinegar and enjoy by dipping your finest crusty bread in it!
Use to make pasta sauces. It tastes amazing and I have something for you coming tomorrow!
Pizza!! I like smearing my pizza dough with lots of roasted garlic paste and then cooking it! OMG!
It's like a super flavorful butter spread. You can even mix this with some softened butter until smooth and chill! You got yourself homemade, super delicious ROASTED GARLIC BUTTER!
See told ya, there are so many ways to enjoy this buttery goodness!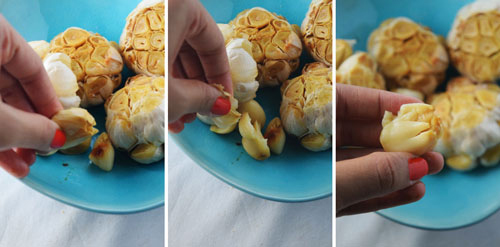 And after roasting, it's super easy to take out of the skin too. See the above pictures, it basically slides off! Seriously you need to make this stuff & storing is super easy too. I like storing extras in individual zip-locks in freezer if not using within a week and the ones for using throughout the week, I like to keep in air tight containers in refrigerator!
Buttery goodness!
Follow along for a lot more delicious treats and life happenings on INSTAGRAM || FACEBOOK ||PINTEREST ||TWITTER ||GOOGLE+

How to Make Easy Oven Roasted Garlic
Ingredients
4 heads of garlic
4 tsp olive oil
Instructions
Preheat oven to 420F.
Cuts the tops of garlic heads.Peel the skin from garlic head as much as you can without opening the head. You might want to leave a very thin skin around so the garlic head doesn't open up.
Now as we will see in pictures, add a tsp of oil on top of each garlic head slowly so oil is absorbed by the garlic.
Place all the garlic heads in an aluminium foil and seal them tightly.
Place this sealed aluminium foil in a baking tray and bake in pre heated oven for 45-50 mins.
Take it out once done and let it cool. Open the foil and there you have super soft, creamy roasted garlic!
At this point you can simply take out the cloves from their skin and store as such or go ahead and make a paste!
Just add few drops of water or olive oil along with some salt and make a paste in food processor!
Recipes perfect for Oven Roasted Garlic: