From Scratch Creamy Flavorful REFRIED BEANS – at home, with just few basic ingredients taste just like your favorite restaurant's refried beans! Tons of flavor and uses simple pantry ingredients!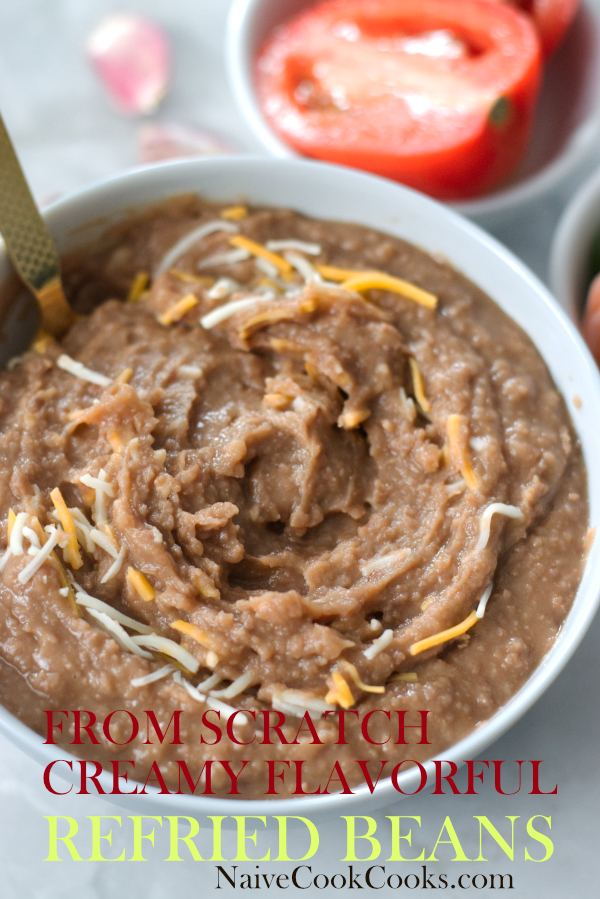 Confession : I HAVE BEEN MAKING PINTO BEANS WRONG ALL MY COOKING LIFE!! Cooking life as in last 10 years since I started cooking and got really really interested in cooking so much that I left my Chemical Engineering job and decided to create content around food. 
So we absolutely love Mexican food around here and to be honest, who doesn't? I have been making Refried beans at home most of the time. Yes there are days I have used canned refried beans or canned pinto beans converted into refried beans and until now with canned or scratch version of mine, I have never been satisfied! I used to take boiled pinto beans, mash them and add salt, red chili powder, cumin powder, or somedays taco bell seasoning along with picante sauce here and there but UNTIL NOW I was on the hunt for a good solid restaurant style version of refried beans!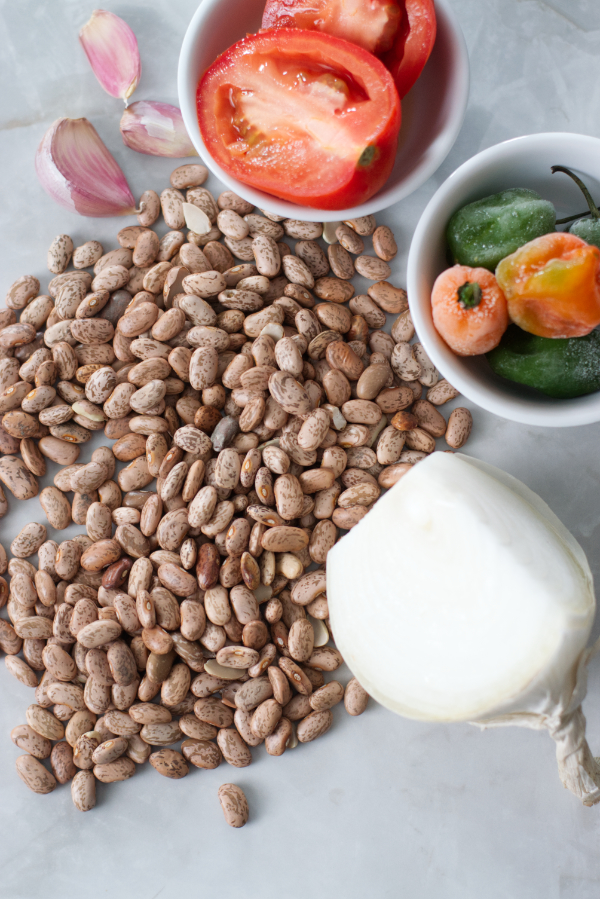 A week or so ago our Aunt packed few burritos for us and even me telling her No for the 1000th time, I ended up coming home with 2 big fat burritos. We started eating them thinking they will taste just like any regular burrito but this is when we realised that there is a much much better way of making refried beans at home! I had to call her immediately and ask her for her recipe.
I soaked the beans for about 40 minutes in hot boiling water and then threw everything in Instant Pot. GOSH THESE ARE THE BEST REFRIED BEANS EVER!! I screamed to Ronak! I left them little watery and Aria & I enjoyed a big bowl as soup that same night while I made quesadillas for Ronak. Last night I pulled the extras from freezer which I froze that day and we devoured them on nachos! SO FREAKING DELICIOUS!!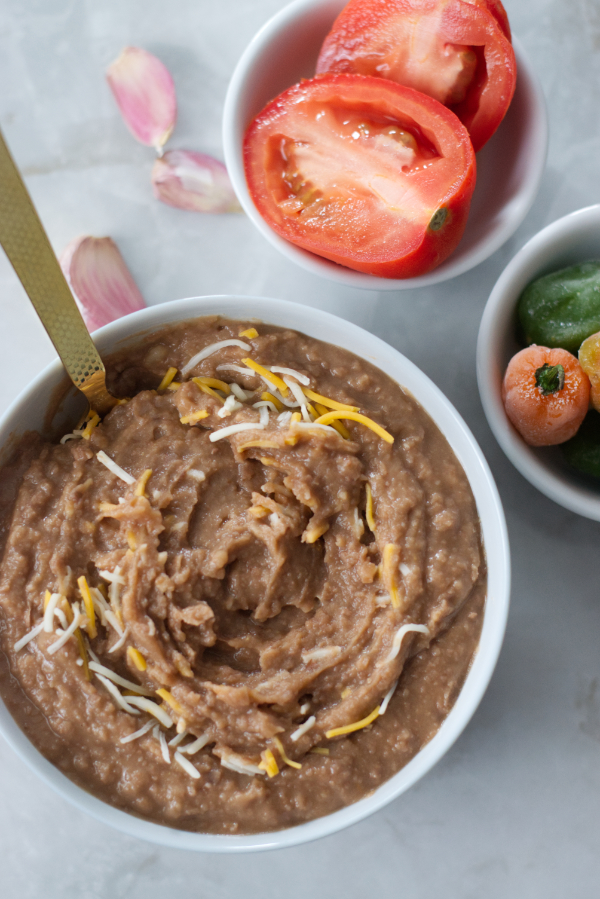 If you are still on the fence or think your canned beans are good enough or think this might be another food blogger going crazy over her recipe, DON'T!! PLEASE GIVE THESE A TRY! I AM NEVER GOING BACK TO MAKING REFRIED BEANS any other way!!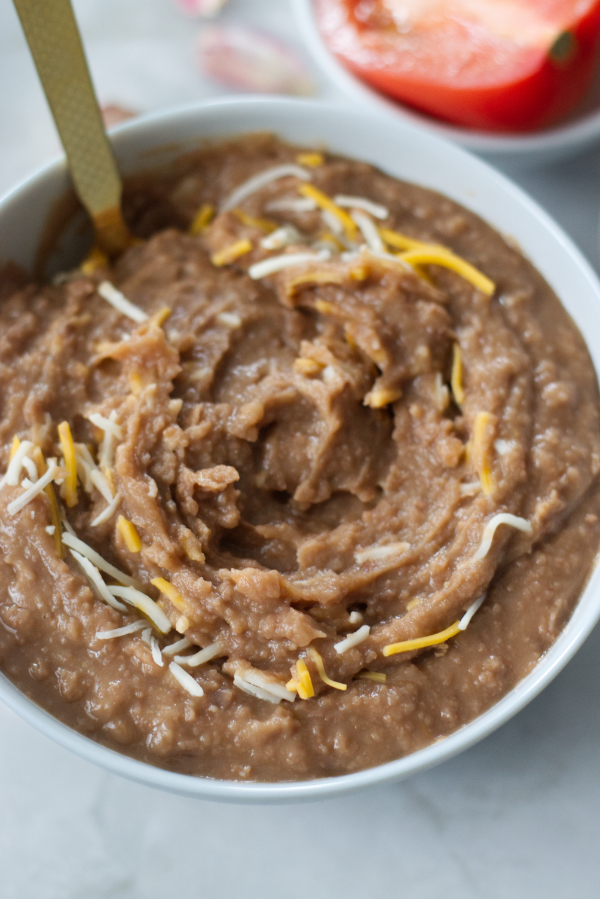 From Scratch Creamy Flavorful Refried Beans
From Scratch Creamy Flavorful Refried Beans Author: Naive Cook Cooks Cook time: 45 mins Total time: 45 mins
Ingredients
1 pound (455 gms) ( 2.5 - 3 cups) Pinto Beans, dry uncooked
Salt to taste
1 habanero ( If you can't handle much heat replace with 1-2 serrano or for milder beans use jalapeno. If you have a kid who will be eating these too pull out the chilies before blending. After keeping some for them, add the chili back and blend blend.)
½ cup Onion, chopped in big pieces
4 large garlic coves, peeled
1 tomato, chopped in big pieces
2 Tbsp Cooking oil
1-1.5 tsp cumin powder
Instructions
INSTANT POT DIRECTIONS :
If you have time on hand, soak beans for a minimum of 30-40 minutes in hot boiling water.
In your Instant Pot add soaked or unsoaked but washed beans along with salt, cumin powder, habanero, onion, tomato, garlic cloves and oil along with 5 cups water.
( I soaked the beans after washing directly in Instant pot. So after 40 minutes I just added the remaining ingredients and cooked them.)
Seal your instant pot and set it to high pressure setting to cook for 45 minutes with whistle on seal position.
Once done let it cool down before opening.
Once all the steam has self released, open the lid and using a hand blender blend into a smooth puree. Now at this stage your beans might have too much liquid. Turn on saute mode and place the lid back and let some of the liquid cook away. You can also taste test and see if it needs more salt or cumin powder.
Enjoy as a soup garnished with some onions, tomatoes, crushed tortilla chips or inside quesadillas, on nachos, on tacos and so on!
I freeze the extra and pull out as and when needed.
STOVE TOP DIRECTIONS :
Make sure to use a big deep pot and follow exactly same until you add all the ingredients to the pot. Then cook on medium high heat and keep an eye as you might need more water. It will also take longer to cook depending on how old your beans are.
SOME OF MY RECIPES THAT USE REFRIED BEANS ->>
These BEAN & RICE TORTILLA BOWLS are so so tasty!!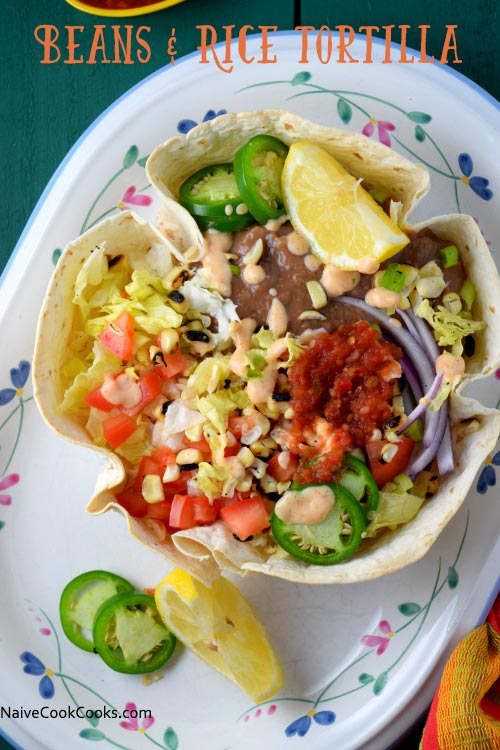 These BEANS & CARAMALISED ONION QUESADILLAS  are so good for a quick but delicious weeknight meal.