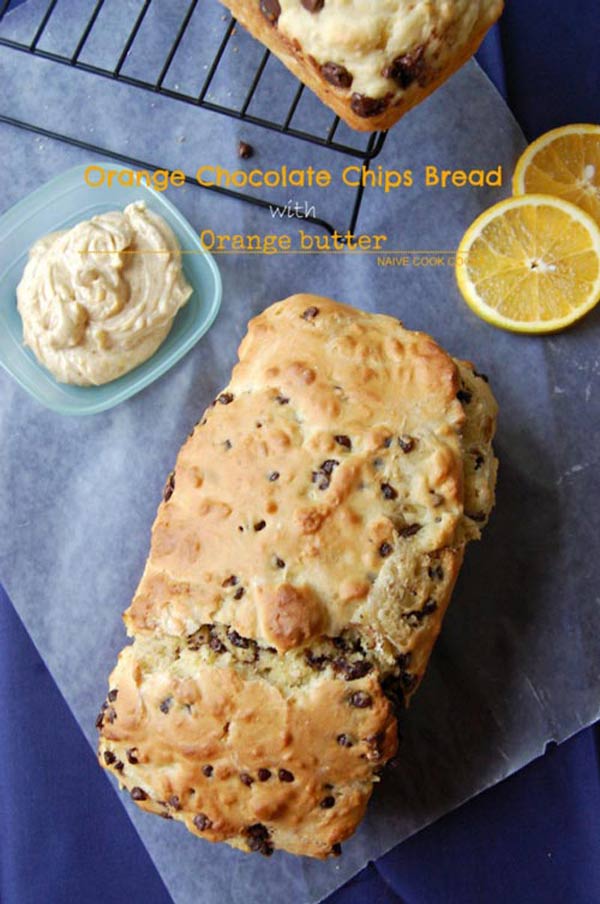 The last time I made and posted a loaf cake or bread was almost a year ago when I made this. It was our favorite breakfast for few weeks and we ate it so much that I was kind of done with bread baking for a while. But this came in our life and things haven't been same since then. It is the most spongiest bread I have made till date. It can beat any store bought slightly sweetened bread and when you combine it with this orange butter, things go to a completely different level.  I never knew until now that orange and chocolate taste so good together.
Best part? It uses NO butter. Can you believe it?!
It is literally one bowl recipe. Just throw together some self raising flour, orange juice, orange zest, milk, yogurt,eggs and sugar and combine until well blended.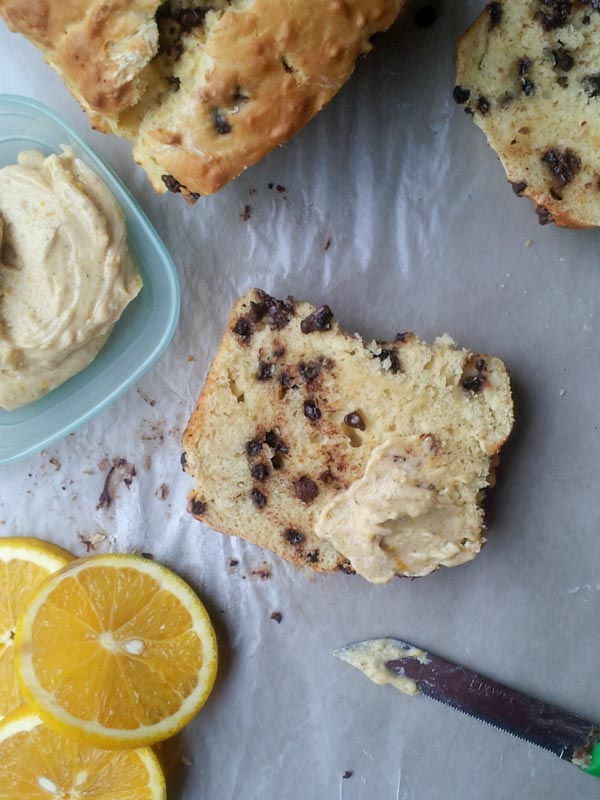 Super duper moist and fragrant is what I call this bread. I usually like cutting my bread in thin pieces but this bread tastes better when cut in thick pieces. Slather it with orange butter and you won't be able to stop eating it. I found some of us slathering it with chilled butter and than warming it up for like few mins in microwave before devouring it. I tell you it is seriously the best melt in the mouth bread till date.
 It is perfect for your Easter brunch baking or simply for the weekend. Who doesn't like waking up to warm fresh homemade bread?
Chocolate Chip Orange Bread
Ingredients
¾ cups low fat milk ( I used 2%)
¾ cups plain nonfat , or low fat yogurt ( I used low fat)
⅓ cup sugar
¼ cups fresh orange juice
2 eggs, slightly beaten
1 Tbsp freshly grated orange zest
3 cups self rising flour
½ cup mini semi sweet chocolate chips
Instructions
Pre heat oven to 350F.
Spray a 9 by 5 by 3 inch loaf pan with vegetable oil. Keep it aside.
in a bowl, stir together milk, yogurt, sugar, orange juice, orange zest and eggs. To it add flour and mix until well blended. Fold in the chocolate chips.
Pour into prepared pans and bake for around 42-45 mins until a toothpick inserted in center comes out clean. Let it cool for few mins in the pan. Transfer to a wire rack and let it cool completely. At this point you can serve with chilled orange butter or once completely cool wrap in aluminum foil and store at room temperature.
Orange Butter
Ingredients
3 Tbsp unsalted butter, softened
2 Tbsp sugar, white
1.5 Tbsp orange juice
zest of 1 orange
pinch of cinnamon powder
Instructions
In a small bowl, add all the ingredients and whip it using a fork until well blended. Chill before serving.
More Bread Recipes: