Fresh & sweet watermelon, crispy cucumber, spicy jalapenos tossed together with feta cheese and simple olive oil dressing for a refreshing salad!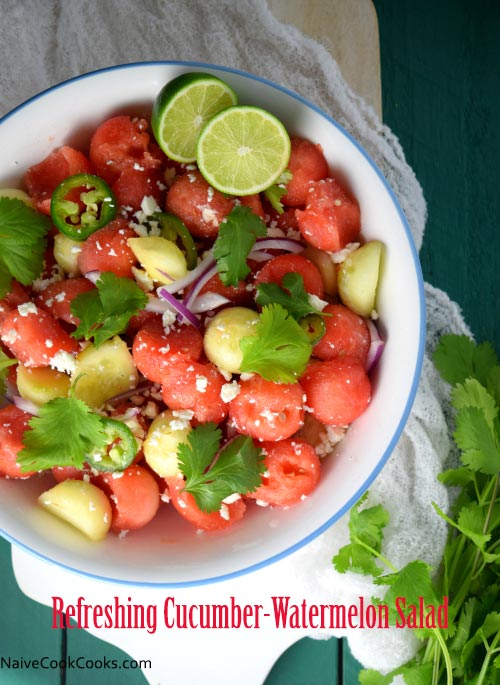 This salad is my new favorite way to eat fruits. I can literally live on this salad. The sweetness from fresh watermelon, crunchy cucumbers, spicy jalapenos and little kick from red onion goes along perfectly well together. Add creamy feta cheese and a zingy simple olive oil dressing and you have a gorgeous color packed salad ready in minutes.
It's not really a dressing if I say so. Basically you just mix olive oil, salt and pepper and little sweetener and there is the so-called dressing. I know you might think what a joke but I am telling you here only simple things are more than enough because the fruits & veggies are the star of this salad and not the dressing.But if you feel like, you can go ahead and give a good squeeze of lime/lemon juice to brighten up things little more.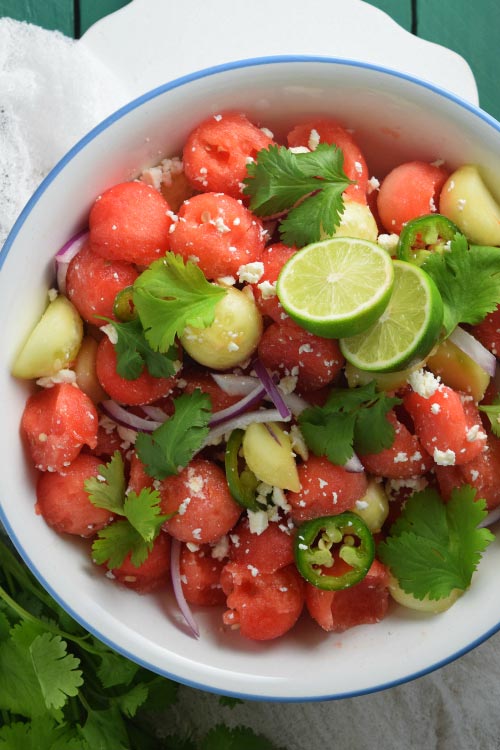 On personal front as I told you yesterday, I am visiting my family, so today I have not done any real cooking but if you count making endless cups of coffee, driving early morning to get burger king breakfast (So good!) and roaming around to get that perfect fresh fish and eating my weight in bean tostadas a lot of work then I won't fight! We are almost half way through the week so let's give ourselves a little break with this delicious salad!
Help in spreading the word!
Follow along for lot more delicious treats and life happenings on INSTAGRAM || FACEBOOK || PINTEREST 

Refreshing Cucumber-Watermelon Salad
Ingredients
4 cups freshly chopped watermelon ( chopped or scooped out, I scooped them out in small balls using a small scoop)
1 cup cucumber (peeled & chopped or scooped out)
1 jalapeno chopped
¼ cup fresh cilantro, chopped
¼ red onion, chopped in thin slices
¼ cup feta cheese
3 tbsp olive oil
Salt, black pepper to taste
Pinch of sugar or honey or maple syrup
lemon/lime juice (optional)
Instructions
In a bowl, mix olive oil, salt, pepper and sweetener. Stir until all mixed and taste and adjust seasoning. You can even add few drops of lime/lemon juice if desired.
In a large bowl, add watermelon, cucumber, red onion, cilantro and jalapeno. Stir it around and just before serving add the dressing.
Notes
You can make dressing ahead of time and assemble the fruits ahead of time as well.Just mix the dressing to the salad ingredients right before serving.
More Simple Recipes: