Refreshing Cucumber-Watermelon Salad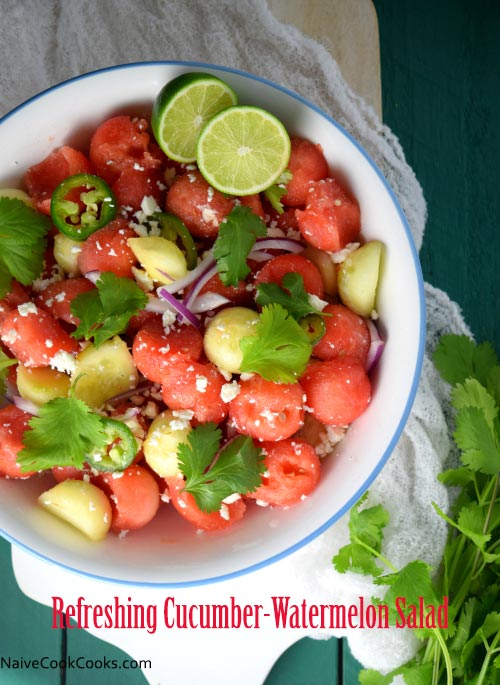 4 cups freshly chopped watermelon ( chopped or scooped out, I scooped them out in small balls using a small scoop)
1 cup cucumber (peeled & chopped or scooped out)
1 jalapeno chopped
¼ cup fresh cilantro, chopped
¼ red onion, chopped in thin slices
¼ cup feta cheese
3 tbsp olive oil
Salt, black pepper to taste
Pinch of sugar or honey or maple syrup
lemon/lime juice (optional)
In a bowl, mix olive oil, salt, pepper and sweetener. Stir until all mixed and taste and adjust seasoning. You can even add few drops of lime/lemon juice if desired.
In a large bowl, add watermelon, cucumber, red onion, cilantro and jalapeno. Stir it around and just before serving add the dressing.
You can make dressing ahead of time and assemble the fruits ahead of time as well.Just mix the dressing to the salad ingredients right before serving.
Recipe by
Naive Cook Cooks
at https://www.naivecookcooks.com/refreshing-cucumber-watermelon-salad/