Creamy Rice pudding made using 3 kinds of milk and a secret ingredient to make it taste something you will want to keep eating!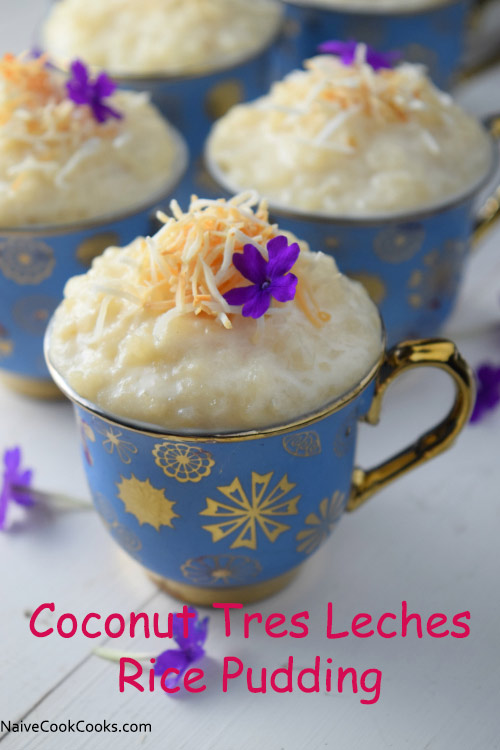 It's a rice pudding kinda day today you friends. Sorry for getting little late in posting today's amazing recipe . I was travelling today all day and I had written the post earlier in the day but somehow it got erased. I know such a bummer. I just sat down thinking I have my post ready and all I needed was to give it a quick check and post. But I was in a surprise. All the written stuff was gone and I was left with pictures only. Well enough of my sad story. Lets talk about this pudding and the reason you guys are here.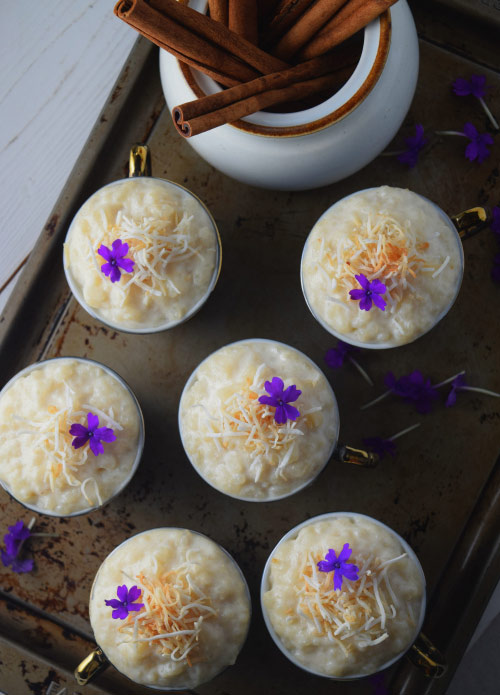 This rice pudding is based on the concept of tres leches cake. Tres leches cake is basically a sponge cake made up of three sorts of milk usually condensed milk, evaporated milk and heavy cream. So I kept the concept of using 3 milks here and instead of cake used it to make a rice pudding. Here I used coconut milk, sweetened condensed milk and 2% milk and a secret ingredient to make this so so creamy & delicious pudding.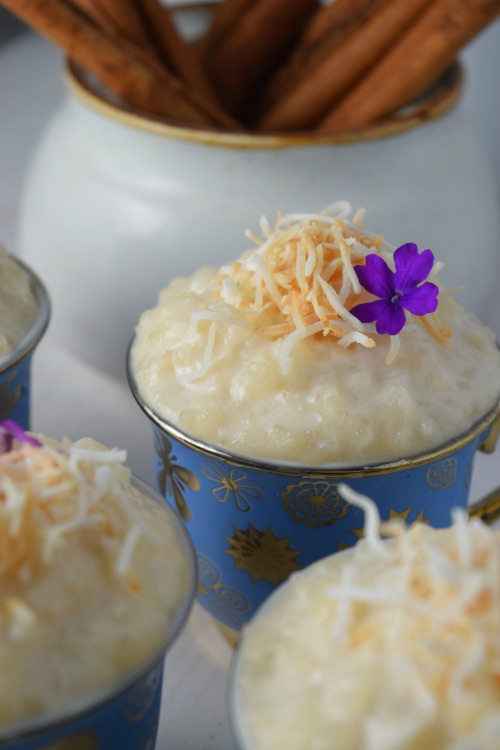 I had no idea how it will taste when I started making this pudding. When we started eating it after dinner, I was told that it resembles a lot to our favorite rice pudding we always get at our favorite mediterranean restaurant. The secret ingredient is "rose water" and it makes it surprisingly good. I know you might be thinking what? I mean it's sort of spanish & meditteranean flavor fusion but I must tell you that it goes along perfectly.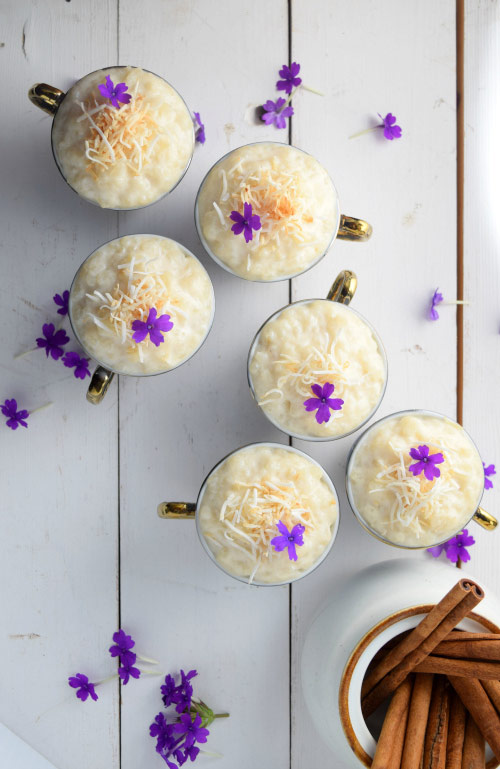 If you have a bottle of rose water lying around, try adding few drops before serving as the staring point. You will love it.
Help in spreading the word!
Follow along for lot more delicious treats and life happenings on INSTAGRAM || FACEBOOK || PINTEREST 

Coconut Tres Leches Rice Pudding
Ingredients
1 cup arborio rice or any short grain rice
1 can sweet condensed milk (14 oz can)
1 can full fat coconut milk ( 13.5 oz can)
1-2 cups 2% fat milk
1 cinnamon stick
Few tbsps of rose water (Optional but seriously delicious)
Few tbsps of shredded coconut for topping
Instructions
In a pot, add arborio rice along with around 3 cups of water and cinnamon stick. Bring it to a boil and simmer on medium-high heat until the rice is cooked through. We want the rice to be soft.
Now once rice is cooked, if there is still water remaining strain or while cooking, if it starts to get dry add some more water. Discard the cinnamon stick.
Now transfer the cooked rice to a big pot and add all three kinds of milk. Cook it on medium-low heat for 15-20 minutes. After that turn off the gas and it will seem very liquidy but don't worry. Once you keep it in refrigerator to chill for few hours, you will see that rice will absorb all the milk and it will turn into a thick consistency.
It tastes best when served chilled with some rose water and toasted coconut.
*For toasting coconut, simply toast coconut in a pan until golden.
Notes
Keep the pudding covered with plastic wrap. It stays good for upto 10 days when kept chilled.
More Pudding Recipes:
https://www.naivecookcooks.com/guinness-chocolate-pudding/