Easy pasta dinner with a lightened up creamy Spinach Alfredo Sauce. Adding vegetables or your favorite protein makes it a hearty quick meal!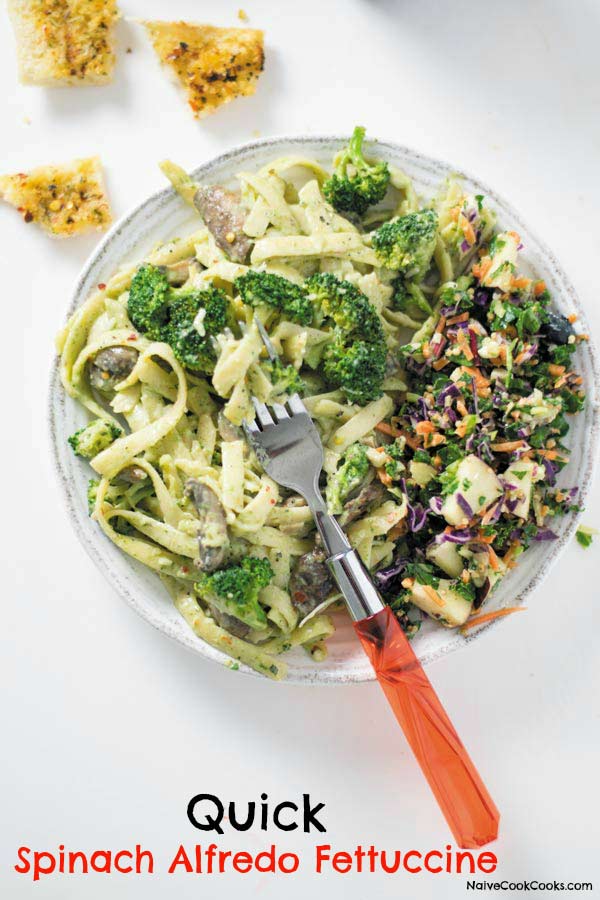 This week was sort of crazy with lots of stuff happening at personal front and even though I had this post ready to go out yesterday, I missed posting it and so here I am now, ready to tell you all about this creamy alfredo sauce that is way healthier than the normal stuff and some spinach puree in the sauce that makes it perfect to serve to picky eaters.
So when I decided to make alfredo fettuccine for dinner, Ronak's dad who was visiting asked me if I could add spinach to make it healthier? He loves alfredo fettucine and that was the reason I had planned on making this when he visits us. But I loved his idea and thought it will be so nice to give a rich dish like this a little healthy aspect. And some crunchy vegetables or your favorite protein like grilled chicken or shrimp will be great too!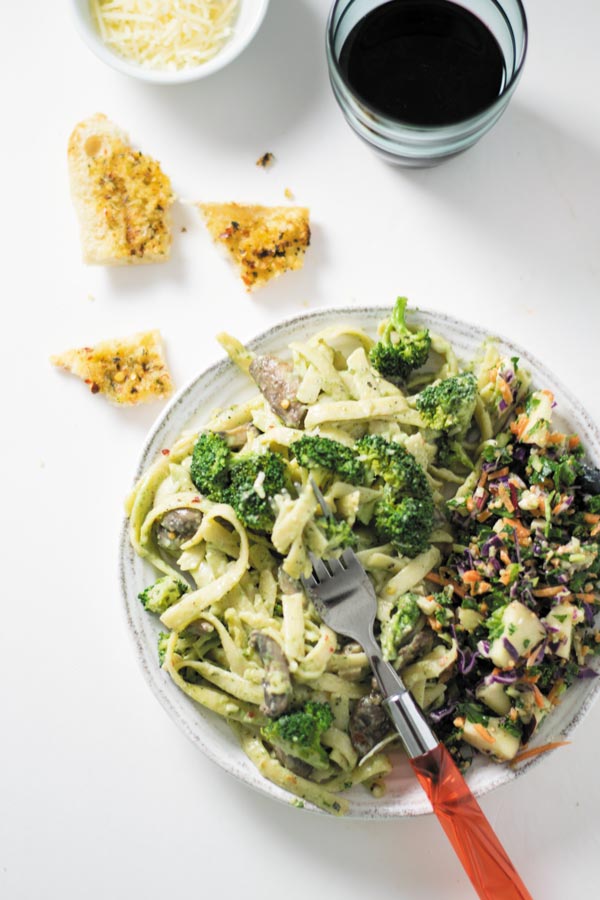 It turned out great apart from the fact that my fettuccine pasta took forever to cook as I tried a new brand and had a bite to it even after cooking for more than 20 mins! Lesson learnt : never try a new brand of pasta when having people over! The sauce turned out super delicious and if you are not much of a fettuccine fan, you can use any shape of pasta you like and you can even freeze the extra sauce for later use. Instead of making the usual just cream & butter alfredo sauce, I like to make it healthier by making a sauce using little flour for thickening, milk, heavy cream, very little butter and parmesan. And adding spinach puree made it even healthier and there was no taste of spinach in the sauce which made it perfect for picky eaters. And now I realise even great for an easy St. Patrick's day dinner 🙂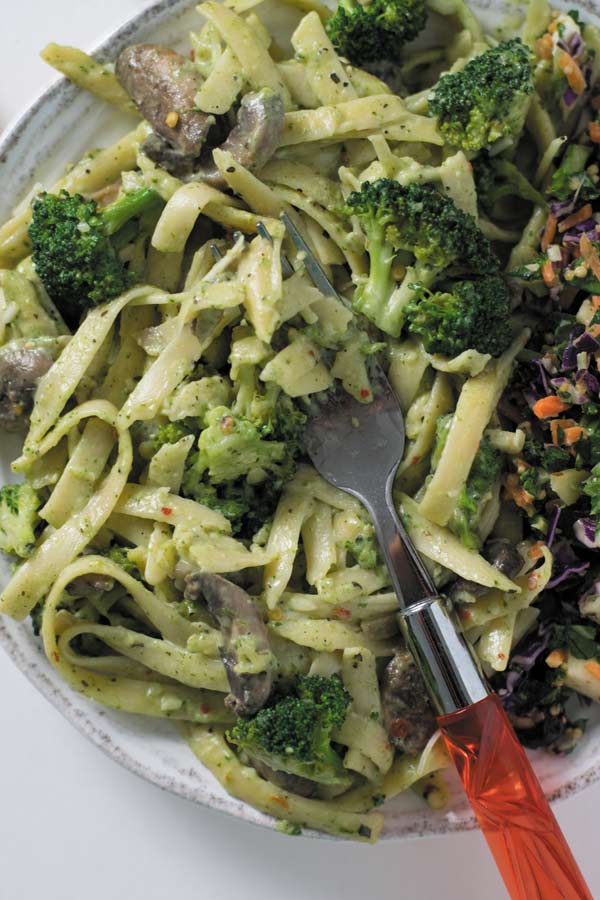 Did you do the usual St. Patrick's day bar crawl today and if yes then this creamy spinach alfredo fettuccine pasta is just what you need to soak up all that alcohol!
If you make this spinach alfredo fettuccine, don't forget to tag using #naivecookcooks .
Follow along for a lot more delicious treats and life happenings on INSTAGRAM ||FACEBOOK||PINTEREST ||TWITTER ||GOOGLE+ || BLOGLOVIN || YouTube
Quick Spinach Alfredo Fettuccine
Ingredients
12 oz (3/4th of a 16oz fettuccine pasta box) fettuccine pasta or any pasta shape of your choice
2 cups fresh spinach
Vegetables:
1.5 cups chopped button mushrooms
1 small head of broccoli, chopped
½ tbsp butter
1 tbsp oil
2 garlic cloves, chopped
Salt to taste
Red chili flakes to taste
1 tsp bsil powder
¼ tsp black pepper
¼ tsp oregano
Sauce:
2 tbsp butter
1 tbsp oil
2 tbsp all purpose flour
1.5 cups milk
1 cup heavy cream
1 cup shredded parmesan cheese
Salt and black pepper to taste
1-2 tsp basil powder
1 tsp garlic powder or you can use fresh garlic paste
½ tsp red chili flakes
½ tsp oregano
¼ tsp rosemary
Instructions
Cook pasta as per package directions. Strain and rinse with old running water. Add few drops of oil so it doesn't stick. Keep aside.
In another small pot, bring some water to boil. Add spinach and blanch for a minute. Strain and puree in blender. I always use this blender for all small blending purposes. Keep it aside.
Meanwhile, start heating a skillet. Melt butter and oil for vegetables. Once hot, add chopped garlic and saute until fragrant. Add chopped broccoli and add salt. Cook until its bright green but soft. You can cook little less if you like to have a little bite to it. Now add the mushrooms as we don't want to overcook the mushrooms.
Add the remaining spices and stir. Cook for few more minutes. Taste and adjust the seasoning.
Transfer the vegetables to a plate. Just wipe the skillet and melt butter and oil for sauce. Once melted, add flour and cook until slightly golden and raw smell goes away. Now add milk and keep stirring continuously to prevent any lumps. In few minutes it will start to thicken. Add heavy cream and parmesan along with pureed spinach and all the spices. Cook until nice and creamy and taste. Adjust spices as per your taste.
When ready to serve, add pasta and vegetables to the sauce. Warm it up and serve with additional shaved parmesan and garlic bread.
 Some more easy meal ideas ->>
https://www.naivecookcooks.com/one-pot-veggie-lentils-and-rice/
https://www.naivecookcooks.com/balsamic-brussels-sprouts-pasta/