A super easy & delicious way to eat your vegetables. Oven roasted vegetables, creamy refried beans and a spicy avocado sauce inside soft tortillas makes for an addicting taco recipe!
Today lets do tacos friends! A delicious, really simple, no fuss taco recipe for your weeknight meals. Markets are packed with fresh vegetables and I find this to be the best time to rekindle my love for roasted vegetables. Most of the time I am looking for quick and easy recipes that are not just tasty but healthy too! And this recipe is my favorite new way to make dinner fun, healthy and each person can customize these as they want so a double win!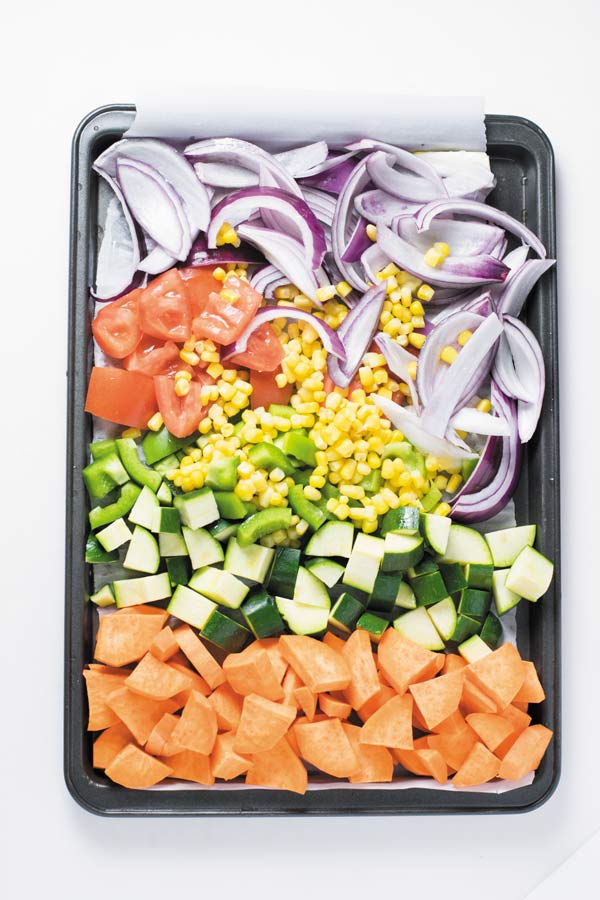 I roasted a bunch of veggies for about 40 minutes and while they were roasting I warmed up beans, tortillas and made a really simple avocado sauce. Everything takes from start to finish less than an hour and in between you get plenty of time to grab a drink, fold laundry and do things that never seem to end! Life I tell you! But one bite of these tacos and you will know what I am talking about!
Once vegetables are roasted, I add a good amount of seasoning because that's what brings these tacos to life and since they are so good for you too, I make them extra delicious & healthy by adding a big pinch of turmeric. So yummy! The wonders of turmeric are widely known in India but now it's getting recognition around the world. It's predicted to be the superfood of the year so why not reap the benefits! In Indian cooking turmeric is a must in almost all savory recipes and even my favorite way to drink warm milk includes adding turmeric!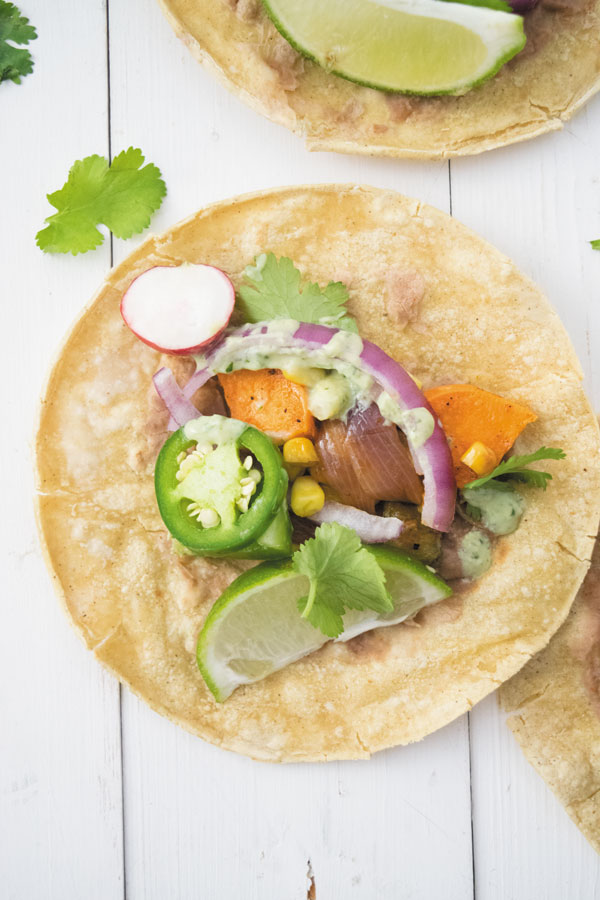 So go ahead make these delicious tacos for dinner tonight!
Follow along for a lot more delicious treats and life happenings on INSTAGRAM ||FACEBOOK||PINTEREST ||TWITTER ||GOOGLE+ || BLOGLOVIN || YouTube
Roasted Vegetable And Bean Tacos
Ingredients
Roasted Vegetables* :
½ red onion, peeled & sliced in thick half moon shape
1 tomato, inside removed and chopped in big pieces
½ bell pepper, chopped in big pieces
1 yellow squash or zucchini, chopped in big pieces
1 sweet potato or potato, peeled & chopped in big pieces
1 tbsp oil
Salt & black pepper to taste
2 tsp chipotle oil (If you don't have chipotle oil, use chipotle pepper instead but adjust as per taste)
1-2 tsp paprika or as per taste
Refried beans:
You can either use store bought refried beans or make at home quickly.
2 cups cooked pinto beans
Salt to taste
1 tsp cumin powder
1-2 tsp red chili powder
Avocado Sauce:
1 avocado, peeled and chopped
2 tbsp sour cream
1 jalapeno or as per taste
Good handful of fresh cilantro
Salt to taste
Lime juice to taste
1-2 garlic cloves
Additional:
Corn tortillas
Instructions
Pre heat oven to 400F.
Chop all the vegetables and transfer them to a parchment paper lined baking sheet. Lay them without overlapping. Drizzle with 1 tbsp oil and a pinch of salt.
Roast for good 20 minutes. Stir after 20 minutes and roast them for another 15-20 minutes until all vegetables are fully cooked through. Keep them aside.
Meanwhile get your beans ready. Pour boiled beans in a pot, add ½ cup water and mash the beans with the back of a spoon or fork. Add the spices and mix. Cook until it's creamy and taste. Adjust seasoning as per your taste. Keep aside.
Now add all the ingredients of avocado sauce in your food processor and process until you get a smooth creamy sauce. Taste and adjust salt, lime juice or garlic.
Now you are ready to plate.
Warm your corn tortillas when ready to serve. Place a handful of refried beans and then place a good amount of roasted vegetables and drizzle with spicy avocado sauce. Enjoy with a chilled beer!
Notes
Ami says :
* You can use all sorts of vegetables for roasting. Pick whatever you have on hand.
 Some more delicious Mexican inspired recipes ->>