Chewy fall pumpkin seed cheerios granola is sure to become a breakfast staple!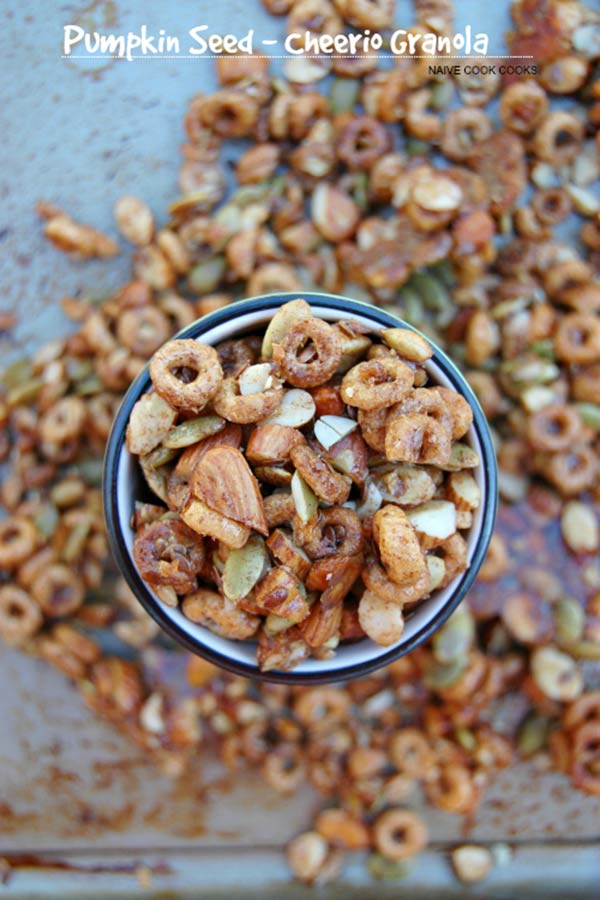 This is all I ate this weekend! In between watching my favorite fall shows, during every single break I was running to grab a handful of this crunchy granola. I could have kept a big bowl and enjoyed in peace but you know me! I have a weird crazy personality and sitting peacefully is not one of them.
So fall shows. Jerry introduced me to Scorpion. Have you even seen it? It's so good. Its only 2 episodes old and I am all geared up to watch every single one of its episodes. It's loosely based on the life of a genius Walter O'Brien.
Fall is here and all I want to do is be super lazy and sleep all day! I wish life was much simpler. We went to the State Fair this weekend and had one of the best Fried Cheesecake ever! I was looking forward to trying out Funnel Cake Ale and we were so disappointed as it tasted no where even close to funnel cake. It was a bland beer with little sugar coating on the rim. Sad face. Then we literally spent almost 30 minutes looking for the award winning Sriracha balls and they were (Atleast to both us!) not edible. The best part to me were the rides, cotton candy and corn with butter! Always good!
So are you ready to jazz up your plain old boring cereal? This is my latest obsession and if you remember correctly, I was eating and making this granola for almost a year. It's still one of my favorite but this pumpkin seed-almond-cheerio granola is my favorite fall granola recipe!!
So what are you waiting for?! Make a big batch and stop worrying about same old breakfast!
Pumpkin Seed Cheerios Granola
Chewy fall granola recipe with pumpkin seeds and cheerios is sure to become a breakfast staple!
Ingredients
½ cup almonds, chopped
¼ cup pumpkin seeds
1 cup cheerios or any cereal of your choice (I used honey nut cheerios)
1 tsp cinnamon
¼ tsp salt
2 Tbsp unsalted butter
4 Tbsp honey
Instructions
Chop almonds. Add all the dry ingredients in a bowl and stir. Heat butter on medium-low flame until melted. Add honey and stir. Take it off heat immediately.
Add honey butter mix to the dry mix and stir until it's evenly distributed.
Lay the mix on a lined baking sheet and bake in a 325F pre heated oven for 10 minutes. Stir in between.
Once done, let it cool. Break apart the clusters or you can keep them as it is. I ended with with granola mix with few clusters.
Store in an airtight container.
Enjoy with milk, yogurt or plain.
More Snack Recipes: