I hope everyone is safe and sound, wherever they are because yesterdays attacks made me wonder how every moment is unpredictable. It makes me cherish more my near dear loved ones. Boston my heart goes to all the families who lost someone or who had members injured.
I have been wanting to share this recipe with you for sometime now but I wasn't sure if I should. It is a very simple every day granola recipe but trust me it is one of the best I have had till date. Old fashioned oats, crunchy almonds and moist chocolate. This combination I feel is the best you can have for a breakfast on the go. The recipe is very very loosely adapted from Heidi's Super natural cooking.
I have been a big admirer of Heidi's work  and recently when I received my copy of Super natural cooking through Amazon, my respect for her grew even more. I was surprised by the amount of knowledge this book delivers. I know I am years late but if you are like me and you have still not yet purchased your copy, you need to do it asap. This is one of a type of cookbook with recipes ranging from Amaranth souffle to Red Indian carrot soup to Winter rainbow gratin to mention a few. I have so many recipes bookmarked already and waiting to try them.
On to granola I made. It is a simple granola recipe as I mentioned earlier. Most of the items you will find in your pantry and it is a far healthier version than the store bought stuff. You can swap ingredients for what you have in your hands. You can add varied kinds of nuts and dry fruits as well. I like keeping mine simple but you can go all crazy if you like.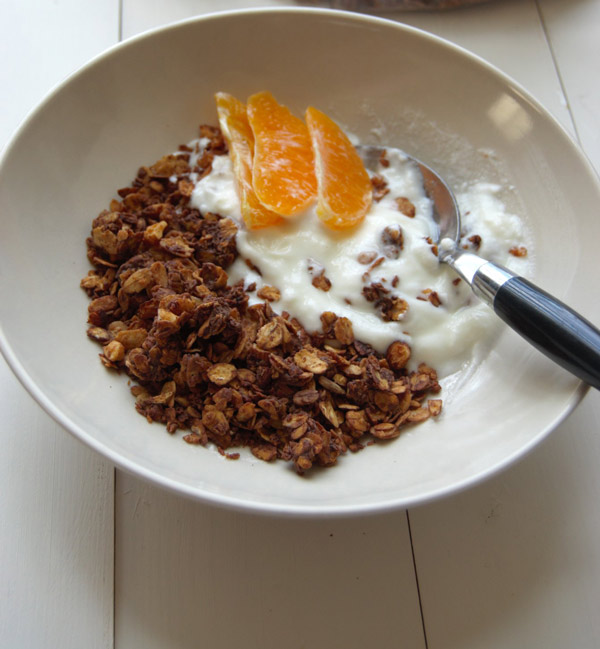 Almond Chocolate Granola
Ingredients
3 cups rolled oats
½ cup raw almonds, chopped
½ cup unsweetened shredded coconut
⅙ cup sunflower seeds
1 tbsp maple syrup
Pinch of salt
⅓ cup mild honey
2 tbsp coconut oil or any vegetable oil
¾ cup chocolate, chopped (You can add whatever chocolate you like to eat. I added ½ cup milk chocolate and ¼ cup 72% cocoa Godiva dark chocolate)
1-2 tsp cinnamon
Instructions
Preheat oven to 300F.
In a large bowl, mix together oats, almonds, coconut, sunflower seeds and salt.
Heat a small pan over
very very low
heat and add coconut oil and honey. Melt it at very very low heat by continuous stirring and add it to the dry mix. Give it a nice stir so it all mixes together. Add maple syrup and cinnamon. Give it another quick stir.
Spread it on a big baking sheet and slide it in the oven for 10 minutes. After 10 mins, take it out and stir it all well and pop in the oven again. Repeat it three more times till it reaches a golden dark brownish color. Here if you like your's less toasted, you can bake it less. Make sure you stir it in between so it doesn't burn.
Let it cool out of the oven for 5 mins and then add chopped chocolate. Mix it well. Let it cool down further. Once at room temperature, fill it in airtight containers or zip lock bags.
More Make Ahead Recipes: