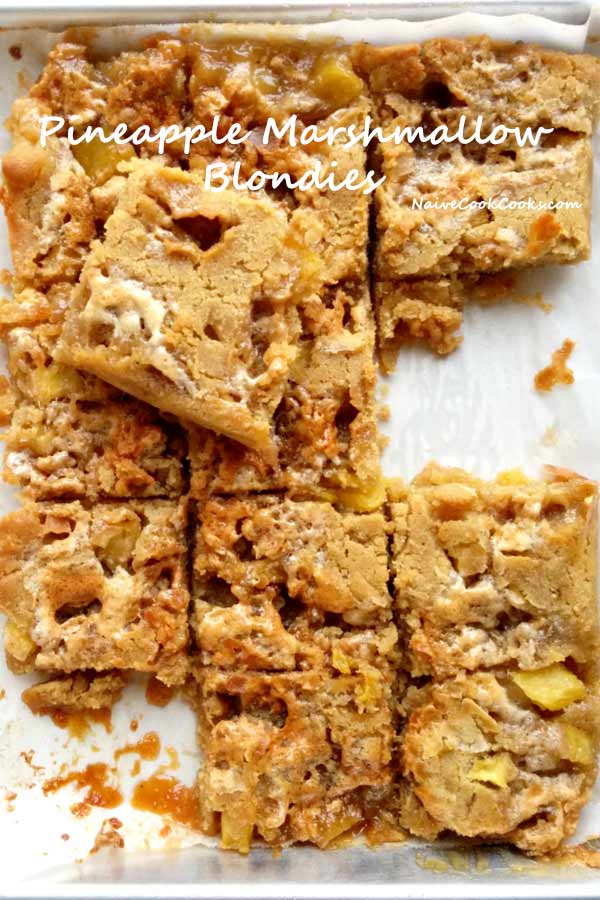 How was your Fourth of July weekend? I am visiting my mom aka Jerry's mom and we both decided to keep it low key. We just relaxed at home, baked some pies and watched a movie on netflix.
This year I missed creating some special recipe for Fourth of July but ohh well there's always next year.
Well I do have something special for you guys. It's a perfect summer dessert combining my two latest obsessions in one: pineapple and marshmallow to make Pineapple Marshmallow Blondies.
Home made marshmallows and pineapple in one crazy brown buttered blondie recipe. For some days after I made my first ever batch of marshmallows, I kept on thinking of using them in some dessert. Not that it was hard for us to finish them! I just felt it would be wise to incorporate them in some creative dessert recipe before eating them all.
Remember those brown butter blondies I made last year?!I was all over them for a while but then I completely forgot about them. It happens with me a lot. Creating tons of recipes every week makes me forget them with time and move on with new found ones. But some recipes are worth making again and so I decided to whip up pineapple+marshmallow brown butter bloodies.
Ohh let's talk about this brown butter. I know I kind of talk about it every time I make it but it is a crime not to talk about it. You know the aroma it creates when it's bubbling on the stove with little specs occurring all over it.I don't know about you but to me it just seems magical. This technique of browning butter is beautifully explained here.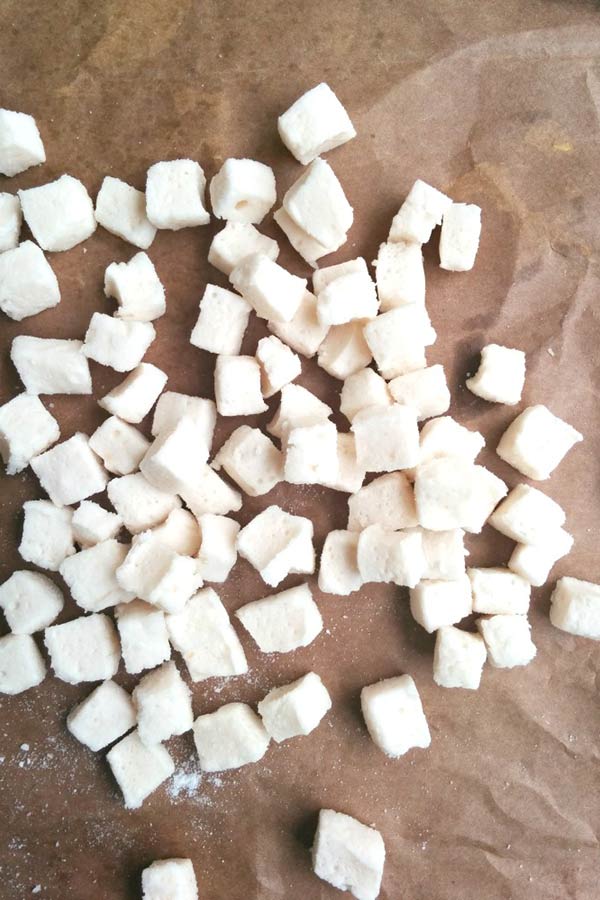 These pineapple marshmallow blondies were born purely out of curiosity. I wanted to see what happens when I mix fresh pineapple chunks and marshmallows together? I ended up baking them few minutes longer than the required time for baking normal blondies but I must say it was worth it. The chewy texture from marshmallows and fruity pineapple make them a delight to eat and truly a summer dessert. I know lately I have been on tropical flavor kick but who am I to blame when grocery stores are loaded with fresh fruits and all I want to do is use them in sweets and savory items as much as I can!
They are perfect to make way ahead of a get together. I like them best chilled. I know that sounds kind of crazy but I feel the flavors get evolved more after a little bit chilling. Do remember to keep them in an airtight container though so they don't dry out.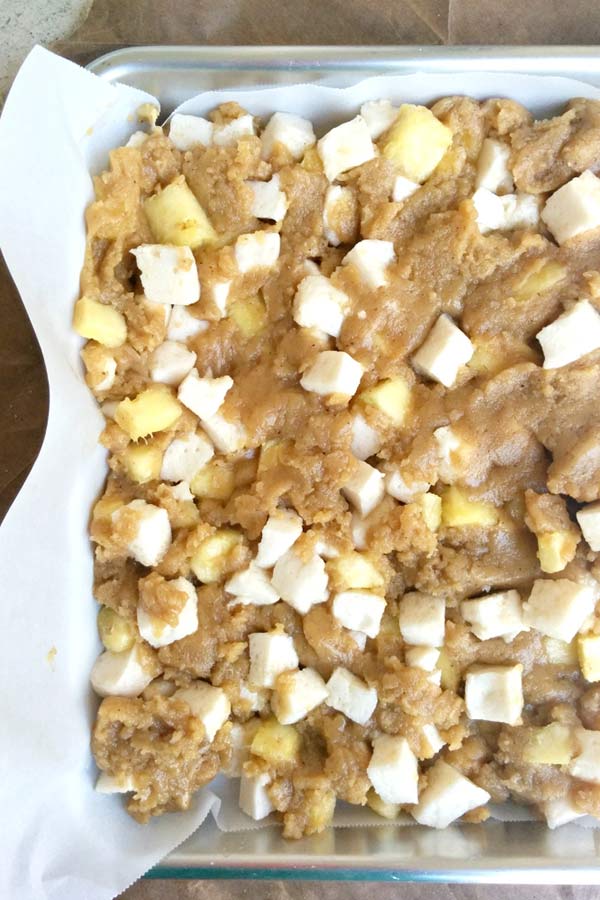 Seriously one of the easiest dessert ever and tastes good even after a day or two!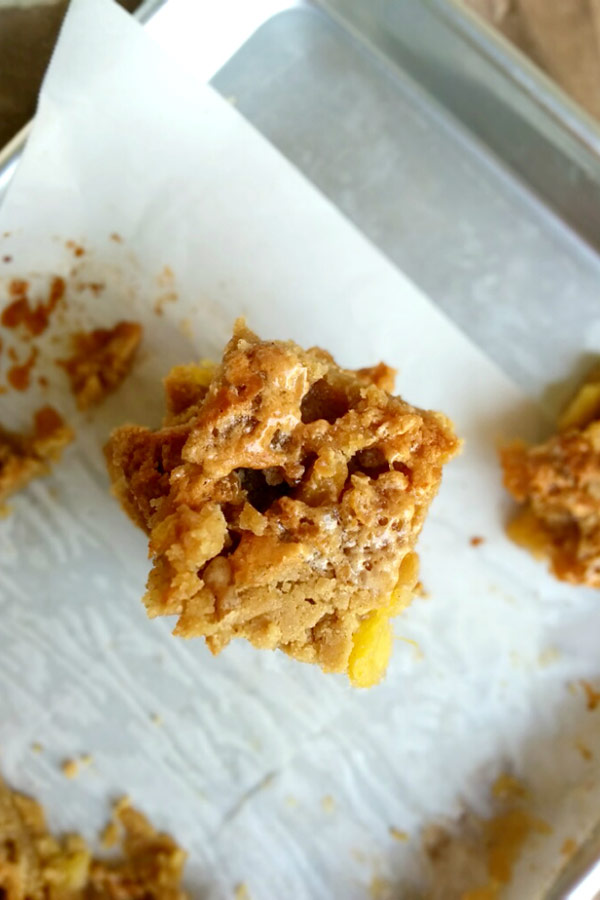 Pineapple Marshmallow Blondies
Ingredients
½ cup chopped fresh pineapple
½ cup butter, unsalted
¼ cup light brown sugar
1 egg
1 tsp vanilla extract
Pinch of salt
1 cup all purpose flour
1 cup marshmallows, chopped in small pieces, homemade or store bought
Instructions
Preheat oven to 350 F.
Line a 8″ square tin with a parchment paper. Take butter in a pan and melt. Keep cooking till all the foam dies and you see it turning into dark brown color and small fragments start appearing. Take it aside and let it cool for a minute or two. It will start to smell nutty. Keep stirring it to prevent burning but watch out as it will splatter everywhere.
In a bowl, mix the brown butter with sugar and mix until smooth. Add egg and vanilla and mix. Now add Salt and flour and mix it till smooth. Thrown in the fresh pineapple chunks and marshmallows and mix gently to combine all together.
Pour in the lined tin and make sure it covers all corners by pressing with hands if required. Place it in preheated oven and let it cook for 40-45mins.
I initially baked it for only 20-25 mins but found them to be under cooked. Baking them for another 15-20 mins helped them in getting fully baked. It will be little sticky to touch but as it cools down, it will be easier to handle.
Let it cool down and then transfer to a rack for further cooling. Cut into desired size pieces and devour. Store them in an airtight container.
More Bar Recipes: