Apple pie filling sandwiched between buttery oat crust makes it so easier to make than a traditional apple pie & perfect for snacking anytime anywhere!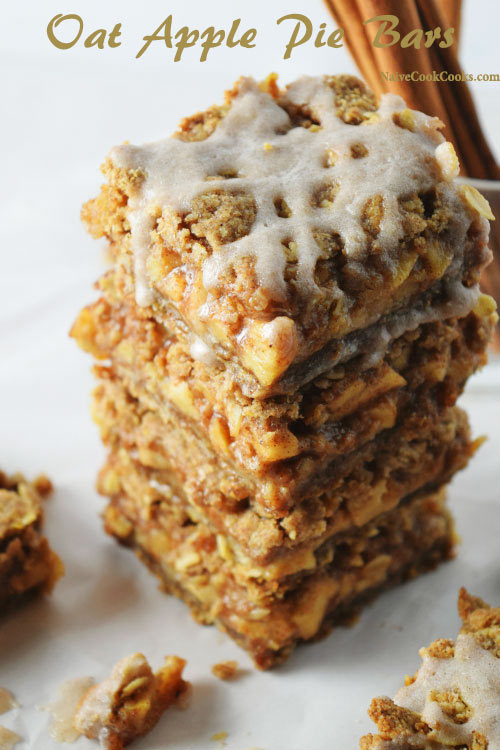 Apple picking season is here and I can't be more excited! I love going apple picking and bringing back tons & tons of hand picked apples from farms. Those taste way better than apples sold in grocery stores and the possibilities! You can make so many things with those apples. I am already excited for the changing weather and waiting eagerly for all the fall produce!What about you?
I made these OAT APPLE PIE BARS twice in a week just for the sake of perfecting them even though they turned out great the first time. But they were so good & my small batch was all gone the same day, so I had to make more! This time instead of keeping the oats whole, I grinded half of the oats to a fine powder & left half of them whole. It binds the bars better I feel. These bars are packed full of flavor.
If you love eating apple pie but often get scared at the thought of making from scratch apple pies, this is a great recipe! You get apple pie taste and with a oat buttery crust, the crust stays really easy to work with. No chilling the dough! You simply bake half of the oat dough and meanwhile make your apple pie filling, which you then pile up on the baked dough & then finish off with the final layer of remaining dough & bake. The SMELL! Just be warned that your house will smell amazing from all the warm cinnamon flavors!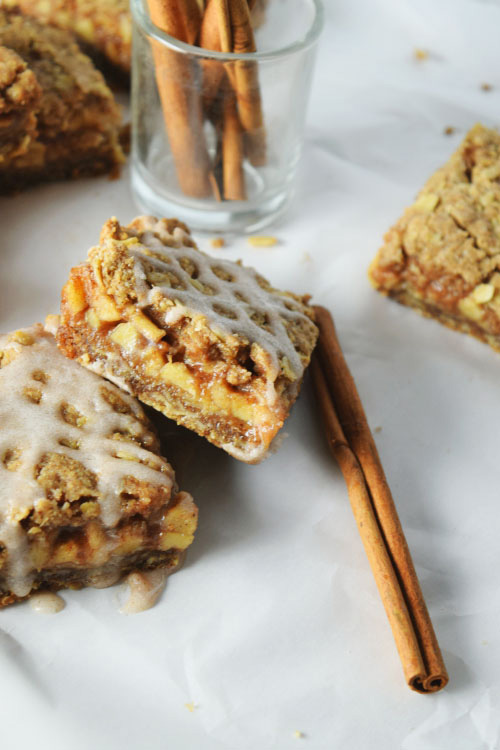 After baking I like to cool them to room temperature and then chill them for few hours before slicing them. This makes for a easier & neater slices and then simply store them in refrigerator! The bars have so much flavor that you really don't need the cinnamon glaze but for some souls who just can't live without their glazed desserts like me,this cinnamon glaze is a charm to make. Just 3 Ingredients & 2 mins is all it takes to make this cinnamon glaze!
Now get on with your apple plan!
Follow along for a lot more delicious treats and life happenings on INSTAGRAM || FACEBOOK ||PINTEREST ||TWITTER ||GOOGLE+
P.S This apple pie filling recipe adapted from my  "Old Fashioned Apple Pie"

Oat Apple Pie Bars
Ingredients
Crust
1 cup white whole wheat flour
1 cup old fashioned oats, divided
Pinch of salt
½ tsp baking soda
½ cup white sugar
2 tsp apple pie spice
1 tsp cinnamon powder
6 Tbsp unsalted butter
1.2 Tbsp milk (any fat content)
Filling
2 large apples, peeled, cored & cut in small pieces
½ cup white sugar
2 tbsp white whole wheat flour
2 tbsp lime juice
2 tsp cinnamon powder
Cinnamon Glaze
½ c white sugar powder
⅛ tsp cinnamon
2.5 Tbsp half & half or water or milk
Instructions
Grind half of the oats to powder. In a bowl add all the crust ingredients except butter & sugar and stir around.Melt butter & sugar in a microwave safe bowl in microwave until butter is melted. Add it to the dry mix and mix until everything is combined.
Pre heat oven to 350F.
Line a square 8"*8" baking sheet with parchment paper and add half of the crust mix in there. Pat it down tightly using back of a spatula or spoon or your hands until it covers evenly. Bake for 15 mins.
Meanwhile, in a bowl add all your filling ingredients & stir around. Keep aside.
Once the bottom crust is baked, take it out. Using back of a spatula or spoon pat it down where you see it puffed up. Now place all your apple filling. It may seem a lot but pat it down tightly! Now add the remaining oat crust on top and again pat it down tightly so everything is toghtly in place. Bake for another 25 minutes or until the top is slightly golden!
Take it out and let it cool to room temperature.Cover with plastic rap and chill for few hours. After chilling, let it sit at room temperature for 5-7 mins before cutting it into pieces. I like wrapping each indivisual piece in plastic wrap and storing in airtight container in refrigerator!
Make the cinnamon glaze just by mixing all the ingredients until smooth. Add on top just before serving!
Some more delicious bars?
https://www.naivecookcooks.com/triple-fun-chocolate-bars/