Soul warming healthy spinach minestrone soup in clear broth with tons of goodies!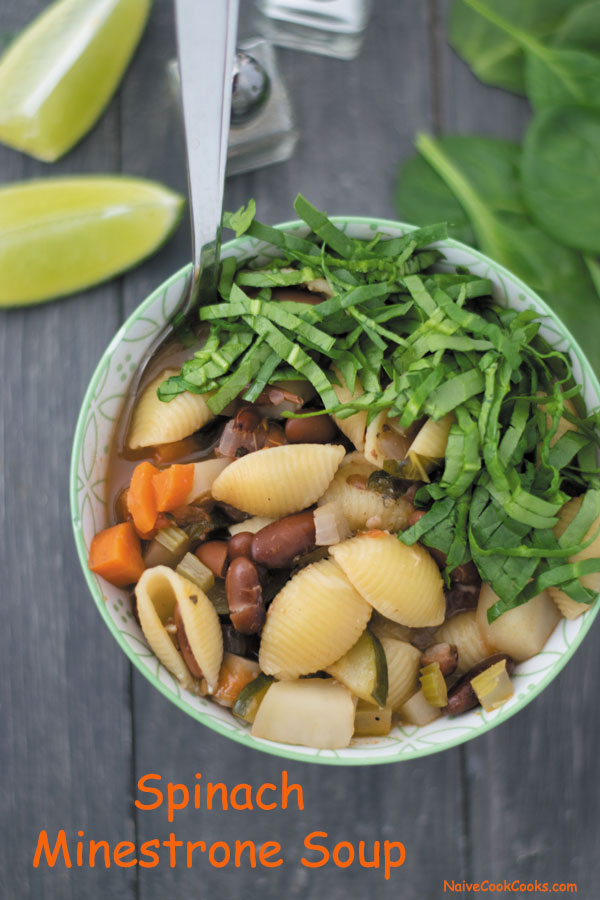 Its been in 90's here lately and super humid. I know most people will be defended at the thought of being served a hot cup of soup during this time of the year with weather like this! But not me! Somedays all you want to have after a hard day's work is a soul warming soup with lots of goodies.
This soup is exactly what I wanted for dinner yesterday. After testing three recipes, photographing, editing, writing and some other work, I was left with no energy at all. I wanted something filling yet healthy. That's where this soup comes in. Best part it has only max 20 mins of hands on time. After that thrown in everything in a big pot and let it simmer for good 1 hour. That time you can use for may be catching up on your favorite book, watching your favorite show or if you are like me, drooling over all the food on my favorite sites!
Here in US we have a restaurant "Carrabas" who serves Italian food. I visited it for the first time few days back and I really liked the way they made their minestrone. Beans, chickpeas, potatoes, celery, kale, carrots, green beans and other goodies all cooked in a clear broth. I decided to make it for dinner as it was a perfect meal in itself. Throw in some bread with this soup and I can call it a meal!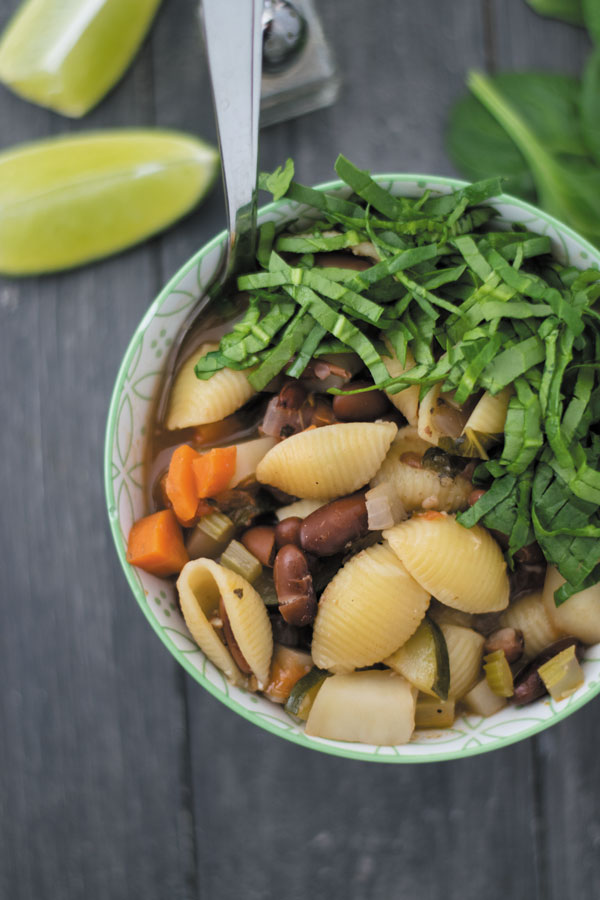 I modified it a little bit with whatever I had in my pantry and I must say it tasted much better than the restaurant version. I used vegetarian broth but you can by all means use a good chicken broth as well. It's a clean soup with  only salt, black pepper and oregano used in the name of spices and with a very good flavor profile.
P.S Perfect for dinner tonight?!
Spinach Minestrone Soup
Ingredients
4 cups water
1 bay leaf
¼ tsp red chili flakes
1 tsp garlic paste
½ cup red kidney beans, uncooked, cleaned, soaked in warm water
2 tsp olive oil
¾ cup yellow or red onion, chopped
½ tsp garlic paste
4 small celery sticks or 1 long celery stick, chopped
1 medium size carrot, chopped in small chunks
1 tsp oregano, dried
1 small medium size zucchini, chopped in small chunks
1-2 medium size tomatoes, chopped
1 medium potato, peeled and chopped
5-6 fresh basil leaves, chopped
3 cup vegetarian broth
Salt to taste
Black pepper to taste
½ tsp lemon juice (optional)
bunch of fresh spinach, chopped
Instructions
In a pot, add 4 cups water, bay leaf, red chili flakes, 1 tsp garlic paste and red kidney beans (rinsed and discard the soaking water). Bring it to a boil. Cover the pot with a lid and simmer on medium for ½ hour or until beans get cooked.
Meanwhile, take a deep pot. Add olive oil. Once oil gets hot, add onions and ½ tsp garlic. Saute and cook until onions are softened through. Add celery, carrots and oregano. Cook for few minutes and add zucchini and potato. Cook for another few more minutes and add tomatoes, basil leaves, broth. Stir it all together. To it add the cooked red kidney beans along with the liquid they cooked into. Stir it all together. Add salt and black pepper to taste. Cover and let it simmer for an hour for the flavors to develop.
Once ready, taste and adjust seasoning if needed. Add lemon juice if desired. Add chopped spinach and stir. Serve hot with Parmesan cheese (optional).
More Soup Recipes: