Delicious Peanut Cardamom Ladoos With Chocolate Drizzle – just 6 ingredients & a very simple no-bake no-cook recipe. Perfect as pre/post workout treat or to satisfy those sweet tooth cravings!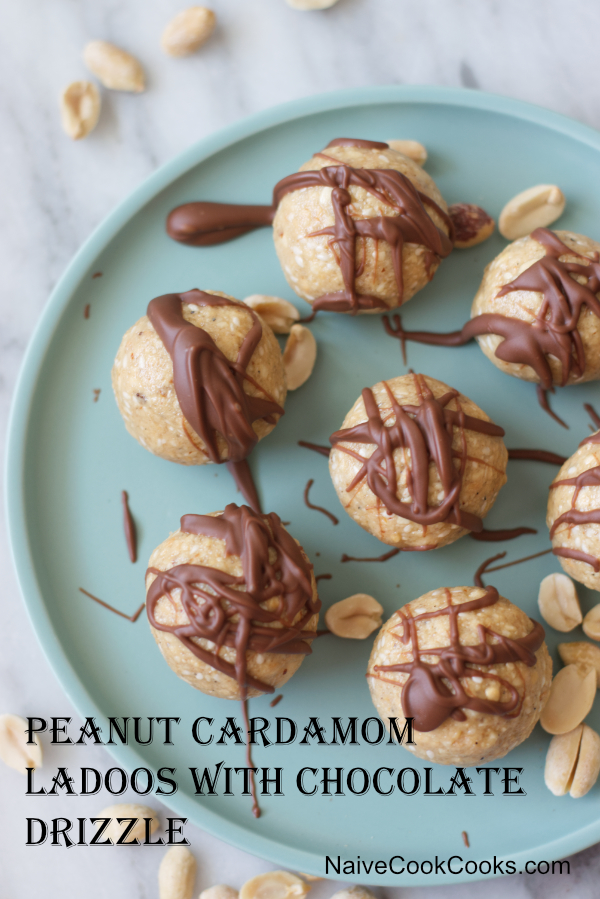 Ladoos are basically a very commom Indian sweet usually made up of flour (which can be anything from chickpea flour to whole wheat flour to even flours derived by grinding lentils), sweetner, fat (mostly in the form of ghee), flavorings such as cardamoms, saffrons and/or nuts. 
Growing up in an Indian household meant there was always some kind of ladoo be it summer or winter. Most of the time ladoos will be made from scratch at home since they are super easy to make, packs great nutrient value, makes for a way healthier and not to mention delicious dessert/snack for when sweet tooth cravings hit and is often enjoyed by all age groups.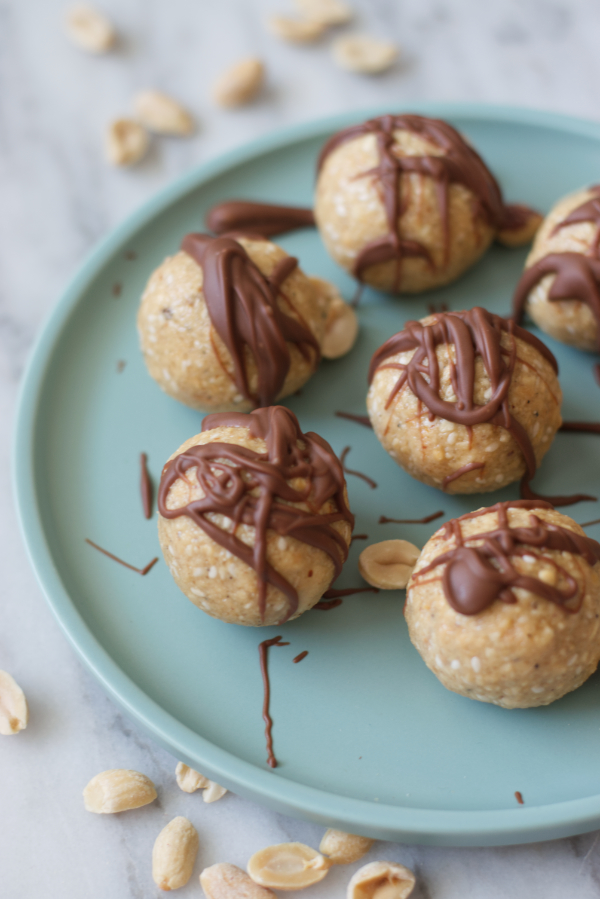 Some of the ladoos I have already dhttps://www.naivecookcooks.com/atta-ladoo-whole-wheat-flour-ladoo-recipe/ocumented on the blog :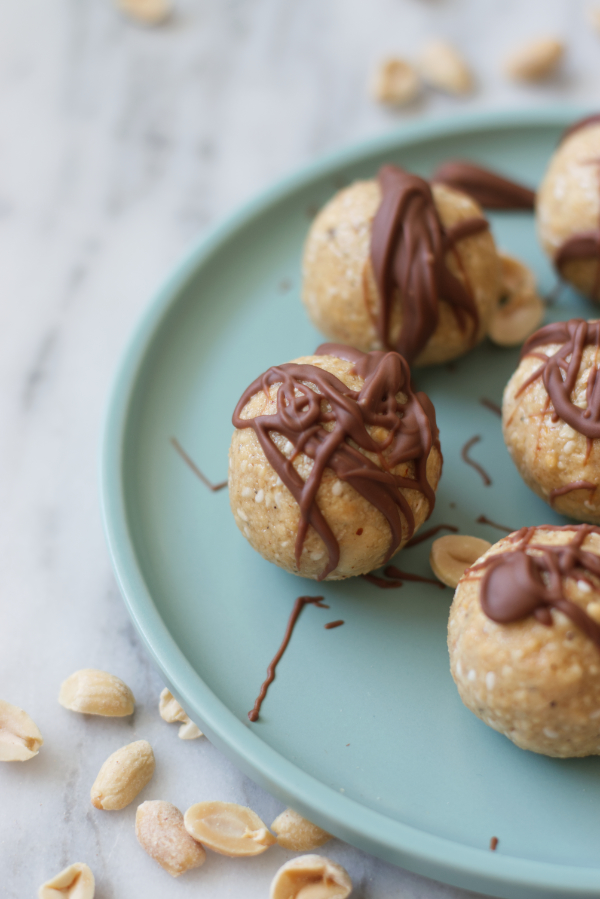 Now I learnt to make these PEANUT CARDAMOM LADOOS from Ronak's aunt who made these few years back and shared with us. Until then I have never had peanut ladoos or atleast that's what I remember. The part I most loved about these ladoos was that they need just FEW INGREDIENTS, require NO BAKING or NO COOKING which meant I can easily make them with Aria (which was a huge plus since you will understand how 4 year old wants to get involved in everything you do!)
I have used just 6 INGREDIENTS and I have been enjoying them with a chilled glass of milk as my pre and sometimes post workout treat! So tasty, packed with protein & healthy fats, I feel really good especially when Aria asks for these before her gymnastics class. #proudmommoment
THE MAIN INGREDIENTS that went into making these LADOOS were ->>
ROASTED UNSALTED PEANUTS
TOASTED SESAME SEEDS (skip if you are allergic to sesame seeds or don't like sesame seeds) (Can substitute with shredded coconut if you want to)
SUGAR
CARDAMOM POWDER (skip if you don't enjoy cardamom, can add other flavorings such as saffron or dried ginger powder (saunth))
GHEE
CHOCOLATE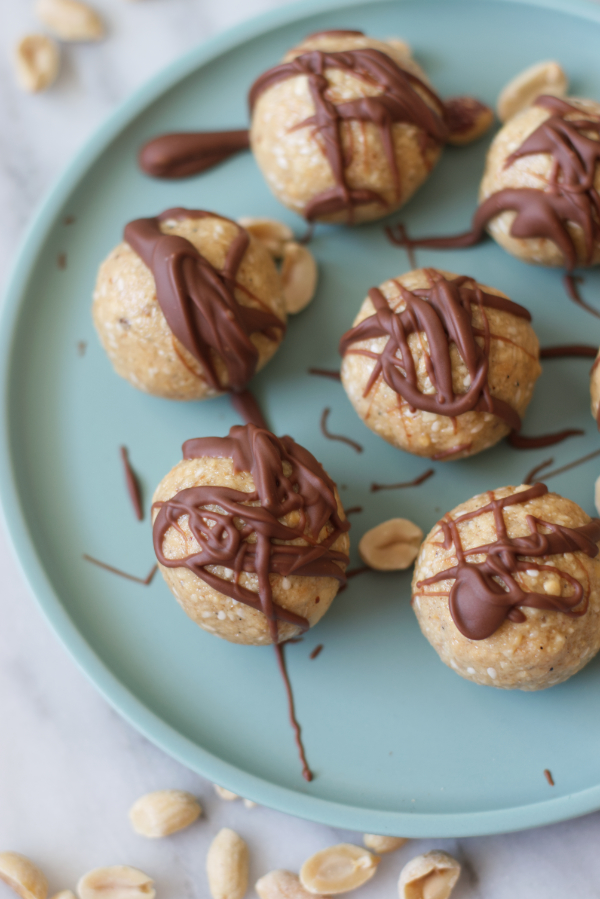 I hope you make it and share it with your loved ones!
So go ahead and make these PEANUT CARDAMOM LADOOS! If you make this recipe, remember to tag us on social media by using #naivecookcooks . We will feature your pics on our SOCIAL MEDIA CHANNELS!
If  you enjoyed this recipe, don't forget to FOLLOW me on  INSTAGRAM ||FACEBOOK||PINTEREST ||TWITTER ||GOOGLE+ || BLOGLOVIN || YouTube 
I have a SHOP PAGE on AMAZON STOREFRONT where you can find tons of items from KITCHEN, FOOD ITEMS, KIDS/BABY TO HOME STUFF I absolutely love and use on regular basis! Hope you check it out and find it useful 🙂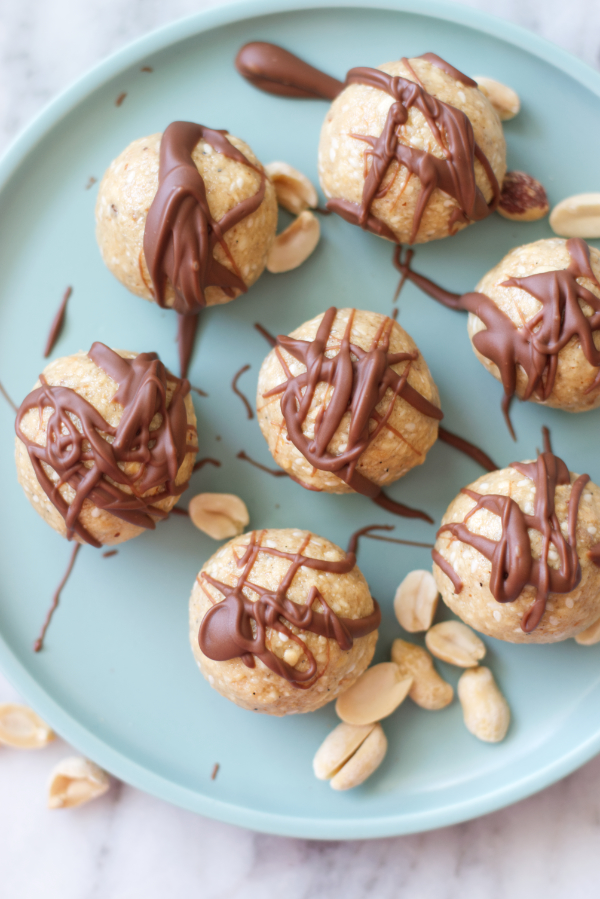 Peanut Cardamom Ladoos With Chocolate Drizzle ( No-Bake , Just 6 Ingredients)
Recipe type:
Indian Desserts Ladoos
Ingredients
2.5 cups Dry Roasted Unsalted Peanuts (11.8 oz) ( 334 gms)
2 Tbsp Toasted Sesame Seeds (0.7 oz) (19 gms)
½-1 tsp Cardamom Powder
1 Tbsp Ghee
½ cup powdered sugar ( If you are grinding castor sugar at home, keep it a bit on the coarse side as it gives a much better flavor & texture) (3.2 oz ) ( 94 gms)
Melted chocolate for drizzling on top of ladoos
Instructions
In the jar of your blender, add peanuts and ground them to a coarse consistency. Transfer it to a bowl and add cardamom powder, sesame seeds, ghee, sugar and mix well. I like to mix with hands so everything is uniformly mixed. Roll into tight tennis size balls. Let them chill in fridge until you get chocolate melted.
Drizzle chocolate over ladoos and let them harden a bit. Enjoy!
I store them in airtight container in fridge.