Atta Ladoo – Whole Wheat Flour Ladoo is a simple NO BAKE Indian sweet made with basic pantry ingredients. A great after workout fuel or a healthier health boosting dessert alternative!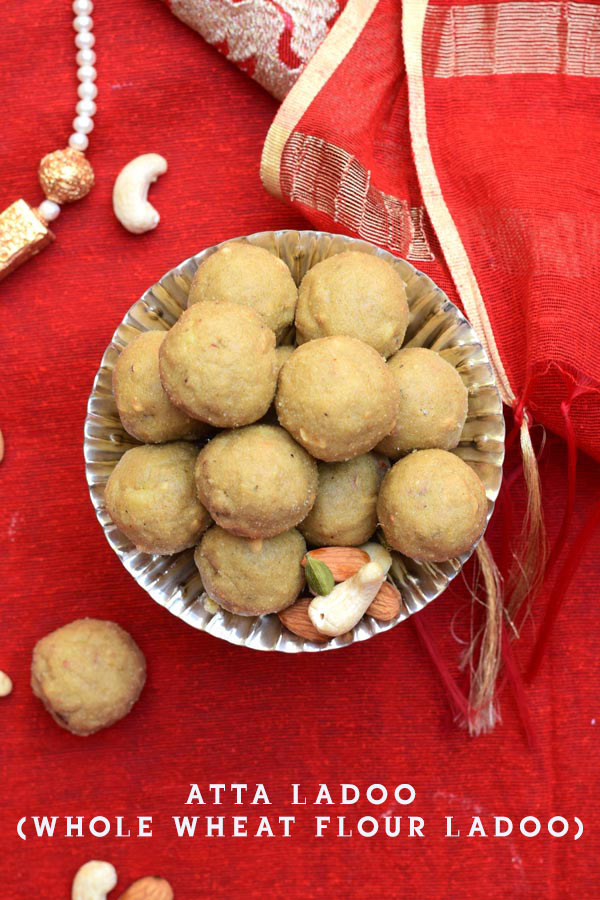 Let's talk about these LADOO's today! If you are not familiar with ladoo, then ladoo is a very simple basic Indian sweet found in almost every household. There are uncountable recipes of ladoos with some of the popular ones being Besan Ladoo (Gram Flour Ladoo), Atta Ladoo (Whole Wheat Flour Ladoo), Motichoor Ladoo (Ladoos made with tiny fried balls of Gram Flour).  Ladoo's are very famous in India because in early times even if you can't afford to buy sweets from shops, you can make your very own sweet at home with your basic pantry ingredients. I remember my grandmother telling me to eat atleast 1 ladoo a day as you get a good mix of nuts, ghee (clarified Indian butter) and flour in your body. But only the homemade kinds which have been made with pure fresh ingredients!
I have always enjoyed eating ladoos made with all sorts of different flours, different mix of nuts, raisins, some sweetened with jaggery while some with raw sugar. These have always been my favorite so this time while visiting my parents in India, I made sure to learn how to make these from my mom.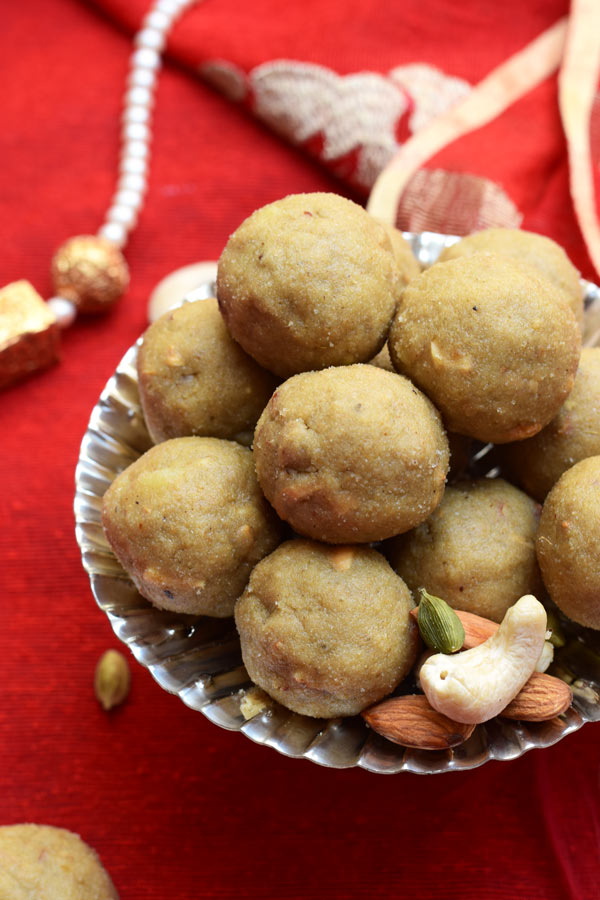 Making ladoos at home is really simple and these Atta Ladoo's are probably the easiest to make. All you need is whole wheat flour, ghee, nuts of your choice ( we used chopped almonds, cashews), coconut, edible gum (gond) (this is a unique ingredient found easily in India and sugar. This certain edible gum is in small pinkish crystal forms and a great for strengthening back bone.In India mother's feed ladoos with edible gum during pregnancy to their daughters as it packs lots of strength).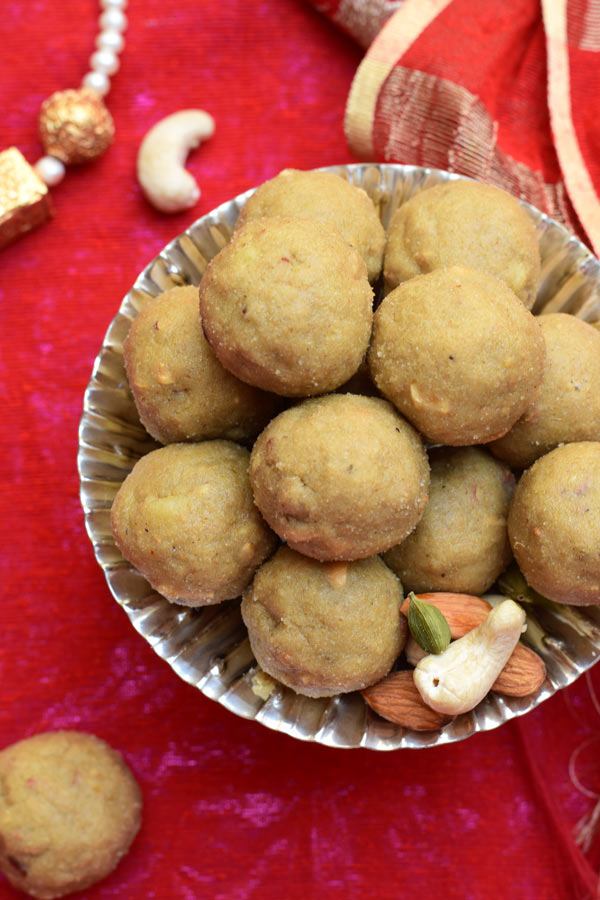 After finally reaching home last night, we emptied our bags (huge 6 bags!) (yes that's what India trip does to me hehe!) and so while typing today's post I have been munching my way through my box of ladoos! I am planning on making these for Diwali and I have realised that they are especially great after a good workout! Seriously super filling with all balanced good for you ingredients!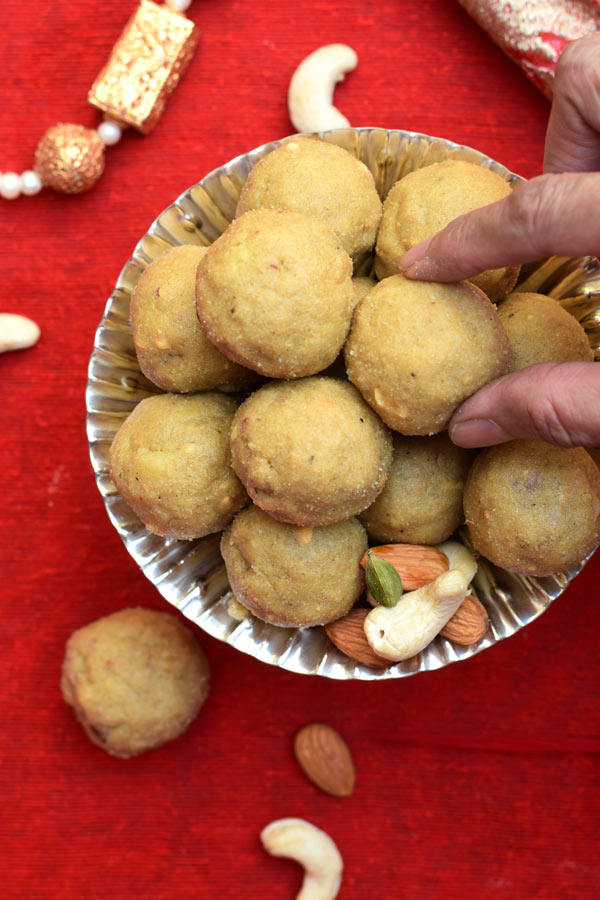 So go ahead and give these a try! If you make these or any other recipe from our blog, do tag us by using #naivecookcooks on social media channels.
If  you enjoyed this recipe, don't forget to FOLLOW me on  INSTAGRAM ||FACEBOOK||PINTEREST ||TWITTER ||GOOGLE+ || BLOGLOVIN || YouTube
Atta Ladoo - Whole Wheat Flour Ladoo Recipe
Ingredients
Atta Ladoo :
3 tbsp chopped almonds
3 tbsp chopped cashews
3 tbsp shredded coconut
3 tbsp ghee
2 tsp powdered Gond or Edible Gum (optional)
2 cups whole wheat flour (Atta)
¼ tsp ajwain (carom seeds)
½ tsp ginger powder
¾ cup ghee, melted
1 cup powdered sugar or as per taste
Instructions
Atta Ladoo:
In a deep heavy bottom pot, add 1 tbsp ghee. Once hot add powdered edible gum and you will see it starts to puff up like popcorn. Take it out on a paper towel lined plate. In case you are not using edible gum, just skip this step.
In the same pot, add 2 tbsp ghee and add chopped almonds, chopped cashews and coconut. Roast for few minutes and then transfer to a paper towel covered plate.
Now add 2 cups whole wheat flour and ¾ cup melted ghee and cook it on slow flame. Keep stirring it for good 10-15 minutes. Soon you can smell the aroma of ghee and cooked flour and it will turn slight goldenish. At that point take it out on a big plate or bowl and let it cool for about 30 minutes.
Now once cool, add sugar and using your hands mix until sugar is mixed evenly inside the flour + ghee mixture. Taste and adjust sugar as per taste. Now add roasted nuts and edible gum (if using) and mix.
Shape them into ladoos and store in an airtight container.
They stay good stored in airtight container and sitting on counter top for 15-20 days.
 Some more Easy & delicious Indian recipes ->>